If You Haven't Tried the Spicy McNuggets, You Should Probably Get on That Fast
The new McDonald's spicy chicken nuggets are a limited-time offer. So, how long until the promotion ends and the McNuggets leave?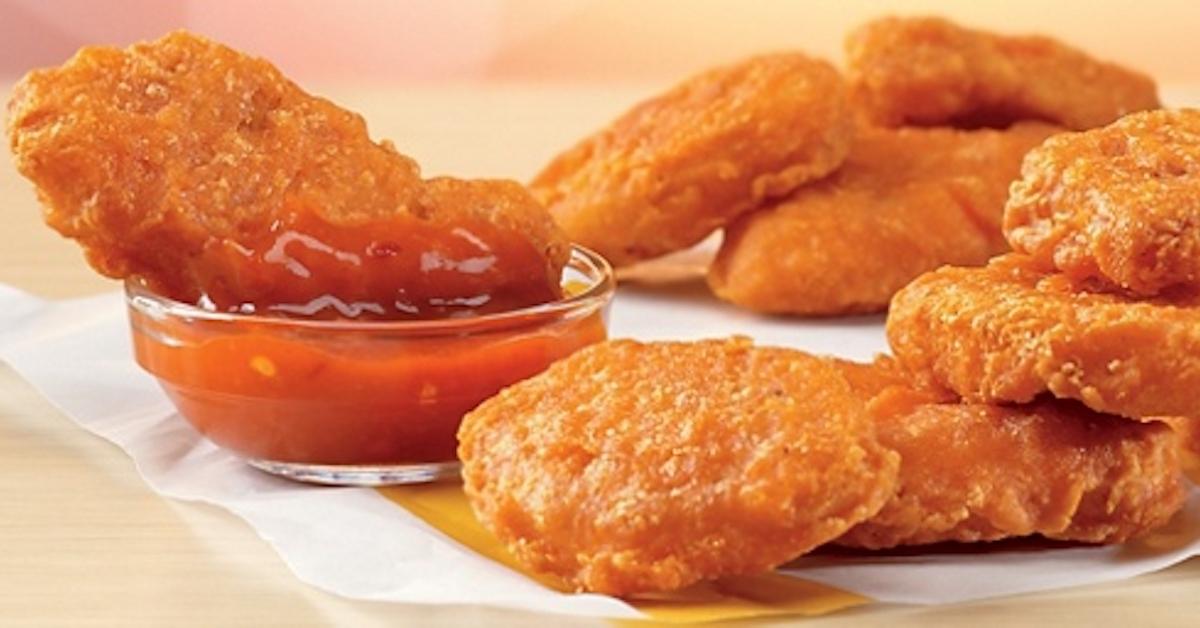 Everyone remembers the fast-food chicken wars that Popeyes kicked off last summer with the launch of a spicy chicken sandwich that caused a considerable ruckus all over the nation. Since then, Chick-Fil-A, Wendy's, KFC, and Taco Bell have all launched their own new chicken-based menu items and now, McDonald's has followed suit and jumped aboard the spicy chicken train.
Article continues below advertisement
The fast food giant has launched its first new McNugget flavor since the item's debut in 1983. But since the company announced their new Spicy McNuggets would only have a limited run in stores, customers are already worried about the end of the new release. So, when exactly will McDonald's new spicy nuggets offer end? Keep scrolling to learn more.
Article continues below advertisement
When will McDonald's end the new Spicy McNuggets promotion?
When McDonald's announced the release of their new Spicy McNuggets, the company noted that the new menu item would only be available for a limited time. Beyond that, customers had no idea about when the promotion might end and the company has yet to make any official announcements.
But if you haven't gotten a hold of some nuggets yet, we recommend you'd hurry because the chain's restaurants are reportedly already running out of the new promotional menu item. Given that it's been only two weeks since the Sept. 16 launch of the promotional item and that McDonald's locations are already running out of nuggets, the company might have underestimated just how popular their new spicy creations would be.
Article continues below advertisement
In addition to the new spicy tempura coating on their beloved chicken nuggets, McDonald's also released their first new dipping sauce in three years, an all new Mighty Hot Sauce made from a blend of crushed red pepper, spicy chilies, and garlic, which is said to pair perfectly with the new nuggets. They've also introduced a new McFlurry, in Chips Ahoy! flavor.
But despite several positive reviews from pleased customers, the chain is already running low on both the new sauce and the new McFlurry.
Article continues below advertisement
But don't despair just yet. Even if the all three menu items disappear from menus for now, the company told Business Insider: "If our customers truly can't get enough, there's always a chance we'll bring limited-time menu items back in the future. You never know, you might just see some of these fan-favorites again soon."
McDonald's keeps running out of promotional items.
This isn't the first time McDonald's has disappointed fans by running out of a promotional item earlier than expected. Back in September, the chain released a promotional menu in collaboration with artist Travis Scott but the meal was so popular that McDonald's restaurants nationwide ran out of key ingredients needed to make the Quarter Pounder that was part of the promotional meal.
After the huge success of Travis Scott's Cactus Jack meal, McDonald's released yet another promotional meal, this time partnering with Reggaeton sensation J Balvin. The new menu premiered a day after Travis Scott's collaboration with the chain ended, and is scheduled to remain in stores until Nov. 1.