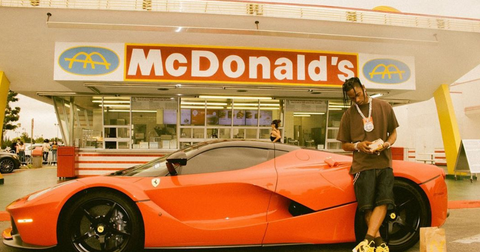 McDonald's Caused Total Chaos When They Told Customers to Say "Cactus Jack Sent Me"
By Gina Vaynshteyn

Updated
Starting September 8, you can order the Travis Scott meal at McDonald's. The Travis Scott meal includes a Quarter Pounder with cheese, bacon, lettuce, medium fries with BBQ sauce, and a Sprite — all for six bucks. Along with a promo for the meal, McDonald's tweeted, "say Cactus Jack sent you" to their Twitter following. The ad for the Travis Scott meal also has the rapper advising McDonald's patrons to say Cactus Jack sent them.
Um, what does Cactus Jack Sent Me mean?
Cactus Jack is Travis Scott's music label as well as his nickname. So when you say "Cactus Jack sent me," you're basically saying, "Travis Scott sent me." It's all part of a PR move McDonald's is hoping wins over millennial/Gen Z customers, which Business Insider reports are harder to reach these days. The only problem? It seems like McDonald's staffers didn't get the Cactus Jack memo, because people have documented their Cactus Jack experience only to be met with confusion.
In fact, some people aren't even being charged correctly when ordering the special meal. "I said 'Cactus Jack' sent me and i didnt recieve NOTHING [sic] that this promotion offered. Look at the pics," one Twitter user wrote, showing his receipt. The order itself is correct, but the total amount they were charged is $8.87 (with tax).
Can you get a Cactus Jack McDonald's toy?
Nope. You don't get anything special with the Travis Scott meal, or even if you say "Cactus Jack sent me." One person took to Twitter to complain that the meal didn't seem very unique. "Yeah Travis Scott sent me. A normal wrapper for my sandwich and my fries. Nothing special at all!! They don't even have a toy," they wrote.
Not even a special box! RUDE.
One person recorded himself telling a McDonald's employee that "Cactus Jack" sent him. "What's that?" the employee asked. "I thought...anyway...I'll just do the Travis Scott meal," the customer said, giving up.
Some people are joking about what it must be like to be a McDonald's employee right now.
It's definitely not lit for McDonald's employees right now. Hopefully the hype around the Travis Scott meal will die down as soon as more people realize it's just a regular meal with a side BBQ sauce instead of ketchup (not that it doesn't sound absolutely delicious). Most likely, though, the buzz over the ridiculous promo is exactly what McDonald's was shooting for. After all, they did want to reach a younger demo.
McDonald's Chief Marketing Officer, Morgan Flatley, told Business Insider that [Travis Scott's] ability to see where culture is going and have a hand in where culture is going is really unique. Then you couple that with his huge followership and his fans, social-media footprint, and ...3 billion streams. He just has an incredible audience." We can already imagine what the initial brainstorm must have been like at McDonald's HQ. "Let's make it...TikTokable!" one exec probably said. And here we are.
It's unclear at this point how much Travis Scott is making with this deal with McDonald's, but we're guessing it's a pretty penny. Although the Cactus Jack promo runs for only a month (until October 4), it seems like this may only be the beginning of McDonald's x Travis Scott, as an article in Forbes describes the partnership as "multi-level." So, you have until the beginning of October to get your Travis Scott meal, but maybe for the sake of McDonald's employees, don't tell them Cactus Jack sent you.