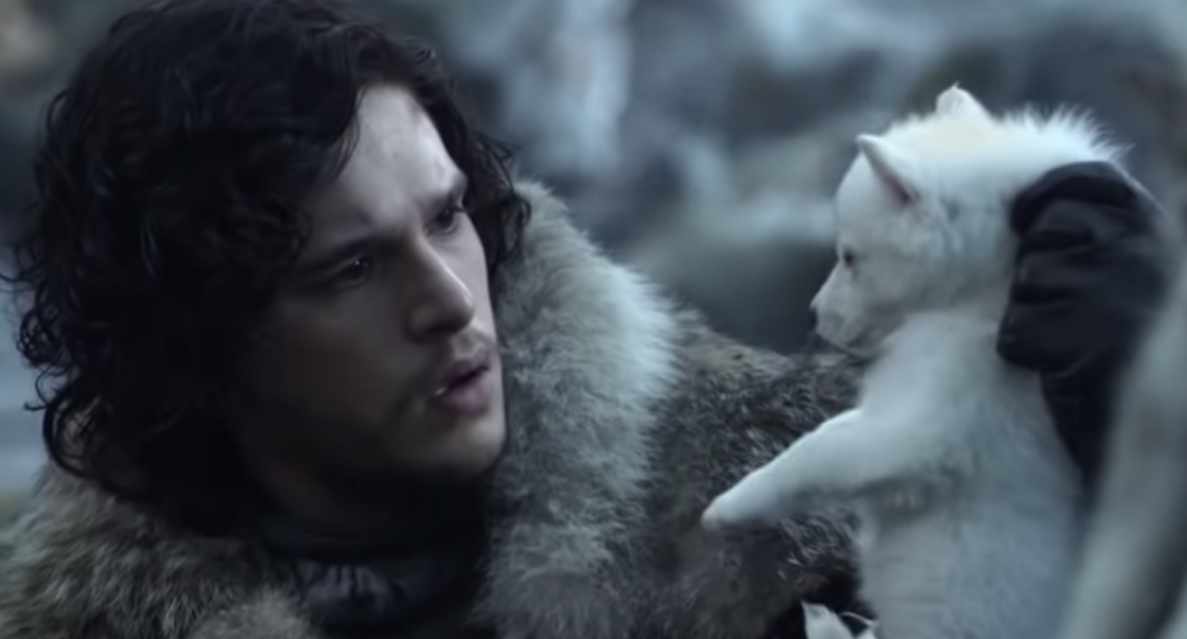 Has Jon Snow Replaced Ghost With a Dragon on 'Game of Thrones'?
Update: Ghost made his big return during Season 8, Episode 2.
Article continues below advertisement
Alongside his "queen" Daenerys Targaryen, Jon climbed on top of Rhaegal and took a ride through the Westeros skies, a scene many viewers of the HBO compared to Aladdin and Jasmine's magic carpet ride.
However, just because it looks like Jon has a new pet, many fans who were hoping for a glimpse at his trusted direwolf Ghost were seriously disappointed.
So, where TF is Ghost? 
In Season 7, Ghost was noticeably absent from Jon's trip to Dragonstone — and he definitely didn't join his owner when he headed to King's Landing to convince Cersei to join their fight against the white walkers. In fact, his last appearance came in the Season 6 episode, "Oathbreaker."
"It has been exactly 1,071 days since we last seen Ghost," one fan tweeted, counting the exact number of days Ghost has been missing in action. Another added, "Am I the only one who's wondering where the f--k is Ghost and why Jon hasn't gone to see him yet?"
Article continues below advertisement
Article continues below advertisement
A third chimed in, "MISSING/REWARD: large white direwolf, fluffy with red eyes, answers to 'Ghost.'"
As expected, fans have some theories to explain Ghost's disappearance from Jon's side. On reddit, one viewer pointed out that in the books, Ghost is "aloof" and "he comes and goes as he pleases."
Others just really want to see Ghost interact with a dragon. "Do you think ghost will like the dragons or bark at them?" one fan asked.
Article continues below advertisement
Another theory is that HBO is saving money by not including Ghost in any major scenes. "He just follows Jon around, offscreen. Budget," a fan theorized. This didn't sit well with fans, but there is some good news when it comes to the direwolf.
There was even a Change.org petition urging the show's creators to stop killing the Stark family pets.
Will Ghost return in Season 8? 
Yes. According to VFX supervisor Joe Bauer, Ghost is finally ready for his comeback.
"Oh, you'll see him again. He has a fair amount of screen time in Season 8," he told the HuffPost last year. "He's very present and does some pretty cool things in Season 8."
Article continues below advertisement
He also went on to explain that featuring direwolves on the HBO series includes some trickery involving CGI and real wolves.
"The direwolves are tough because you don't want to get them wrong, so we end up always shooting real wolves and doing a scaling trick with them, but the real wolves only behave in certain ways," Joe said. "I think that has something to do with why the direwolves are in the show but they're not maybe as integral as they are in the books."
Article continues below advertisement
In fact, Ghost was supposed to appear in a scene in Season 7, Episode 5, when Sansa tells Jon not to expect the North to "sit and wait for him like Ghost" but the scene was ultimately cut.
So, this means that Ghost is definitely in Winterfell, and ready for his closeup.
What about Arya Stark's direwolf, Nymeria? 
Since Ghost is returning to Game of Thrones in Season 8, fans can also expect the return of Arya's direwolf Nymeria. The last time we saw Nymeria — who is named after a warrior queen of the Rhoyne — it was Season 7 and it was the first time Arya had seen her beloved pet since she forced her to run away to save her from a then Prince Joffrey's wrath in the first season.
Article continues below advertisement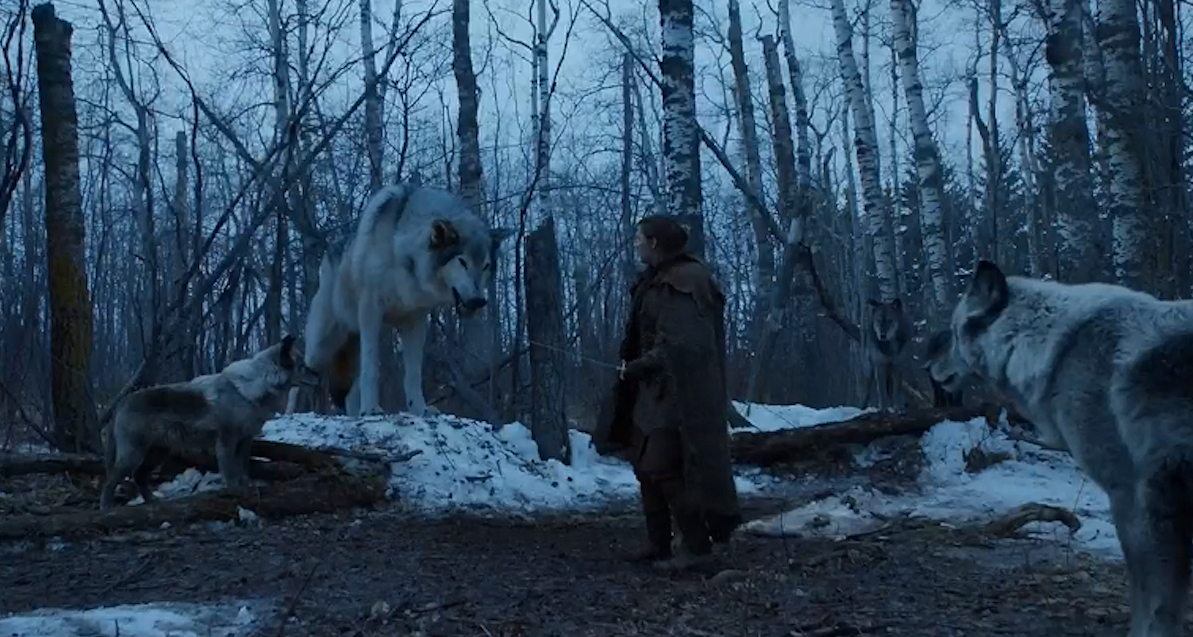 However, expect Nymeria to also return for the eighth and final season.
George R.R. Martin hinted as much in 2014 — regarding Nymeria's role in the final two books of the A Song of Fire and Ice series. "You know, I don't like to give things away," he told Mashable before teasing, "You don't hang a giant wolf pack on the wall unless you intend to use it."
As Ned Stark once said, "the lone wolf dies alone." Watch Game of Thrones Sundays at 9 p.m. EST on HBO.