White Woman Lists All the Crimes She Got Away With Because of Her Skin Color
Krista Vernoff details the infractions she committed in her youth and the way police officers responded each time to show that there's a huge discrepancy in the way white and Black people are treated by cops.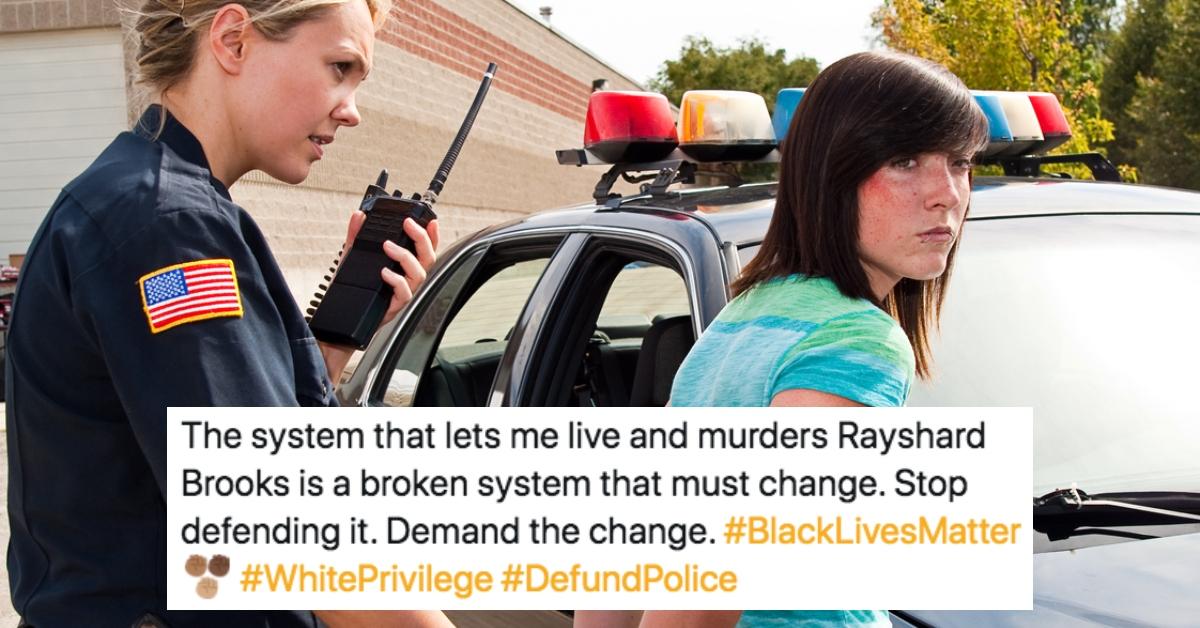 Krista Vernoff is a TV showrunner for shows like Grey's Anatomy and Station 19. She is also a white woman. And in a recent viral thread, she details several incidents she had with police officers in her youth, incidents in which she committed crimes.
Article continues below advertisement
None of these infractions led to lifelong consequences. None of them ended in jail time. She doesn't have a criminal record. Krista shares her stories to show just how much of a discrepancy there is in the way white people and Black people are treated by cops.
If Krista had been Black, any one of these run-ins with the law could have meant the end of her life. Instead, she has been allowed to grow and learn and become successful in her career. So many Black people are not afforded the same opportunities.
Article continues below advertisement
She starts the thread with a story about being caught shoplifting when she was 15 years old. She was never handcuffed, and she served no jail time, even in a juvenile detention center. Two years later, at the age of 18, Krista was pulled over for drunk driving, a serious infraction.
Article continues below advertisement
Not only was she able to talk her way out of a breathalyzer test, but the officer laughed and let her off with a warning. I have a hard time imagining that she would have gotten the same treatment if she were Black.
Article continues below advertisement
In her next tweet, Krista writes, "When I was 19, I got angry at a girl for flirting with my sister's boyfriend and drunkenly attacked her in the middle of a party. I swung a gallon jug of water, full force, at her head. The police were never called."
She was standing in front of two police officers, however, when she was 20 years old and decided to punch a man in the face. Guess what happened next?
Article continues below advertisement
The cop laughed. Again. She wasn't arrested for assault. She wasn't manhandled by police officers. She wasn't met with gunshots. "Between the ages of 11 and 22," she writes, "my friends and I were chased and / or admonished by police on several occasions for drinking or doing illegal drugs on private property or in public. I have no criminal record."
Article continues below advertisement
She has — and I cannot stress this enough — no criminal record! After all of that! If she were Black, there is no way she would have been written off by cops like that and afforded all those chances.
Article continues below advertisement
And that's exactly why she decided to share her experiences. When she was 15 years old, she ran away from the cops with a bunch of stolen merchandise. They didn't shoot her. They didn't even handcuff her.
"Defunding the police is not about 'living in a lawless society,'" she writes. "It's about the fact that in this country, we're not supposed to get shot by police for getting drunk. The system that lets me live and murders Rayshard Brooks is a broken system that must change. Stop defending it. Demand the change. #BlackLivesMatter #WhitePrivilege #DefundPolice."