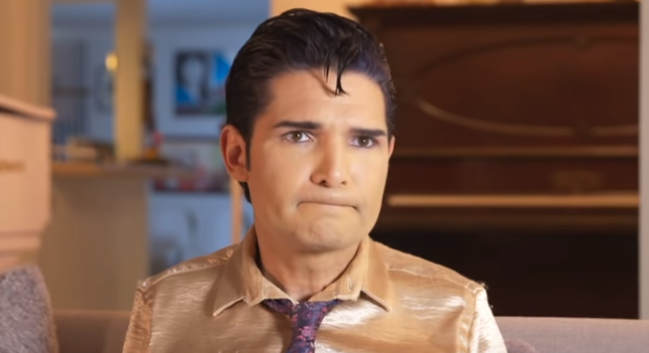 Corey Feldman Accuses a Few A-Listers in His New Documentary
It's a dark, but open secret that's existed in Hollywood for decades: the abuse of young child stars. While there's been a reckoning wrought against Harvey Weinstein for his treatment of actresses over the years, some conspiracy theorists believe that no justice will ever be dealt with those guilty of crimes against children in Tinseltown.
Article continues below advertisement
Which is why a lot of people want to know who exactly Corey Feldman names in his documentary.
My Truth: The Rape of 2 Coreys is a new film released by the child star that names the alleged abusers who assaulted and exploited both Feldman and his former best friend Corey Haim.
The duo had a string of successful films throughout the '80s and were household names. However, as time progressed, it was evident that the two men struggled in dealing with their fame.
While many chalked it up to "too much too soon" Feldman became vocal about the trauma he and Haim were subjected to.
Article continues below advertisement
It's important to note just how meteoric of a rise Corey Haim enjoyed from such a young age. As a child, Corey was more interested in playing ice hockey, but was noticed while attending auditions with his sister. It didn't take long for him to get leading roles in huge projects. He received heaps of praise for his role in Lucas, with glowing reviews from critics everywhere.
Corey Feldman also had a similar career trajectory.
Article continues below advertisement
While the two actors are most remembered for their films, notably, The Lost Boys (and six other feature films), they were featured in other blockbusters as well. Corey Feldman secured a leading role in The Goonies and, like Haim, was a household name featured in top '80s film productions.
Both he and Haim were constantly in the running for similar roles early on in their careers, and were best friends both on and off-camera.
Sadly, they also suffered from similar addiction problems. The two Coreys were vocal about their early struggles with drugs and alcohol, along with the problems in "shaking off" the child actor "stigma." Once they were grown up, getting high-profile roles was proving to be difficult, even if a look at their respective IMDB pages lists plenty of on-screen and voice acting credits for both artists.
Article continues below advertisement
In 2010, Corey Haim sadly died of pneumonia at the age of 38, and it wasn't until after he passed away that his longtime friend and co-star, Feldman, made some of the first public accusations against a "Hollywood mogul" for the License to Drive star's death. In Feldman's 2013 book, Coreyography, Feldman said that Haim "had been tricked into engaging in a painful session of anal sex by a man on the [Lucas] movie set."
Article continues below advertisement
Feldman continued, "The man told Haim that sex between men and boys was normal in Hollywood, saying that 'all the guys in the entertainment world do it."
As for his own experiences, Corey Feldman says that he had tried to blow the whistle on perverts in the entertainment industry for decades, but that the information was "buried" each time.
He claims that two men molested him when he was a teenager, feeding him drugs and alcohol and taking advantage of him when he was inebriated.
Article continues below advertisement
My Truth names men who abused both Feldman and his late friend, and features tales from other sexual abuse survivors, like former Young and the Restless actor, Kristoff St. John, who passed away in 2019 at 52 years of age.
"This film would not be the same without his powerful presence, and I thank God we caught up with him still looking strong and healthy and giving a very solid interview, which officially and sadly marks his last on-screen appearance," Feldman said.
Who does Corey Feldman name in his shocking documentary? Charlie Sheen.
In the film, Feldman says that Haim, in great detail, described just what his then 19-year-old co-star did to him when he was only 13 on the set of Lucas: "He told me, 'Charlie bent me over in between two trailers and put Crisco oil on my butt and raped me in broad daylight. Anybody could have walked by, anybody could have seen it.'"
Susannah Sprague, Feldman's ex-wife, said that Haim told her the same story: that he was raped by Charlie Sheen on the set of Lucas.
Article continues below advertisement
Another three men that Feldman accused of sexually assaulting him and Haim were License to Drive and Dream a Little Dream co-star Jon Grissom, who has categorically denied any of the accusations made against him by Feldman. He says that nightclub owner Alphy Hoffman also abused him, former talent manager Marty Weiss, and Dominick Brascia, who was also an actor and a friend of the two Coreys, had abused Haim. Dominick passed away in 2018.
Article continues below advertisement
While Alphy Hoffman hasn't addressed the accusations since Feldman first dropped his name on the Dr. Oz show, Marty Weiss did write on Twitter at the end of the February that Feldman was "grandstand[ing] sex abuse for profit," something Haim would've never done. He also said that Feldman was "jealous" of his friendship with Haim.

Article continues below advertisement
How to watch Corey Feldman's documentary:
You'll be able to screen the documentary on MyTruthDoc.com for $20, where it was made available to stream on Monday, March 9, at 8 p.m. PDT.
The live stream pay per view, when it aired, wasn't without its problems. 45 minutes after its start time, many users still couldn't view the film, and were presented with an error message asking customers to be "patient" and that "hackers" were trying to stop the stream from airing.
While high network traffic was probably the culprit and not "hackers," those who purchased the documentary were still concerned that their financial information wasn't secure. But, third-party companies are responsible for handling payment, so if you did order the documentary or plan to do so online, you shouldn't have to worry.
Article continues below advertisement
In 2017 The National Enquirer was sued by Charlie Sheen after the tabloid spoke with Dominick Brascia (who Feldman alleges also sexually assaulted Haim). Dominick alleges that Corey confided in him regarding his relationship with Sheen; that the two of them "smoked pot and had sex." Sheen blasted the publication for defamation but ultimately dismissed his lawsuit in 2018 after Charlie spoke to the paper regarding a settlement talk.
Article continues below advertisement
Feldman's promised to name Hollywood's abusers for some time now, and there have been several stories that call the actor's credibility, and sanity, into question. But as journalist Hadley Freeman for The Guardian writes, "Harvey Weinstein hired ex-Mossad agents to discredit journalists who were investigating him and women who accused him of rape. So crazy can sometimes be the truth."
If you need support, call the National Sexual Assault Hotline at 1-800-656-4673 or visit RAINN.org to chat online one-on-one with a support specialist at any time.