Don't Cancel Bob Saget Just Yet — He Wasn't Named in Corey Feldman's Documentary
Corey Feldman's explosive documentary, '(My) Truth: The Rape of 2 Coreys' makes new allegations against several stars. Is Bob Saget among them?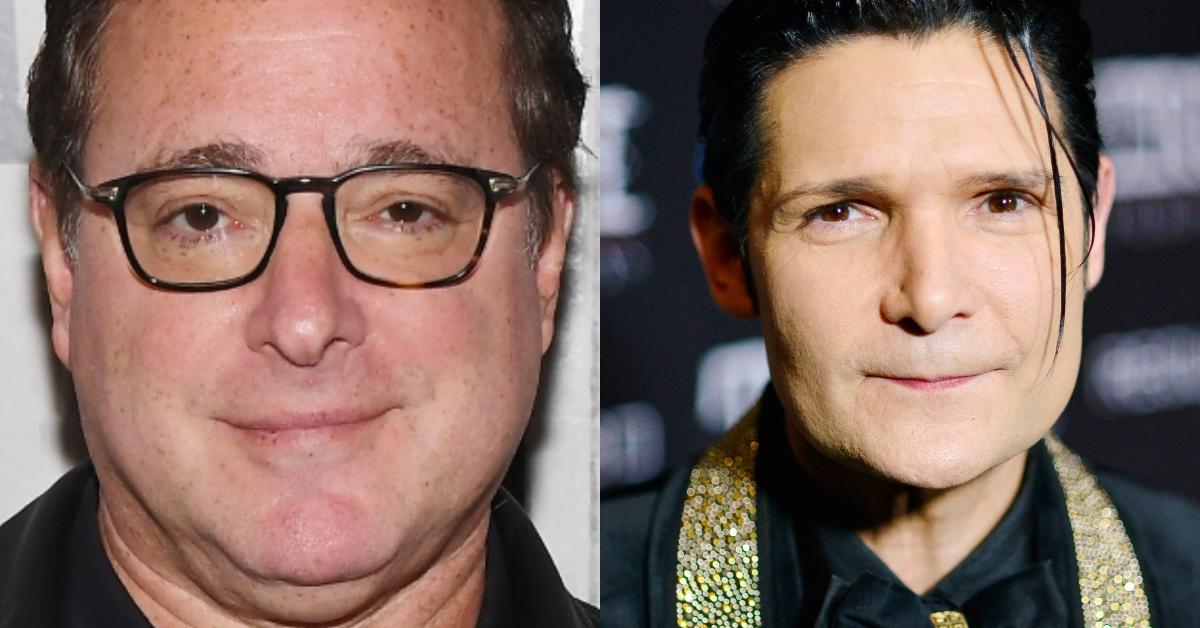 A social media user has falsely named Bob Saget as one of the Hollywood superstars guilty of committing child sexual abuse. The tweet went out shortly after the release of Cory Feldman's groundbreaking documentary, My) Truth: The Rape of 2 Coreys, which lists the name of actors and directors with a history of abuse. Alphy Hoffman, Marty Weiss, Jon Grissom, Dominick Brascia, Charlie Sheen, Bob Hoffman are facing new allegations. Unlike the tweet states, the movie doesn't mention Bob Saget.
Article continues below advertisement
Bob Saget isn't referenced in the new Corey Feldman documentary.
Despite what the popular misconception holds, the standup comedian, television host, and actor didn't feature in the explosive documentary shedding new light on the harrowing acts of child sexual abuse taking place in the industry.
The premiere of (My) Truth: The Rape of 2 Coreys took place at the Director's Guild of America, Los Angeles, on March 9, 2020 — in commemoration of the 10th anniversary of Corey Haim's tragic death — and the first tweets started rolling in shortly after.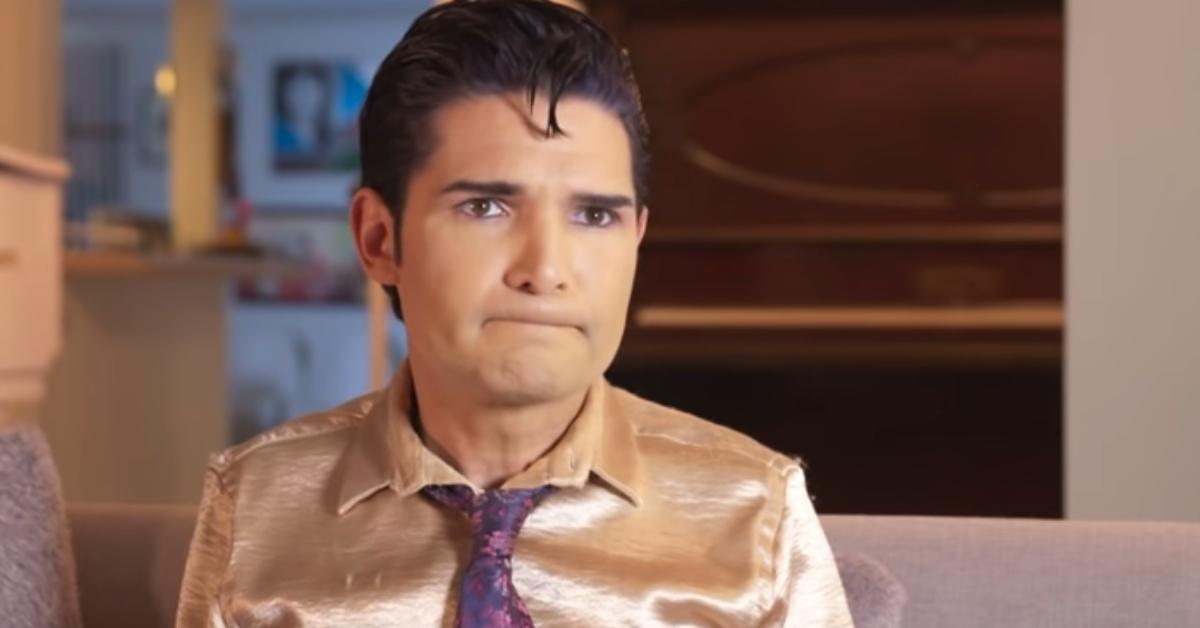 Article continues below advertisement
"#MYTRUTHDOC, @Corey_Feldman alleges that Corey Haim told him he was raped by Charlie Sheen on the 1985 set of Lucas. Sheen has denied this claim previously and does not issue a new denial in the film," tweeted Amy Kaufman, a Los Angeles Times critic.
My Truth: The Rape of 2 Coreys involves detailed segments offering new insight into the kind of misconduct committed by Charlie Sheen and the like, positing claims against as many as six high-profile Hollywood figures.
Legendary club-owner Alphy Hoffman, ex-talent manager Marty Weiss, and Dream a Little Dream actor Jon Grissom were just some of the others who came under fire.
However, not all of these revelations are brand new. Some social media users have taken to criticize the movie for its failure to expose criminals yet to be convicted.
Article continues below advertisement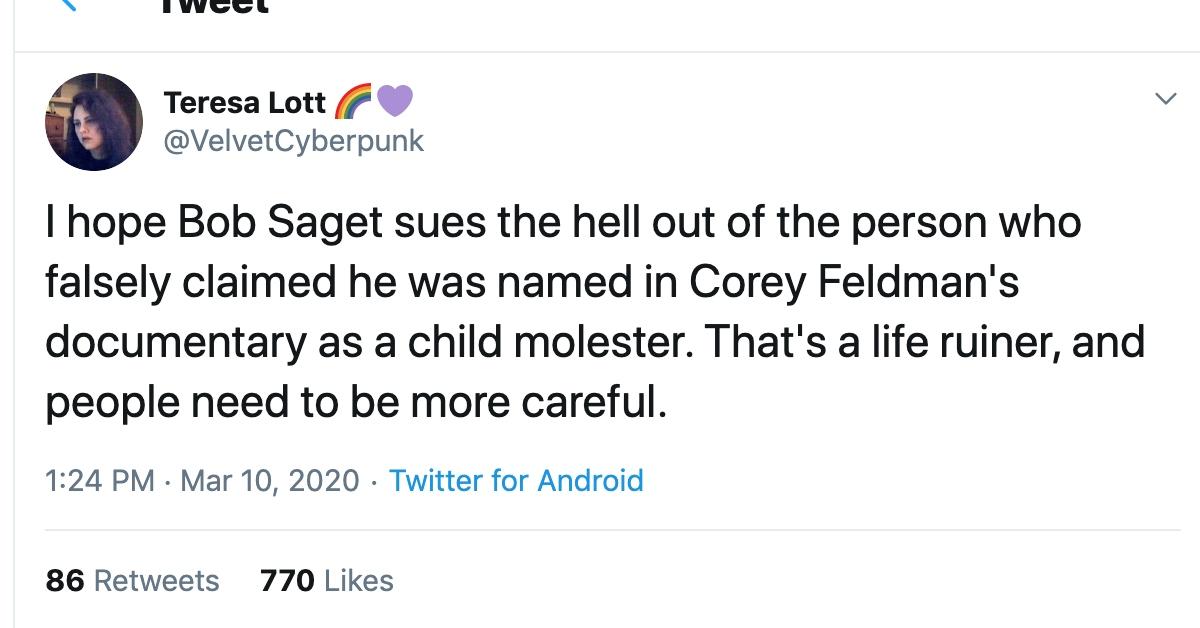 "He made this movie as a cash grab b/c he's broke. Didn't name anyone new, just the same ppl he's said in the past, now compiled into 90mins for $20, at least that was the intent [...]," opined a person on Twitter.
As a Los Angeles Times article confirms, Corey Haim's previous talent manager, Marty Weiss was sentenced to one year in prison in 2012 for committing lewd acts on a child aged under 14. He was released after six months.
Article continues below advertisement
Bob Hoffman, established casting director and the father of Alphy Hoffman, was the fourth person named in the documentary. Due to a wrongly-worded tweet, a new social media trend pressing for Bob Saget's public denunciation kicked off on March 9, 2020. However, the star of Full House wasn't referenced in the movie.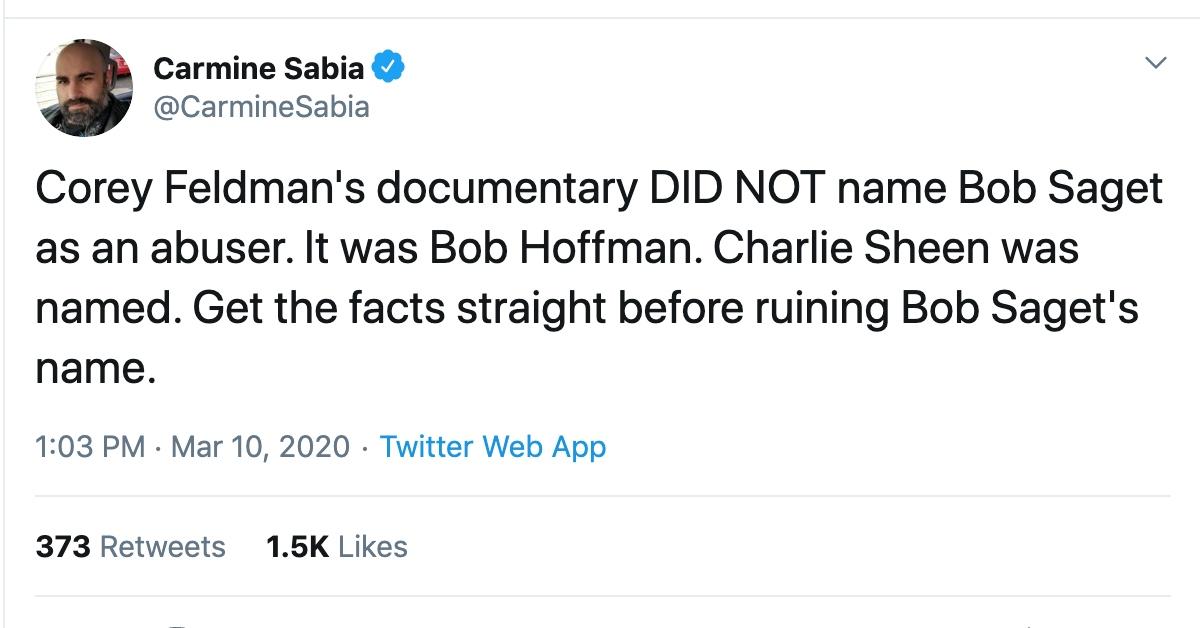 Article continues below advertisement
"Bob Saget is trending because Corey Feldman's documentary named Bob Hoffman as a pedophile and somehow people turned that into Bob Saget based on one - now deleted - tweet," tweeted a person.
"Corey Feldman's documentary DID NOT name Bob Saget as an abuser. It was Bob Hoffman. Charlie Sheen was named. Get the facts straight before ruining Bob Saget's name," wrote another.
You can stream My Truth Doc on Tuesday March 10 at 3 p.m. ET on the My Truth Doc website.