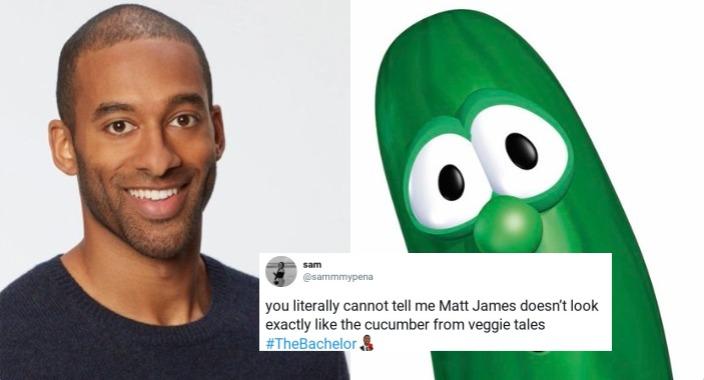 Matt James Is Learning Just How Brutal 'The Bachelor' Fandom Can Be
'Bachelor' fans took to social media to talk about how much they think Matt James looks like a cartoon character and it led some to wonder who it is.
Some people watch The Bachelor because they genuinely enjoy the journey to find true love in the span of two months. Others watch it because they love the petty messes that some seasons create. And then you have those who hate-watch The Bachelor and are dedicated to pointing out all of the ways to poke fun at the show and its lead each season, including Matt James.
Article continues below advertisement
If it wasn't enough that Matt was new to The Bachelor franchise as a whole when he was cast as the Season 25 lead, he now has fans insisting that he looks like a character from the cartoon VeggieTales. Yes, the Christian animated series for kids that ran on VHS and TV from the '90s until the 2000s.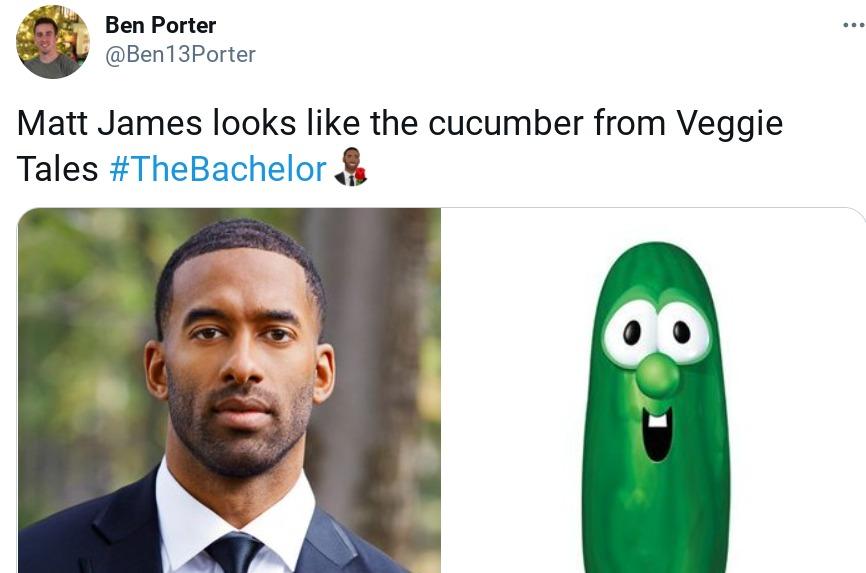 Article continues below advertisement
Fans think Matt James looks like multiple characters from 'VeggieTales.'
According to TikTok and Twitter, you can take your pick from a couple of different VeggieTales characters and compare them to Matt. Some claim he looks just like Larry the Cucumber. Others are convinced he's the spitting image of Archibald Asparagus. Either way, Matt got a pretty bum deal in these comparisons.
Obviously, in a sea of people willing to go to bat for their claims that Matt looks like a character from VeggieTales, you will find plenty more who insist that he's a good-looking Bachelor lead. But being poked fun at just comes with the territory. And even though Matt hasn't shared one of the many VeggieTales memes himself, he doesn't seem like the type to get too butthurt at some harmless fun among fans.
Article continues below advertisement
'The Bachelor' process has been a totally new experience for him.
Matt was waiting for Clare Crawley's season of The Bachelorette to begin when he was cast on The Bachelor. He was a newbie to the franchise and he hadn't even gotten the chance to begin filming with her and the other guys before he was plucked from the cast to be a lead himself. Producers invited Matt to be the next Bachelor and he agreed, clearly not knowing what he was getting himself into.
Article continues below advertisement
Matt told Entertainment Tonight that being on The Bachelor changed him in many ways, including how he operates in a relationship, which probably isn't a bad thing since he admitted to having never been in love before the show.
"I don't think it's a maturity thing. I think it's more so me taking ownership of those experiences," he explained. "But we'll get into that as the season rolls on, what was holding me back in a relationship."
Is Matt James engaged now?
The point of The Bachelor is not only to fall in love and break down barriers that might have prevented contestants from getting that far before — it's also about proposing or getting proposed to and ending the show engaged. Matt hasn't revealed if he's engaged by the end or not, but he did tell The Hollywood Reporter that, going into his season, he was "mentally prepared" for it.
Watch The Bachelor on Mondays at 8 p.m. ET on ABC.