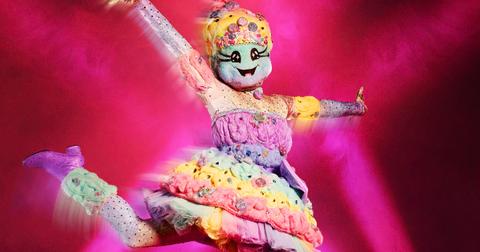 Is Cotton Candy on 'The Masked Dancer' This Four-Time Gold Medalist?
By Dan Clarendon

Updated
Who is the Cotton Candy on The Masked Dancer? As the new Fox show kicks off — and expands the Masked Singer franchise — fans are already dissecting clues and making guesses.
Article continues below advertisement
We haven't yet seen that mystery celeb in the sugary suit perform on the show — the Dec. 27 premiere focused on the Hammerhead, the Tulip, the Disco Ball, the Cricket, and the Exotic Bird instead — but it's never too soon to start the guessing game!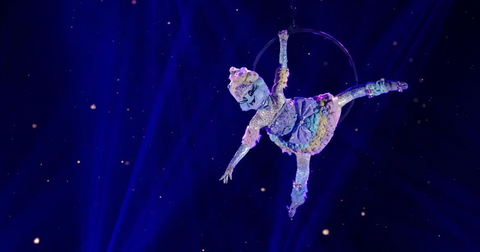 Article continues below advertisement
Clues about Cotton Candy are few and far between.
We know precious little about Cotton Candy so far. According to Fox, Cotton Candy is "someone sweet as candy." (Not very creative … or very helpful.)
An Instagram video hyping up the show, however, might prove more useful. "One year, I took a CHRISTMAS VACATION on the ocean for the holidays," Cotton Candy says in that clip.
And then consider what Fox said about The Masked Dancer's famous contestants in a recent press release: "Between all of the celebrity competitors on the show, they've amassed more than 38 million albums sold worldwide, 20 Emmy Award wins, 20 Grammy Award nominations, 10 World Dancing titles, five New York Times bestselling author titles, four Olympic gold medals and three Broadway show appearances."
Article continues below advertisement
Fans are flooding social media with guesses.
The capitalized "CHRISTMAS VACATION" in the Instagram video had some commenters thinking that the mystery celeb in the Cotton Candy garb was someone from the 1989 movie National Lampoon's Christmas Vacation — someone like Juliette Lewis or Beverly D'Angelo.
Article continues below advertisement
Article continues below advertisement
Plus, as this fan pointed out, Simone has four Olympic gold medals to her name, and some promos show Cotton Candy "doing some leaps and jumps just like gymnastics people would do."
And, as a commenter noted, Simone hit the New York Times Best Seller list with her 2016 autobiography, Courage to Soar: A Body in Motion, A Life in Balance.
In a different Reddit thread, another user says that Simone's "body shape would match up pretty close" with that of Cotton Candy.
Article continues below advertisement
You can get a sneak peek at Cotton Candy's debut.
On YouTube, Fox has shared a clip of Cotton Candy performing a modern dance routine to Pink's "Glitter in the Air" — even spinning from an aerial hoop, much to the celebrity panelists' amazement.
The panelists gave Cotton Candy a standing ovation, with Paula Abdul complimenting the mystery celeb on a "beautiful job" and a "gorgeous" routine.
YouTube commenters were duly impressed, too. One wrote, "I didn't realize I could be so moved by a dance until now." And another said, "Cotton Candy is already my favorite on the show."
Be sure to watch for Cotton Candy as The Masked Dancer's premiere continues Wednesday, Jan. 6 at 8 p.m. ET.