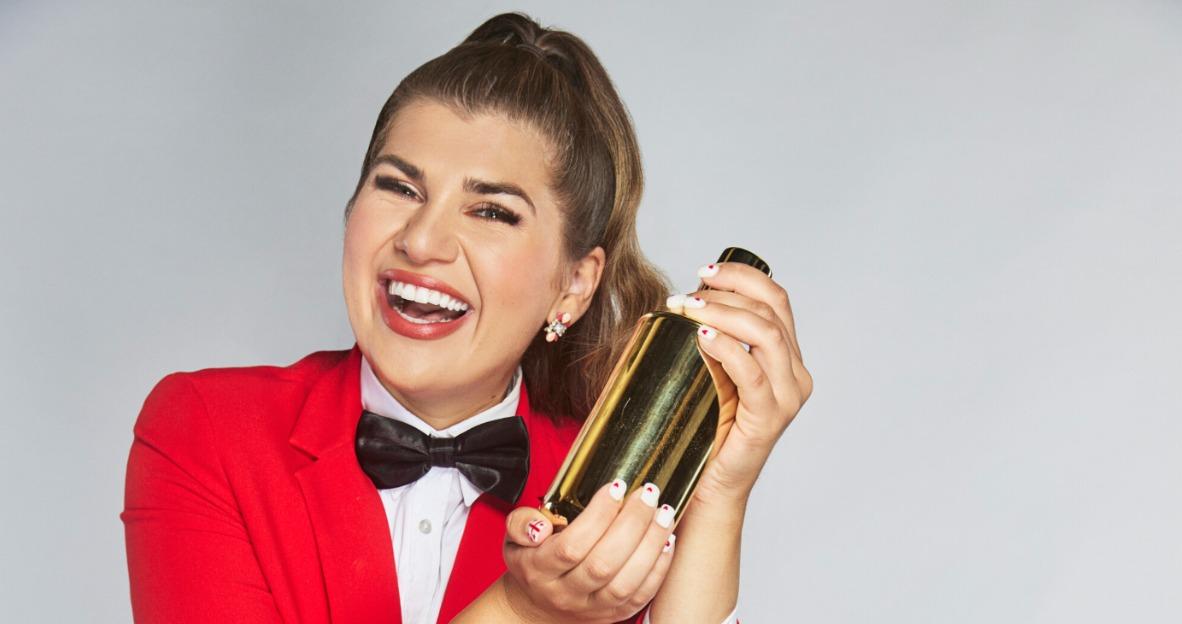 Ezra Freeman on Going From Crew Member to 'Real Love Boat' Star: "I Manifested My Way Onto This Thing" (EXCLUSIVE)
You might be watching The Real Love Boat for the sexy singles there to find love on the high seas. But we'd be lying if we said we weren't incredibly curious about everyone else on the show, including the resident bartender, Ezra Freeman.
So, who is Ezra Freeman on The Real Love Boat? She already worked for Princess Cruises before she was cast as one of the crew for the CBS reality show. She even makes TikToks about her life as a crew member.
Article continues below advertisement
Ezra runs the official Princess Cruises TikTok account and she has amassed a following of her own on her personal account. Ezra is also an experienced entertainer. So if you hadn't seen her on the platform before The Real Love Boat, you might come across her now.
And she's hard to forget. In an exclusive interview with Distractify, Ezra shared how she was chosen to be on the show, how much of The Real Love Boat is real, and what show she could see herself on as a contestant.
Article continues below advertisement
Who is Ezra Freeman on 'The Real Love Boat'?
Ezra is the bartender in the inaugural season of The Real Love Boat. And if the original Love Boat show taught us anything about the value of a bartender on a ship with people looking for love, it's that Ezra may be privy to all kinds of tea as the season goes on.
Being a bartender isn't just an act, though. Although Ezra hadn't worked as a cruise bartender for years leading up to being cast on the show, she does have experience in that arena.
And she's a real cruise ship employee. In 2019, Ezra became a Princess Cruises entertainer, and in 2022, she started running the official TikTok account for the cruise line.
Her résumé says she is technically a host for The Real Love Boat. But she wasn't just handed the role.
Article continues below advertisement
"I believe I manifested my way onto this thing," Ezra told us, of getting cast as the cruise bartender on The Real Love Boat. She made a TikTok about it being her "destiny" to be on the show and, not long after, she got a call. "Like two weeks later, I got a phone call from someone saying, 'Hi, this is Destiny. I'm in casting in CBS.' Destiny literally called."
Article continues below advertisement
Ezra added, however, that from there she had to go through the casting process to be considered for the bartender on The Real Love Boat and she wasn't "fast-tracked." And, she assured us, the show is totally real.
"As a reality TV buff myself, I've watched every dating show, I watch everything, and I expected it to be a lot more produced than it was," Ezra admitted. "Because [with] ours, there was like hardly any interference at all. What you saw on camera is what happened."
Ezra Freeman is on TikTok too.
If you find yourself wondering how you already know Ezra, it could be because she is active on TikTok. She has more than 125,000 followers and she shares videos on a number of things related to working on a cruise ship. She also shared her journey to find her birth parents, as she was adopted as a baby from the country of Georgia.
Article continues below advertisement
In fact, Ezra got the call to be on the show when she was visiting with her biological family in Georgia. From there, she had a few days to pack up and get to Barcelona.
Mostly, Ezra's TikTok seems to be a myriad of posts dedicated to sharing her life as a cruise ship crew member. And, because she has so many followers, you may have already come across one of her videos. But if you hadn't before, you probably will now, since she's also on a reality show.
If Ezra has it her way, she may spend the next several years continuing to see the world as a cruise ship crew member. But she also wouldn't say no to a second season of The Real Love Boat. And, she shared with us, she would love to be a contestant on Love Is Blind on Netflix. For now, though, we'll have to settle for watching her TikToks and seeing her on TV as a host rather than a contestant.
You can watch The Real Love Boat on Wednesdays at 9 p.m. EST on CBS.