Indi Hartwell Proposed to Dexter Lumis on 'Nxt', but Are They an Item IRL?
The best artists are those who put more and more of themselves into their work. They don't really settle for what their base emotions or accomplishments are and double, triple, and quadruple down on who they envision they can be. Which is why the saying: life imitates art comes.
In the world of professional wrestling, having a huge personality is a big part of the game. In fact, one might argue. it's more important than the feats of athletic excellent these sports entertainers pull off.
Which could be the reason why fans want to know who WWE NXT star Indi Hartwell's dating in real life.
Article continues below advertisement
Who is Indi Hartwell dating in real life? Is it Dexter Lumis?
NXT has been developing a romantic storyline between Indi and Dexter for a few weeks now. Dexter, who is painfully silent, was vying for Indi's attention. He even participated in a Love Her or Lose Her match against Johnny Gargano and lost. This should've ended any prospective romance between Dexter and Indi, but you can't stop love.
Indi kissed Dexter, and the two went on a hilarious date the following week. Then, on a recent episode of WWE NXT, Indi proposed to Dexter in the middle of the ring. True to character, Dexter simply nodded yes to the proposal, and now the two are engaged.
But is this like other real-life, pro-wrestling relationships?
Article continues below advertisement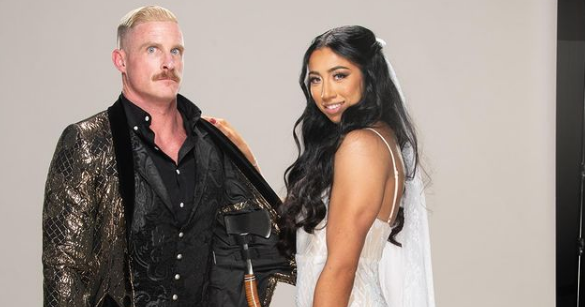 If you grew up watching WWE in the '80s and early '90s, you know that Macho Man Randy Savage and Miss Elizabeth were married. Stone Cold Steve Austin and Debra were also a real-life couple while they worked together, but is this the case with Indi and Dexter?
Article continues below advertisement
It seems they are sticking with kayfabe in real life. Not much is known about Indi's personal life or if she's dating someone outside of the WWE, but according to her social media, she is engaged to Dexter Lumis. Does that mean the two of them are together? Not necessarily.
Article continues below advertisement
While there's a possibility that Indi and Dexter are dating in real life, some fans pointed out that it probably isn't true. In the end, the WWE's all about entertainment and manufacturing storylines, so this could very well be a performance for the two.
Article continues below advertisement
Then there's the fact that Dexter is 12 years Indi's senior. While that certainly isn't a prohibiting factor when it comes to love, many fans just don't see Indi and Dexter as an actual couple. This could be a reason why there's such a comic touch in their interactions.
Article continues below advertisement
Johnny Gargano initially wasn't happy about Dexter Lumis and Indi Hartwell's engagement.
Johnny's first thoughts about the union weren't exactly positive: "So, I'm essentially the father of the bride. So, the father of the bride is supposed to pay for this thing? I'm not paying for this thing! I'm not paying for this wedding, are you kidding me?" he said in a backstage interview.
Article continues below advertisement
He also tweeted: "Indi did WHAT?!" and added, "No one can appreciate a Rebel Heart like I can,' he said. He referenced his theme song. 'I appreciate Rebel Hearts I do, I do! But this circumstance, this situation, is not good!"