Magic Mixies Let Your Child Conjure up a New Cuddly BFF, but They Don't Come Cheap
This holiday season, the toy to get is Magic Mixies by Moose Toys, a new line of interactive whimsical creatures that make over 50 sounds and reactions. They're starting to gain momentum on TikTok as parents struggle to get their hands on one for their kids in time for the holidays. But what exactly is so special about Magic Mixies? Aren't they just furry colorful creatures?
Article continues below advertisement
Correct! But it's the way that Magic Mixies are made that have kids so hooked. How exactly? Well, the word *magic* is in the name.
Keep scrolling to learn all about Magic Mixies, their creation process, and why it's become such a popular and expensive toy.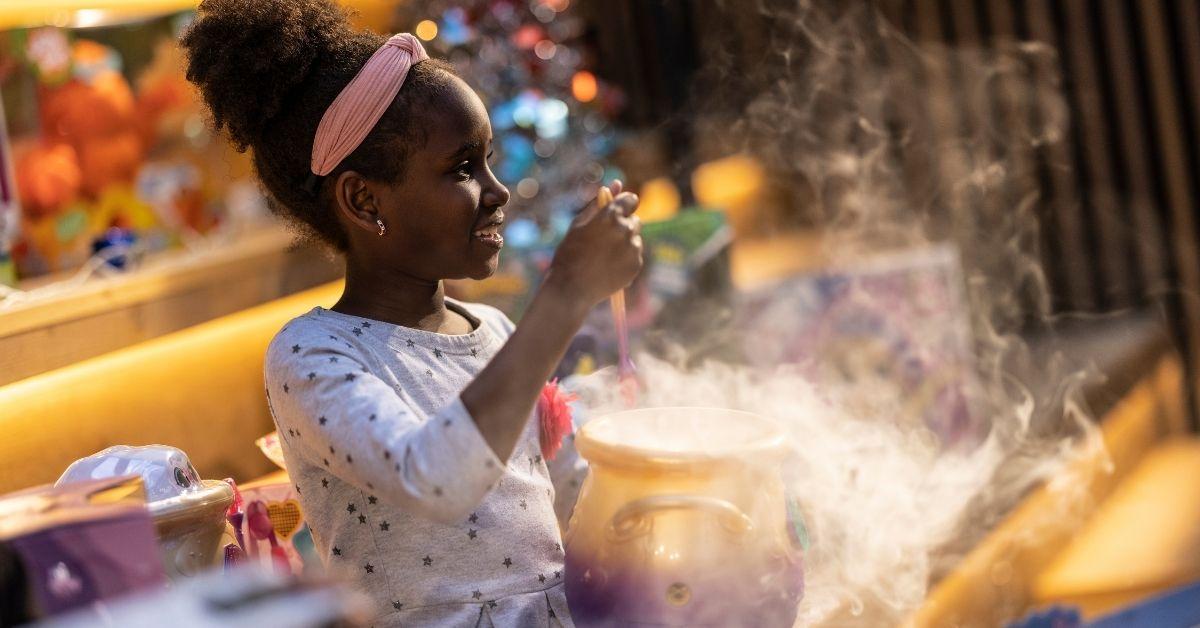 Article continues below advertisement
Kids create their Magic Mixie by mixing a special potion inside of their included cauldron.
While you might not be able to send your kids to Hogwarts, this is a pretty close alternative. When you purchase a Magic Mixie, you're actually purchasing a cauldron, a spellbook, a wand, and special ingredients. Where's the actual furry creature that was promised? Well, that's for children to conjure up.
Article continues below advertisement
Kids will be provided magical ingredients like the "Crystal Gem" or the "Fizz Flower" to mix into their multicolored cauldron. Once their potion is complete, it's time for kids to cast their spell using their magic wand. A cloud of smoky mist should immediately appear to signal that magic is happening. Once it clears, kids will finally be able to meet their new winged friend. Magic Mixies will either be pink or blue depending on the cauldron that is purchased.
OK, but why are Magic Mixies so expensive?
Moose Toys have priced Magic Mixies at $69.99. It's a pretty steep price — after all, the end product is just a furry stuffed animal that could probably be fetched from inside a claw machine.
However, The Toy Insider toy expert Marissa Silva told The New York Post what makes Magic Mixies worth the value. "In past years we've seen surprise-reveal toys that let kids make some cool trinket one time. And once they've unveiled the trinket the thrill of the toy is gone," she told the outlet.
Article continues below advertisement
"But Magic Mixies allows kids to relive the magic of the toy over and over again," she continued.
This is true. Children are able to repeatedly reset the cauldron, brew different potions and create new surprise reveals that they can perform for family members and friends. The magic continues to live on, even after the Magic Mixie is born. But because the toy is in such high demand, that $69.99 price point is becoming more rare.
Article continues below advertisement
In fact, third-party retailers have hiked that price up to upwards of $250. TikTok user @jayytoro, who has been searching for the toy for weeks, explained the price hike perfectly.
In her video, the mom explains that while Walmart had some in stock, they quickly disappeared from shelves. "All you a-holes decided let's go buy them all out and sell them on eBay and Mercari for $130," she said, pointing out how adults are trying to profit off the toy by upselling it.
Article continues below advertisement
What is a Magic Mixie refill pack?
For kids to continue using their cauldron and casting spells, they're going to need some new ingredients. Moose Toys offers a Magic Mixies refill pack for $9.99, where kids can continue their sorcery without purchasing a new cauldron. While refill packs are easier to get a hold of, the cauldron is needed to use them.