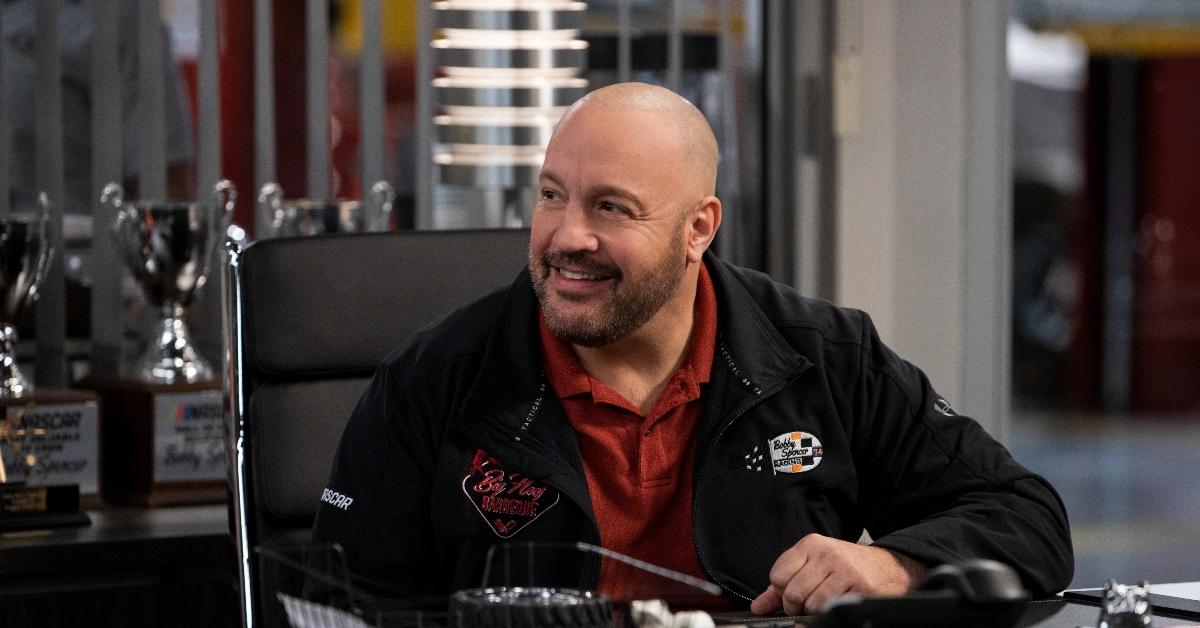 Kevin James Debuts New Bald Look in 'The Crew,' Netflix's Latest TV Comedy
Why did Kevin James shave his head? As the star of 'The Crew' explained in a recent interview, there were several reasons behind the drastic step.
Jam-packed with unexpected narrative twists and laugh-out-loud funny jokes, the recently released The Crew is bound to become a big hit on Netflix.
Starring Jillian Mueller, Freddie Stroma, and Kevin James — who debuted a brand-new bald look in the Season 1 premiere — the 10-episode-long TV comedy captures the everyday life of the people behind the Bobby Spencer Racing team. So, did Kevin shave his head in preparation for his role as Kevin Gibson? Why did he decide to change his appearance?
Article continues below advertisement
Kevin James had several reasons to shave his head.
"I did shave my head ... it was [for a role] and God was leading me that way I think," Kevin jokingly remarked during a recent appearance on Live with Kelly and Ryan. "Every year I was losing more and more hair so I was spraying more and more stuff in it [to] cover it up and it was just getting ridiculous and I just can't do it anymore. So this was a good opportunity to take it off."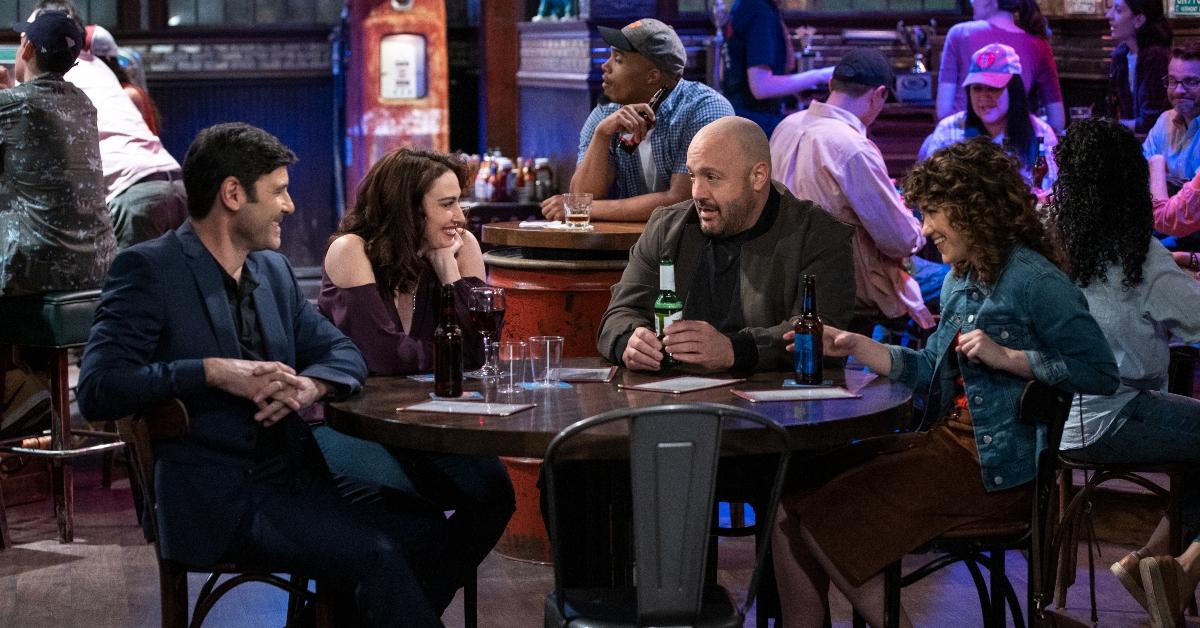 Article continues below advertisement
Kevin's struggles with hair loss likely began years ago. As his Instagram profile reveals, he has been alternating between different hairstyles for quite some time now, and he is certainly no stranger to the bald look.
As posts dating back to as early as the fall of 2018 reveal, Kevin has shaved his hair off quite a few times. He also experimented with different beard styles, such as a full beard or a boxed beard.
Article continues below advertisement
According to a rumor, Kevin might have worn wigs for some of his previous roles.
Rumors about Kevin's battle with hair loss — and the strategies he deployed to treat it — started to emerge over a decade ago.
"Am I the only person that notices Kevin James's toupee?" @alexcwilliams wrote in January 2009.
"Kevin James wears a wig. It is so obvious," @BautistaBomb tweeted in April 2015.
According to some of his less well-meaning fans, there's a chance that the actor and comedian wore a wig or hair plugs during the taping of The King of Queens. The hit sitcom premiered in 1998, and it came to an end in 2007.
"After watching the very first episode of The King of Queens I suspect now that Kevin James is either wearing a wig or has hair plugs," @grahamclark tweeted in July 2011.
Article continues below advertisement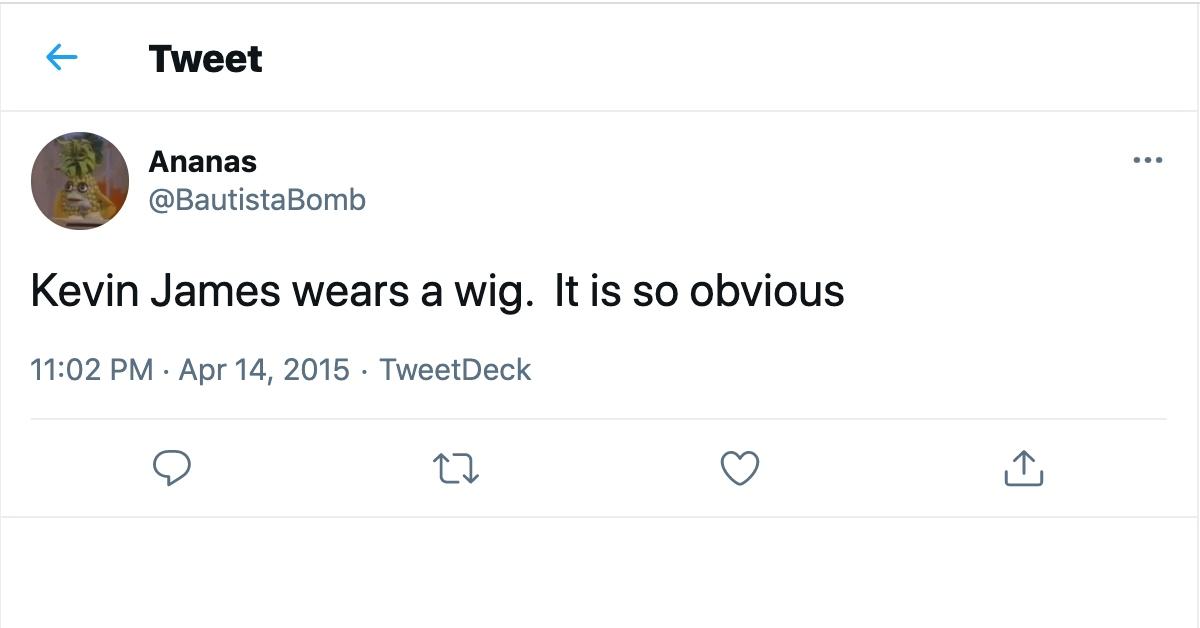 Kevin James tried different hairstyles for his roles in movies like 'Hubie Halloween' or 'Becky.'
Before landing Kevin Gibson's role on The Crew, Kevin was working on movies like Hubie Halloween or Becky. In Hubie Halloween, he was donning an 80s-inspired mullet complete with a toned-down quiff, long sideburns, and a full beard. In Becky, he had his head shaved bald, while the back of his head was made to appear as though it was adorned with extremist symbols. In some scenes, he wore a baseball hat.
Article continues below advertisement
In Steven Brill's 2017 comedy, titled Sandy Wexler, Kevin was rocking a chevron mustache and a neatly-styled, almost curly hairdo. In a scene, he also wore a shamrock-green headband.
The Crew is available on Netflix now.