There Is More to the Story Behind Sinéad O'Connor Tearing up a Photo of the Pope on 'SNL'
In October 1992, Sinéad O'Connor was the musical guest on 'Saturday Night Live.' While performing, she tore up a picture of the Pope. Here's what happened.
When Sinéad O'Connor was the musical on Saturday Night Live on Oct. 3, 1992, she was only 26 years-old. The Irish singer had released two albums, 1987's The Lion and the Cobra as well as 1990's I Do Not Want What I Haven't Got. Her hit single, Prince's Nothing Compares 2 U, made Sinéad a star but her focus was on other more pressing issues.
Article continues below advertisement
That evening she chose to skip the song that reluctantly thrust her into fame, and instead sang an a cappella cover of Bob Marley's War for her second appearance. Towards the end of the performance, Sinéad held up a photo of then Pope John Paul II and tore it into pieces after singing, "We have confidence in the victory of good over evil." She closed by saying, "Fight the real enemy." Why did Sinéad O'Connor rip up a picture of the pope? She had her reasons.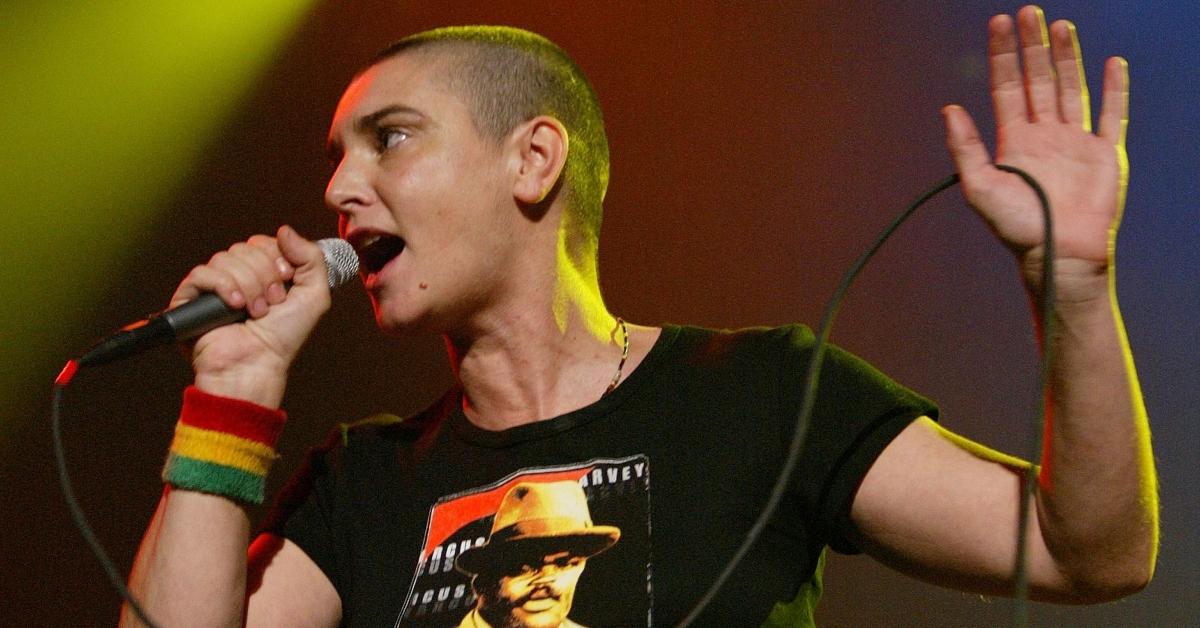 Article continues below advertisement
When Sinéad O'Connor tore up a picture of the Pope, it changed her life forever.
Ahead of the release of her 2021 memoir Rememberings, Sinéad O'Connor spoke with the Amanda Hess from the New York Times about the photo tear heard 'round the world. Most people described it as a career killer and in a sense it was, but Sinéad felt differently. In the book, she writes, "I feel that having a No. 1 record derailed my career, and my tearing the photo put me back on the right track."
The world didn't know what category to put Sinéad O'Connor in. Her haunting voice coupled with her political activism, along with music that was so deeply personal it felt as if we were reading her diary, made it hard to pin her down. After boycotting the Grammy Awards due to their obsession with "material gain" and refusing to play the national anthem before shows, Sinéad was finally labeled crazy.
Article continues below advertisement
Not only was she raised in a devout Catholic family, but Sinéad's mother was incredibly abusive, something she goes into great detail about in her book. When her mother died in a car accident, Sinéad was only 18. That day she took down a photo of the pope from her mother's room, and held onto it. It was that photo she would later tear up on national television.
Article continues below advertisement
When asked by The Guardian if that moment defined her career, Sinéad said, "Yes, in a beautiful f------ way. There was no doubt about who this b---- is. There was no more mistaking this woman for a pop star." Not only was she protesting the sexual abuse and slavery the Catholic church was responsible for, it was if she was putting an end to the years of suffering she endured at the hands of her own mother. A mother who believed in a church that did the same things on a much larger scale.
Although she clearly had nothing left for the Catholic church, Sinéad's faith never left her. Eventually she became a Muslim because Islam is "anti-religious." She told The Guardian that, "Islam is the most maligned religion on Earth because it has the truths that would make you not worship money, make you not steal, make you be good to your brothers and sisters, make you gentle." And gentle, she was.