With a Divorce, a Pregnancy, and a Pay Dispute, Vanessa Morgan Is Having a Big Year
Why did Vanessa Morgan's husband divorce her? No one knows, but the 'Riverdale' star has moved onto bigger things, like her pregnancy.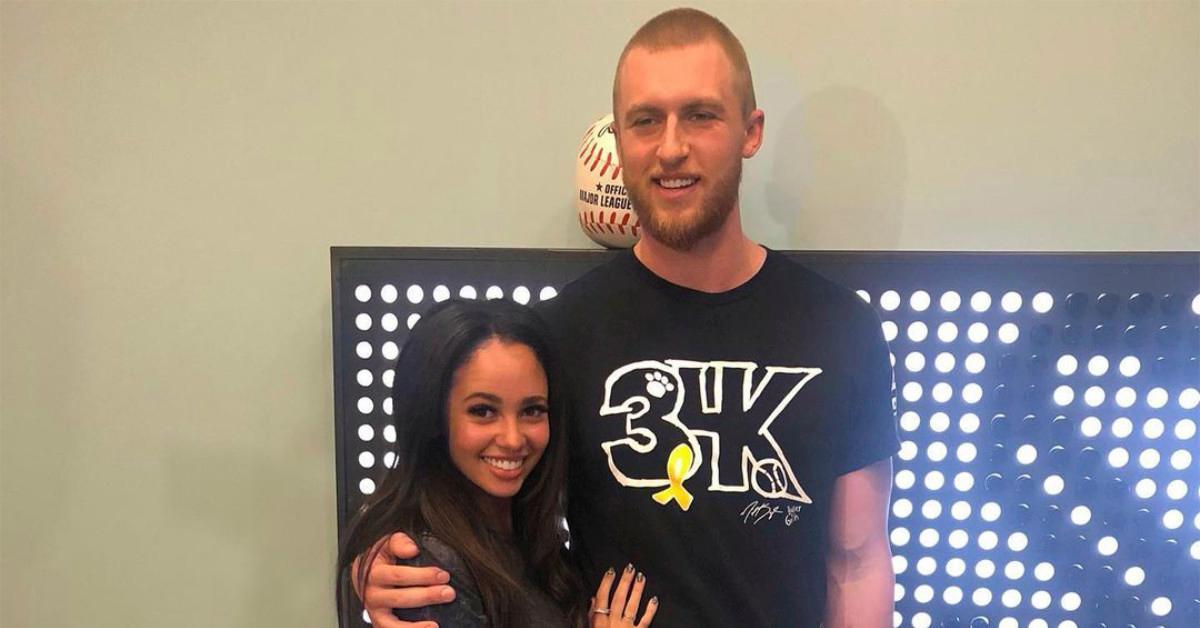 It's been a roller coaster year for one Riverdale star. Why did Vanessa Morgan's husband divorce her in June 2020, just five months after the couple tied the knot? Seems like you'd have to ask him …
Article continues below advertisement
Fans don't know why Vanessa Morgan's husband divorced her.
Vanessa wed Chicago White Sox pitcher Michael Kopech in January 2020 at the historic Walton House near Miami, Fla., with Riverdale costars Madelaine Petsch, Skeet Ulrich, and Drew Ray Tanner in attendance.
That June, however, Michael filed for divorce in his native Morris County, Tex., according to The Chicago Tribune. So far, no reason for the split has been revealed.
Article continues below advertisement
Days earlier, Vanessa revealed on Instagram that she's expecting a baby boy. She didn't mention Michael at the time, and he didn't appear in the photos or videos she posted, but the Tribune confirmed that he's the father.
Vanessa is "overjoyed" to be expecting a baby boy.
In her pregnancy announcement on Instagram, Vanessa said she was "debating keeping this part of [her] life hidden" but knew that people would see photos of her pregnant belly. "I wanted you guys to hear it from me," she wrote, captioning the Instagram slideshow. "I do want to keep this chapter of my life private but did want to be the first to share the news."
Article continues below advertisement
The Teen Choice Award winner said she was "overjoyed" to be welcoming a baby boy in January. "It's almost like everything I thought mattered in this life has completely changed," she added. "We're here for such a greater purpose and life is so precious."
Article continues below advertisement
Vanessa also addressed her incoming bundle of joy, writing, "I can't believe how much growth & strength you've already given me as your mom. It's like God knew I needed you, my angel. The universe works in mysterious ways but always times everything the way it was meant to be."
She went on: "Lil one you were made with so much love & already exude a light so strong it warms my belly. Thank you God for this blessing. I'm just so happy & can't wait to dedicate everyday to being the best mommy I can be."
In July 2020, the White Sox announced that Michael was skipping the current Major League Baseball season for "personal reasons," the Tribune reported.
Article continues below advertisement
Vanessa campaigned for equal pay and better representation this year, too.
Amid the George Floyd protests in May, Vanessa told Twitter followers that she was tired of how Black people are portrayed in the media. "Tired of us being portrayed as thugs, dangerous, or angry scary people," she added. "Tired of us also being used as sidekick non-dimensional characters to our white leads. Or only used in the ads for diversity but not actually in the show."
And when one Twitter fan argued that Vanessa should earn double her paycheck for being an actor of color in an LGBTQ storyline on Riverdale, Vanessa revealed the pay gap for actors on the CW drama.
"Lmao too bad I'm the only black series regular but also paid the least. girl i could go on for days," she wrote. "But exactly, used as the token biracial bisexual."
Article continues below advertisement
Referencing to her tweet, Riverdale producer Roberto Aguirre-Sacasa apologized. "We hear Vanessa. We love Vanessa. She's right," he tweeted at the time. "We're sorry and we make the same promise to you that we did to her. We will do better to honor her and the character she plays. As well as all of our actors and characters of color."
Roberto went on: "Change is happening and will continue to happen. Riverdale will get bigger not smaller. Riverdale will be part of the movement, not outside it. All of the Riverdale writers made a donation to @BLMLA, but we know where the work must happen for us. In the writers' room."