People Throw Stuffed Animals at Figure Skaters After They Finish Their Events
People throw stuffed animals at figure skaters, but some want to know why this tradition began, and how it's evolved over the years.
One of the most incredible things a person can witness is a figure skating routine that has been executed flawlessly. It's understandable, then, that many who attend figure skating events want to find some way to show their appreciation. That's why, somewhat randomly, it's become a tradition to throw stuffed animals onto the ice at the end of an excellent figure skating routine.
Article continues below advertisement
Why do figure skaters have stuffed animals?
The reasons that people began throwing stuffed animals at figure skaters are a little bit complicated, but one of the main ones is that the previous default, flowers, was pretty messy. It's easier for "sweepers," the kids who skate around the rink to pick up all the gifts between routines, to pick up stuffed animals than it is for them to pick every petal off of a rose that has fallen apart after landing on the ice.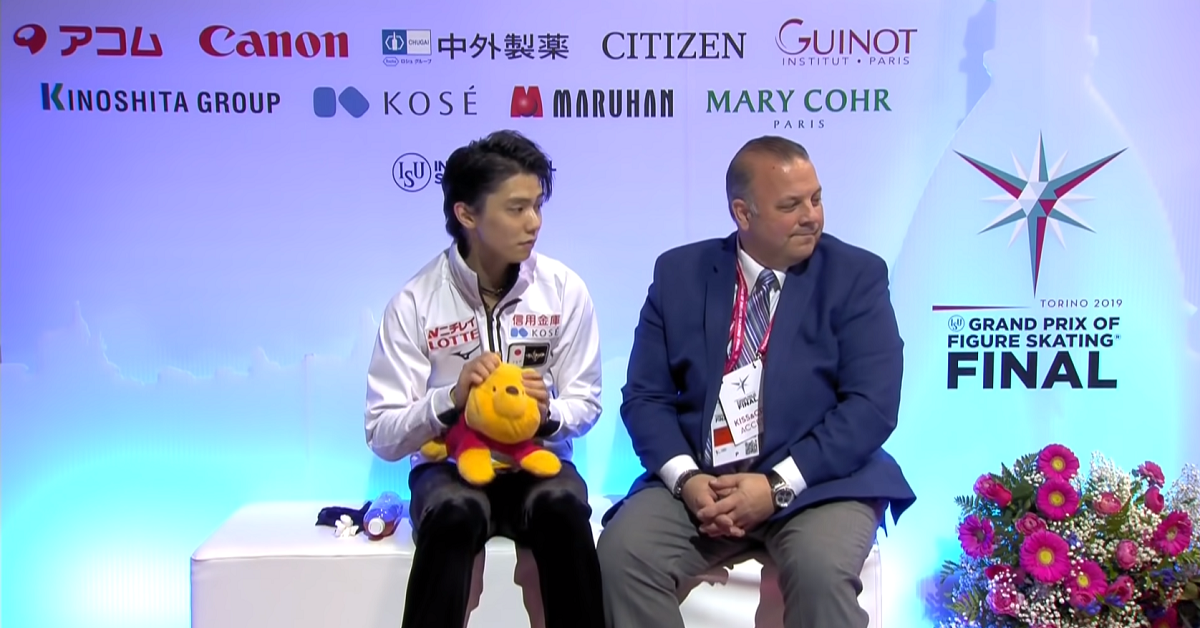 Article continues below advertisement
There's no formal ban on throwing flowers, but organizations have made efforts to discourage the practice in more recent years. "Flowers have always been a problem. Even when they're wrapped, the staples pop out and become a hazard," Larry Kriwanek, chair of the event's organizing committee for the 2002 National Championships, told the Los Angeles Times. "Flowers were going to be eliminated. It was just a question of when."
Stuffed animals became an alternative to flowers.
At those same national championships, fans could purchased authorized stuffed animals that they could throw at the competitors. Plans were already in place to prevent fans from bringing their own flowers to the competition, and following the 9/11 attacks, the policy felt essential.
Switching flowers for stuffed animals also allowed fans to get more personal with their stuffed animal selections.
Article continues below advertisement
Some stuffed animals come in custom costumes that are meant to reflect what the skater is wearing, and others are connected to the personal taste of the skaters. In general, these stuffed animals are designed to be kind gestures that are also less dangerous and more easily retrieved than some of the alternatives. In the 2022 Winter Olympics, we have often seen skaters holding a plush stuffed animals as they wait for their scores to come in.
Article continues below advertisement
What do skaters do with all those stuffed animals?
What happens to the stuffed animals after they land on the ice typically depends on which skater you were throwing them at to begin with. Some skaters keep many of their stuffed animals, whether in an attic at their parents' house or in some other location. Of course, some skaters get showered with so many stuffed animals that it would be more than a little impractical to store them all.
Although the move towards stuffed animals seems to be better for pretty much everyone, it is a somewhat bizarre trend that is particular to the world of figure skating. In gymnastics, for example, no one is throwing stuffed animals at competitors following an event. Still, it seems like a nice, and mostly harmless, way for fans to show their support.