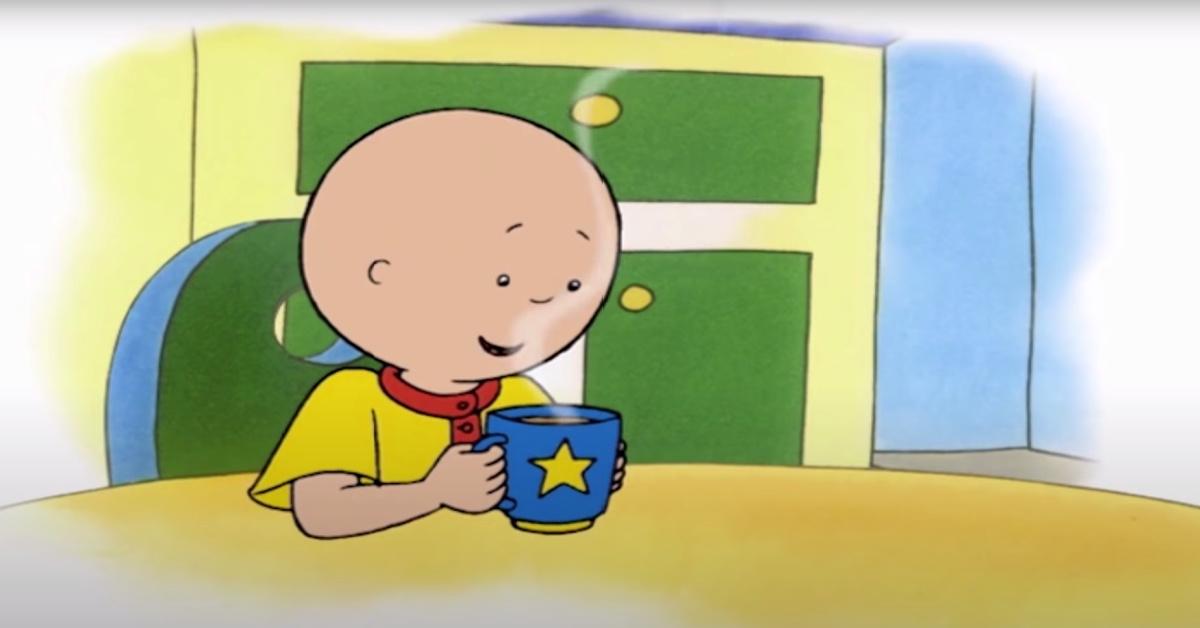 If You Don't Hate 'Caillou,' You've Probably Never Seen the Show
Many parents have a shared hatred of 'Caillou,' the kids' TV show about a 4-year-old boy. If you've ever seen the show, you might feel the same way.
Sometimes, parenthood can feel like an exercise in discovering new ways to be annoyed. There are all of the toys that loudly play the same 15-second "song" (we use the term loosely) over and over and over again. There's the phenomenon of your kid growing out of the shoes that you could have sworn fit them 15 minutes ago. And, as much as you love them (and you do love them!), kids themselves sometimes seem designed specifically to push your buttons and drive you to the edge of insanity.
Article continues below advertisement
But no aspect of parenthood gets quite as much hate as Caillou, the main character of the kids' show bearing the same name. If you've managed to go your entire life without watching an episode of Caillou, you're one of the lucky ones. But you might be thinking, how bad could it really be? Why do people hate little Caillou so much? Here's what you need to know.

Article continues below advertisement
Why do people hate Caillou so much?
Caillou is a Canadian educational children's TV series that first aired in 1997. Although it was initially broadcast in Canada (in French), the show eventually made its way to the U.S. as well, much to the chagrin of many, many U.S. parents. The show is all about a 4-year-old boy named Caillou who has a remarkably normal life with his little sister Rosie and his parents. He goes to school, goes to the park, and goes to the store. Doesn't sound too bad, right?
And yet, in a May 2017 article in the National Post, writer Tristin Hopper called Caillou "quite possibly the world's most universally reviled children's program." There are Facebook groups dedicated to hating the show (and its main character). There are several Change.org petitions demanding that the show be taken off the air. If you hate Caillou and are looking for other people with which to hate him, it will only take a Google search and approximately 25 seconds of your time to find your people.
Article continues below advertisement
As for why people hate the bald little tyke, well, if you have to ask, you probably haven't seen much of the show. Although the show was created by developmental psychologists, the simple fact is that many parents find Caillou himself to be downright intolerable.
Article continues below advertisement
We have to admit: He does have a pretty whiny voice. And he does seem to actively go out of his way to get into trouble. Of all of the children's television characters parents might want their kids to emulate, Caillou has to be pretty near the bottom of the list (although Peppa Pig could certainly give him a run for his money).
A recent post in the r/LifeProTips subreddit warns parents: "If your young child suddenly starts misbehaving after watching TV, check if they've been watching 'Caliou' [sic]." The OP said that one of their relatives noticed their son would start inexplicably misbehaving right after 30 minutes of TV time, even though he was only allowed to watch kid-friendly shows. When the OP's relative finally blocked Caillou, the bad behavior seemed to magically stop.
Article continues below advertisement
Many parents have noticed that Caillou doesn't focus on education — there is no repetition of numbers, colors, or shapes. Rather, each episode features Caillou simply living his life (and being pretty unpleasant in the process). Caillou doesn't typically say "please" or "thank you," and his tantrums happen frequently enough that they even make an appearance in the show's intro. And while kids' shows don't have to be educational, there's no denying that kids learn from everything they consume — so what are they learning from Caillou?
Obviously, all parents can make their own decisions when it comes to what their kids watch (or don't). That being said, if you find yourself feeling unexpected animosity toward a whiny, hairless, animated 4-year-old boy, you're certainly not alone.