Bear the Rottweiler's Growl Has TikTok Split Down the Middle
A viral TikTok from user @ryanprater4 shows his dog, Bear, growling at him aggressively, but many claim he's being loving. What's the deal?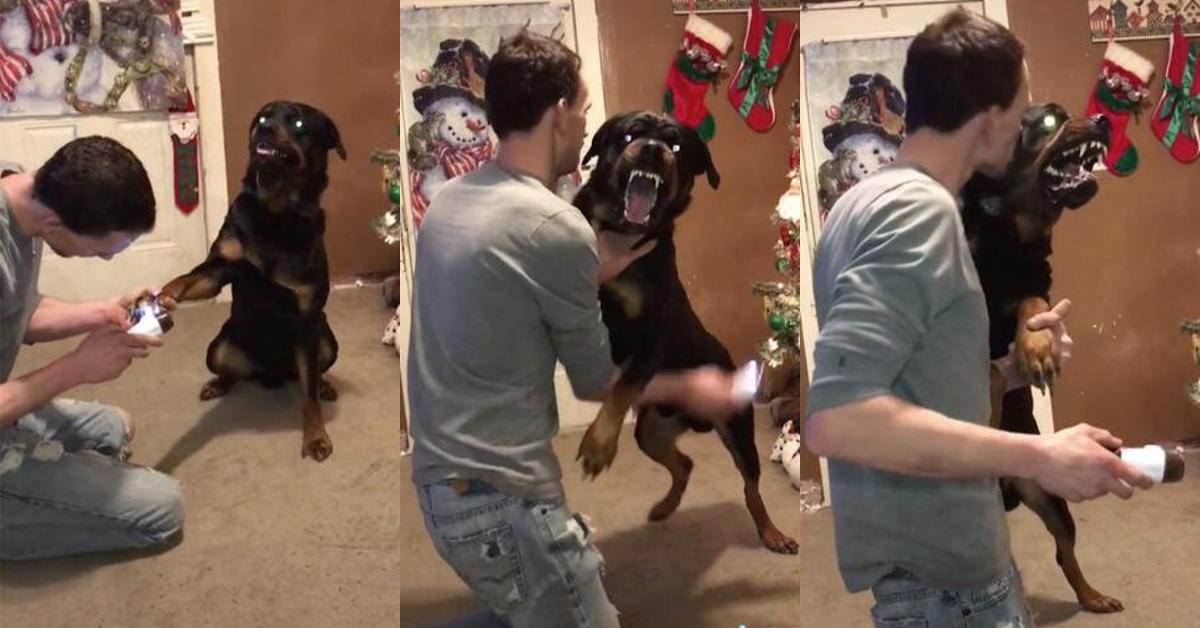 There's a long-standing debate about the idea of nature vs. nurture, and I would argue that people's personalities are based on both of these factors. Ultimately, nurture has more to do with the way someone behaves or acts; however, you can't really deny the inherent nature of a person or thing. Like a cat that play fetch and lolls its tongue is still very a much a cat. But the way that cat acts is all nurture, all the way.
And it's this concept that answers the question on a bunch of TikTok users' minds: Why does Bear growl at Ryan?
Article continues below advertisement
Why does Bear growl at Ryan?
TikTok user @ryanprater4 went viral after posting clips of his Rottweiler, Bear, who seems a lot more threatening than he really is. The video that really sent folks into a tizzy was one of Ryan attempting to clip the nails of his dog. In that video, Bear can be heard growling like Cerberus, as he braces his fangs and contorts his face into an extremely aggressive pose.
While plenty of dogs don't like getting their nails cut, many of them don't look like they're about to tear their owner's throats out for whipping out the clippers. But that's exactly what Bear's face is saying in the video.
However, Ryan assured his followers that Bear really isn't as mad as he appears to be in the clip, and that his snarling has more to do with the way he was brought up than anything.
Article continues below advertisement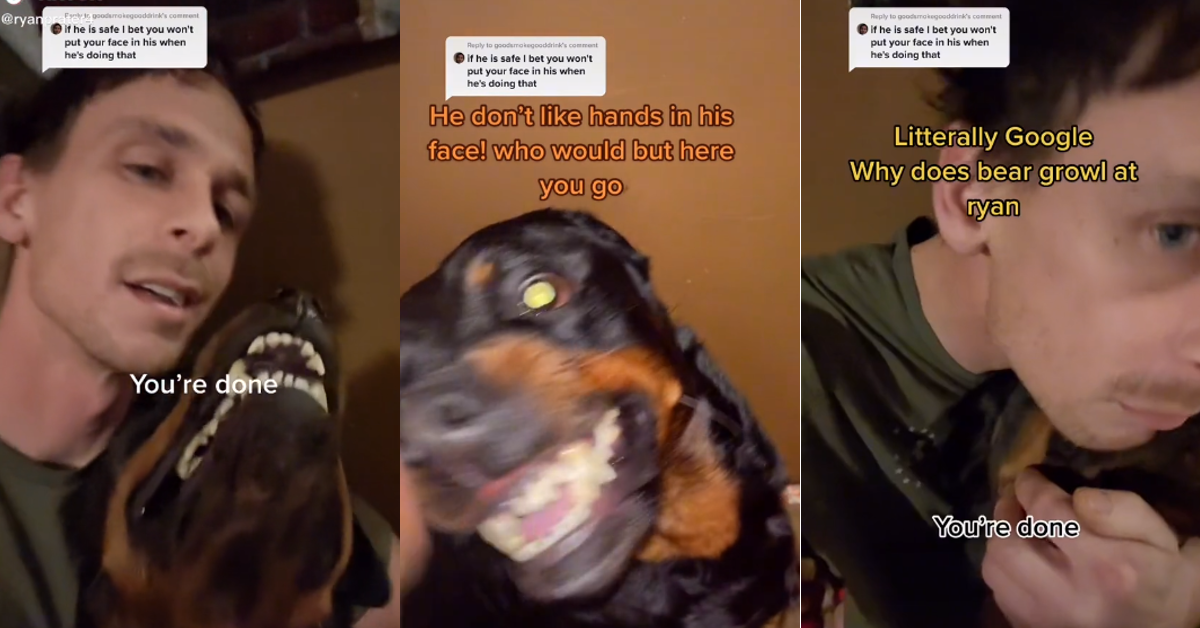 Ryan says that because he got Bear as a puppy when he was only 13 days old, Bear didn't really have a chance to socialize with other dogs. That means that because Bear has pretty much only lived with humans all of his life, he wasn't able to learn other doggy-like behaviors.
Article continues below advertisement
He's a dog and knows that snarling, baring teeth, and growling are ways to convey emotion; he just doesn't know that he's basically bringing a bazooka to a knife fight when it comes to voicing how much he doesn't like having his nails cut.
Article continues below advertisement
This lack of early interaction with other dogs has also had other developmental consequences on Bear's behavior. Like when he's really angry, he just barks. So, he's pretty much the opposite of a chihuahua, which starts yapping just because it's Tuesday.
Article continues below advertisement
Bear's unusual behavior elicited a variety of responses from TikTok users. Some of them thought that the entire nail-clipping ordeal was funny, while others were freaked out of their minds by his growling. And then there were some who couldn't believe the dichotomy of Bear's compliance, but extreme reaction to getting his nails trimmed.

Article continues below advertisement
What's also interesting is that in additional clips uploaded by Ryan, Bear's growling behavior only seems restricted to immediate members of Ryan's family. When he's getting pet by Ryan's grandma, there's not a single growl that comes out of his mouth.
Maybe Bear's just really adept at describing all of the complex emotions of living with someone you love who can sometimes frustrate you to no end? Or maybe he just loves Ryan so much he can't even take it.