Behind John Oliver's Seemingly Random Rivalry With Danbury
Why does John Oliver dislike Danbury, Connecticut? We're investigating his rivalry with the town, which surfaced after recording an infamous rant.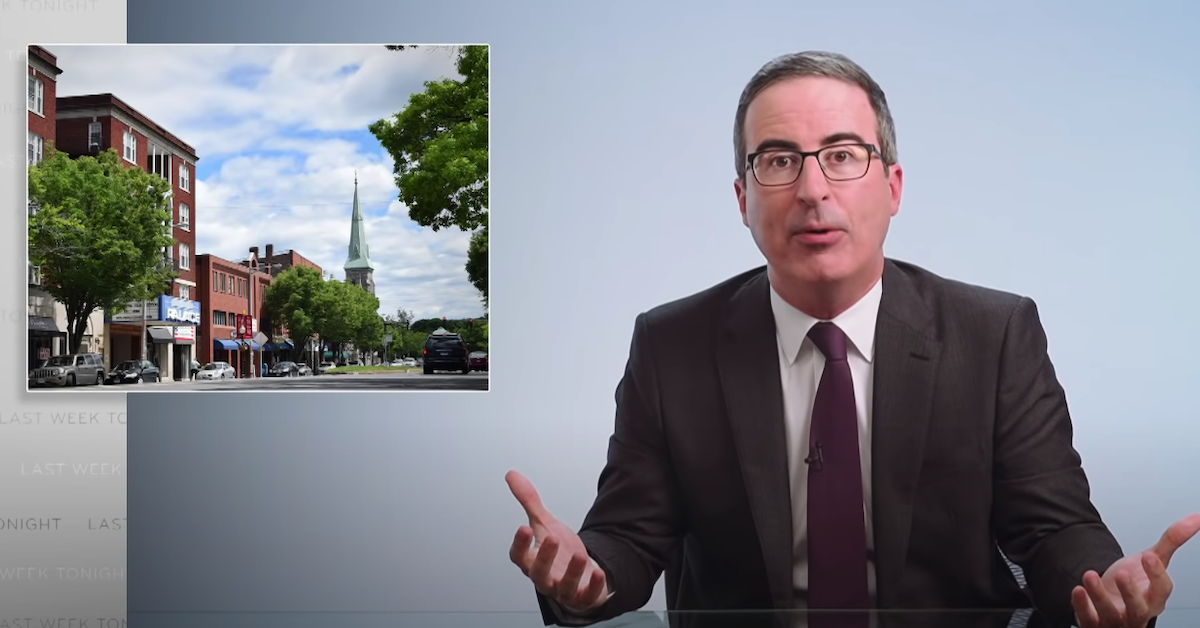 Like Guy Fieri's inexplicable hatred for eggs or Dave Chappelle's ill will toward Staten Island, late-night host comedian John Oliver recently unleashed an unfathomable hot take for Danbury, Conn. that has garnered tremendous attention from Connecticut residents, and even the town's mayor, who offered to name a local sewage plant after the British icon. But we can't help but wonder where this rivalry came from.
Article continues below advertisement
Why does John Oliver dislike Danbury, Conn.? We're investigating the talk show host's hilarious — yet mysterious — grudge against the charming Fairfield County town. But first, check out the full rant for yourself below. After watching the first seven minutes of the video, you'll be completely up to speed on where it all started.
Article continues below advertisement
John Oliver's rivalry with Danbury, Conn. seemingly came out of nowhere.
In an Aug. 16 Last Week Tonight segment, John Oliver was discussing how people of color are routinely excluded from jury duty. One example was when two towns in Connecticut, Hartford and New Britain, were completely erased from the jury system because of a "flaw" within the computer system. This prohibited a large percentage of POC residents from taking part in the necessary civic duty, and in total John Oliver fashion, this inspired an angry rant... in which he dissed Danbury.
"If you're gonna forget a town in Connecticut, forget Danbury, because — and this is true — f--k danbury!" John said. He proceeded to trash the "charming railway museum," and the fact that it was ranked Second Best City by USA in 2015, threatening anyone who goes there.
In response, the mayor of Danbury, Mark Boughton, posted a video to his official Facebook page, offering to name a local sewage plant after him.
Article continues below advertisement
But the conversation didn't stop there. John proceeded to offer $55,000 in donations to local Danbury charities that would go to neighborhood food banks, COVID-19 efforts, and more, as long as the mayor actually makes The John Oliver Memorial Sewer Plant a reality, and it sounds like he may go through with it.
"We are working very hard on it... He has thrown down the gauntlet. Now, I have to do something to get these dollars," Mark said, also hinting at an upcoming response video.
Article continues below advertisement
Does John Oliver actually hate Danbury? Why?
Although John threatened to give a good "thrashing" to anyone who ventured into the charming Connecticut town, it seems like it was all simply in jest, fueled by his anger toward the flawed jury system. John most likely has never been to Danbury, Conn., and if he has, he was probably just passing through. The comedian often makes these kinds of jokes, randomly calling out small towns, and it seems like Redditors agree it was completely random.
Luster-Purge, for example, said: "When John gets involved in basically highlighting specific towns for his program, the results are always entertaining."
Likewise, -Kite-Man- noted he couldn't believe some people actually thought the rivalry was real. He said: "It's so funny when people can't find the line between his reporting and his schtick." He then called it "sweet irony."
Article continues below advertisement
It seems like there's no actual hard feelings between John and Danbury... but, that being said, we're definitely hoping The John Oliver Memorial Sewage Plant actually happens. If so, we're totally paying a visit.