The Real Reason Behind Kakashi's Mask in 'Naruto'
Kakashi wears a mask throughout the popular anime series, 'Naruto.' We've only recently seen Kakashi's face, and fans have many ideas as to why this is.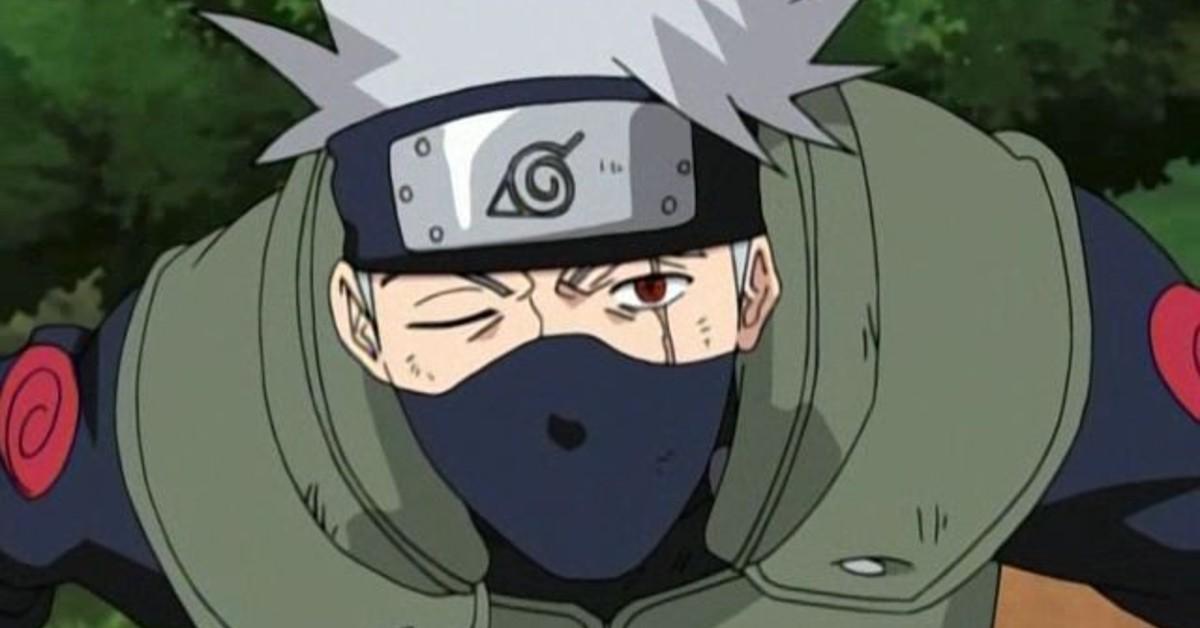 One of the main characters of Naruto, Kakashi Hatake, took off the mask he always wears earlier this year. This is the first time we've seen Kakashi's full face since 1999, after he's appeared in 368 episodes! If you're into anime, you are definitely familiar with Naruto, the anime series created by Masashi Kishimoto that has spanned over twenty years, with its universe still growing today. In the series, Kakashi notoriously wears a mask over his face (similar to the ones we wear now in the age of COVID).
Article continues below advertisement
Kakashi Hatake is the mentor and trainer to the title character, Naruto Uzumaki, who learns his ninja skills alongside fellow Team 7 members, Sasuke and Sakura. Together, these four characters dominate the world of Naruto, although no one quite as much as Kakashi and his mask.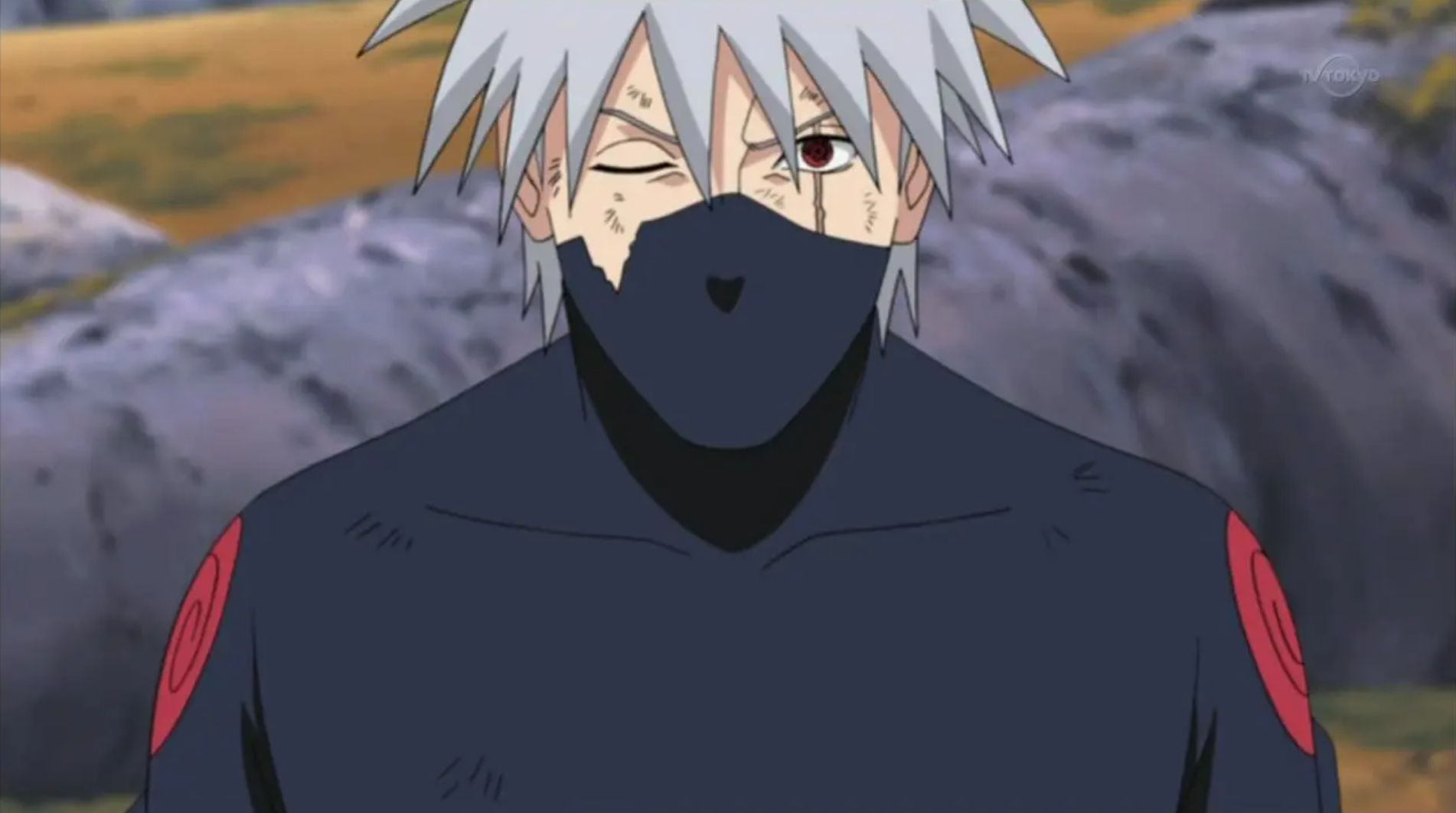 Article continues below advertisement
Fans have many theories as to why Kakashi wears a mask.
In fact, there's a whole Reddit thread dedicated to figuring out why Kakashi wears a mask, as well as a pretty well-researched Quora question. One popular, but quickly debunked theory, is that Kakashi wears a mask because his father died in a mission to save his comrades. Kakashi wears the mask either to hide his shame or hide the fact that he looks uncannily like his father. However, Kakashi wore the mask as a child before his father died, so that theory is one of the weakest.
Fans on Reddit are a little more harsh. One says the real reason is that, "Everyone's face in Naruto looks the same because [Masashi] Kishimoto can't draw more than 3 faces (this exists in most anime and manga because of the style, but it's especially bad in Naruto)." Ouch! That specific user, however, goes on to say that Masashi differentiates between the characters with different facial accessories, so the mask is Kakashi's differentiator.
Article continues below advertisement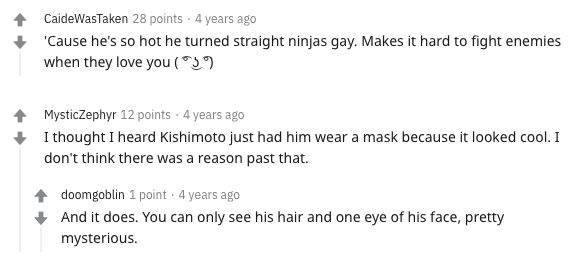 Other fans simply think it's because Kakashi is just too good looking, which is hard to disagree with!
Kakashi reveals what's under his mask in a recent filler episode.
With all the world-building of Naruto, Kakashi's reveal didn't happen within the canon of the original series, but in a filler episode of Naruto Shippuden after over 500 episodes of Naruto and Naruto spinoffs later. What is under Kakashi's mask? Turns out, he looks like a pretty normal guy, except for a small mole on his chin. Many found this reveal to be pretty uneventful with such a big buildup, and thought that if it was going to be so inconsequential, the reveal shouldn't have happened at all!
Article continues below advertisement
Kakashi might wear his mask for a scandalous reason.
In a Naruto spinoff, Rock Lee & His Ninja Pals, it's revealed that Kakashi wears a mask because he doesn't want anyone to see him get a nosebleed. While there's nothing in the canon of Naruto insinuating that Kakashi gets a lot of nosebleeds, there is a popular anime trope.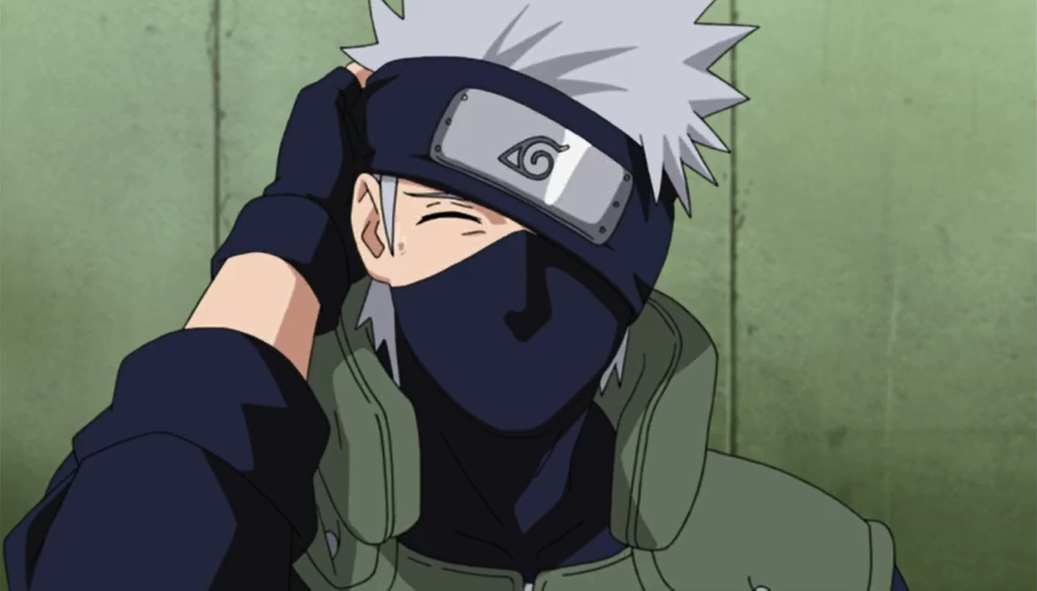 According to Sora News, nosebleeds are actually a sign of arousal or excitement, oftentimes sexual. This is apparently comes from the fact that when someone is aroused, their blood pressure rises. However, doctors have confirmed that there is no correlation between sexual arousal and nosebleeds in real life.
Article continues below advertisement
Japanese doctor Dr. Kanayama speculates, "In the past, people like pro wrestlers would intentionally give themselves small cuts on their forehead in order to build tension and atmosphere in a match. I can only imagine that the idea of extreme stimulation and an excess of energy was portrayed in the same way with nosebleeds, and it's come to be the accepted method of representing that feeling."
While we may never know the true canon answer as to why Kakashi wears a mask, almost every theory adds another layer of depth to his character, which makes Naruto that much more entertaining.