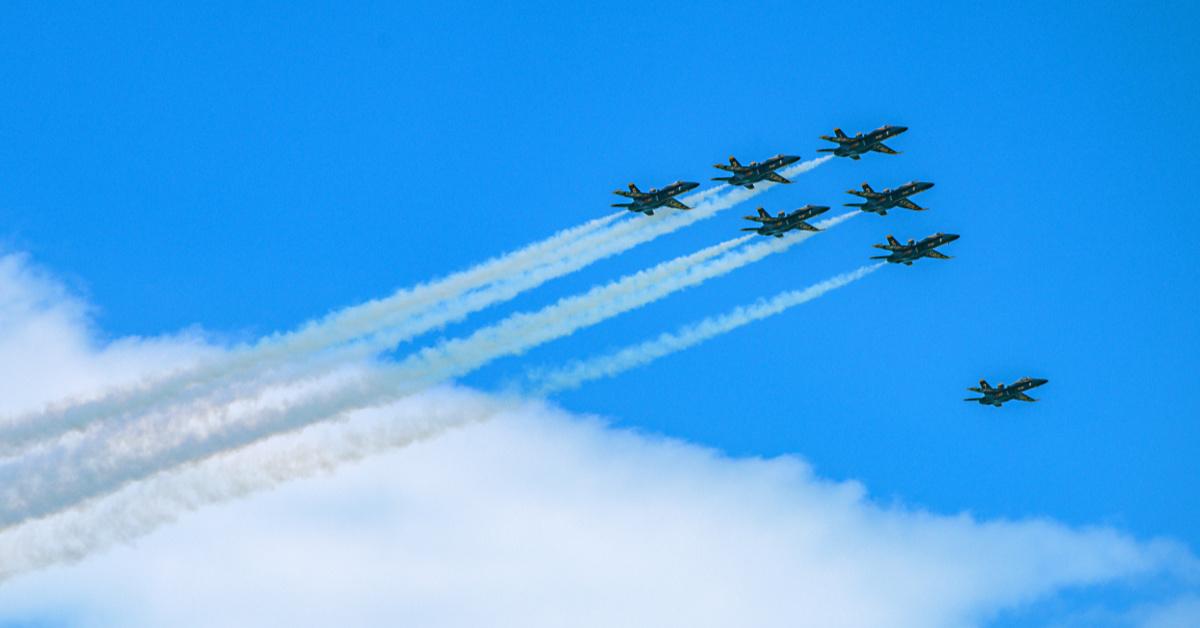 Why Does One Blue Angel Fly out of Formation?
As the COVID-19 pandemic continues to change pretty much everything about our lives that we used to consider normal, some people and organizations are stepping up to boost morale and acknowledge the people who are working tirelessly to make things better. Among them is the U.S. Navy flight demonstration squadron known as the Blue Angels.
Article continues below advertisement
In an effort to salute healthcare and other frontline workers, the Blue Angels are doing formation flyovers in various U.S. cities including Detroit, Chicago, and Indianapolis. If you've seen the Blue Angels in person (or even if you've only seen videos and pictures), you may have noticed that sometimes, it appears as though one of the pilots is out of formation. Why does one Blue Angel fly out of formation? The answer is actually pretty simple.
Why does one Blue Angel fly out of formation?
Seeing the Blue Angels perform in person is definitely an unforgettable experience. Even if you know absolutely nothing about flying a plane, the super close flight formations and incredibly tight turns and rolls obviously require great amounts of skill. The selection process and training needed to be a Blue Angel is grueling — each applicant has to have at least 1,200 flight hours before even being considered.
Article continues below advertisement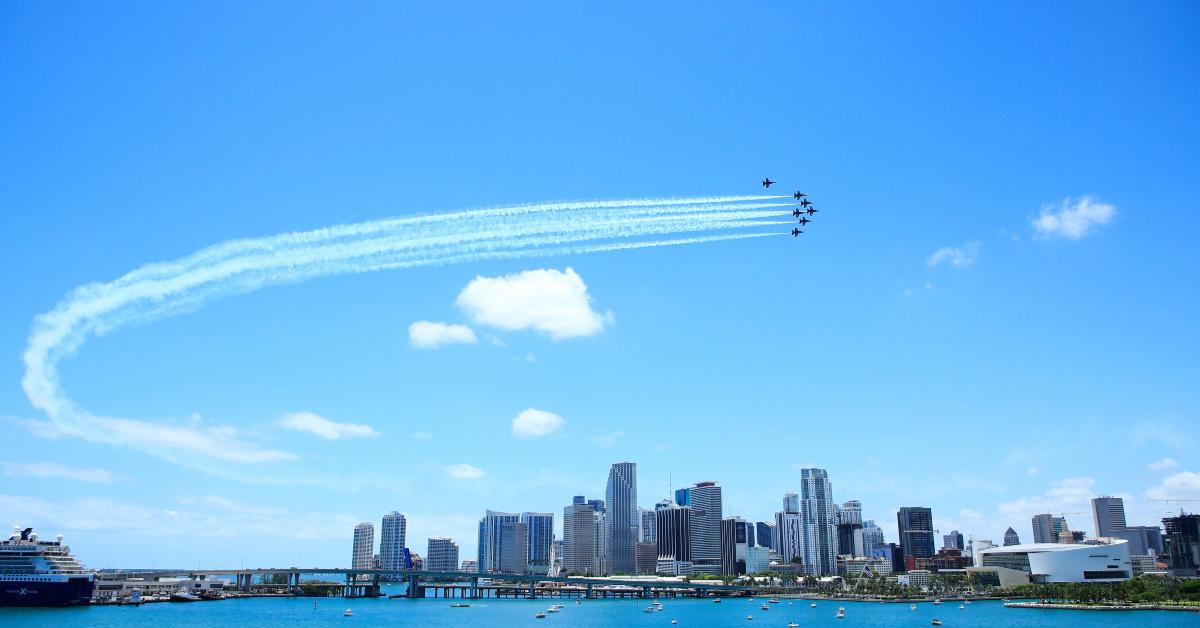 Once they are selected to join the team, the pilots must attend two training sessions per day, six days a week — and that's all before the show season even starts. Obviously, the one plane that sometimes appears to be out of formation isn't making a mistake — in a show where planes are sometimes a mere 18 inches apart, there is quite literally no room for error. So why does it look like it's in the wrong spot?
Article continues below advertisement
In the case of a flyover (such as the ones the Blue Angels are doing as a salute to healthcare workers), it's important to note that the Blue Angels do not perform any aerobatics or air show maneuvers. Typically, flyovers are done with six jets in Delta formation. As for that bonus seventh jet, it plays a vital role in the flyover (even if it might look a little out of place).
The pilot of the seventh jet acts as a spotter. They are also generally accompanied by a photographer who takes pictures of the incredible formations the rest of the team is in (you can't really take a picture of the Delta formation from inside the formation, after all).
Article continues below advertisement
What about jets that look out of place during an actual air show?
So that explains the "extra" seventh jet in flyovers, but you may also have noticed that in some pictures of the Blue Angels, their jets don't perfectly line up, while in others, they're lined up as neat as can be. The explanation for that is also very simple.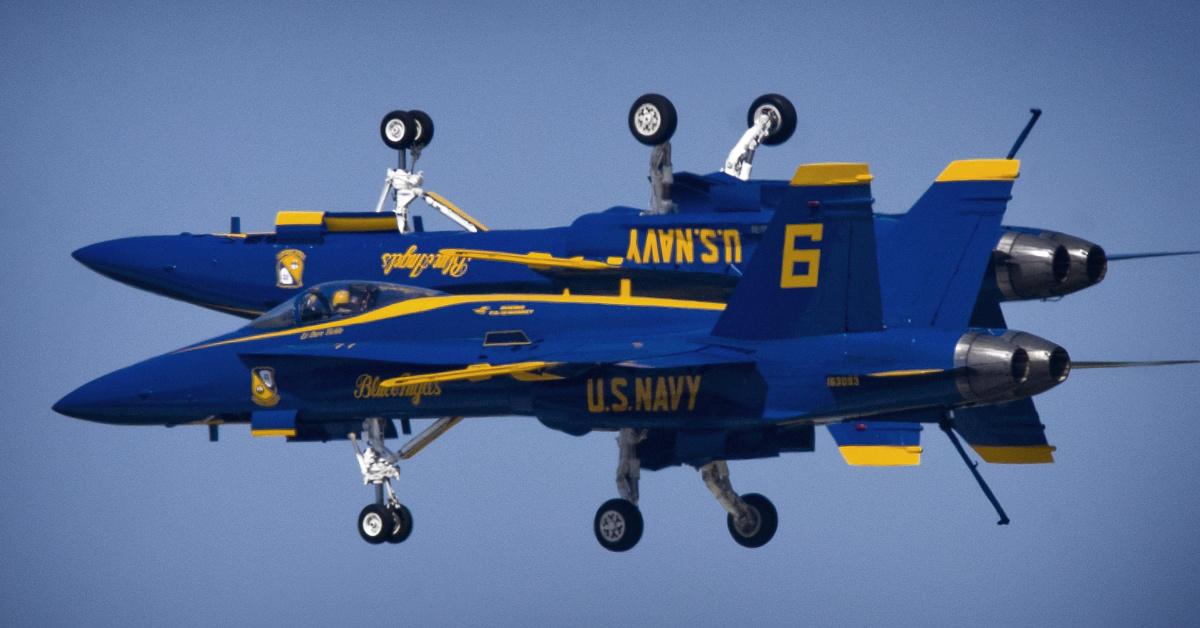 Article continues below advertisement
Quite simply, a plane may appear to be out of formation depending on the angle you're viewing it from. If you watch videos of the Blue Angels perform, there are some instances where a plane appears to be in the wrong spot until the formation flies directly over the camera, and it suddenly "slots" into place.
Some of the Blues' formations take advantage of this optical illusion phenomenon. For instance, in shows that take place near bridges, the Blues may perform a move that makes it look as though they fly under the bridge when in reality they do not. In a formation called the Opposing Knife Edge Pass, two planes appear to be directly in line with one another right up until the last second, when they pass by unscathed due to one plane actually being slightly higher than the other.
Either way, you can rest assured that the Blues are highly skilled and meticulously trained — not to mention pretty darn amazing.