Burger King Really Pissed off Taylor Swift Fans With Just One Tweet
After Burger King tweeted something about Taylor Swift, fans called for the fast-food chain to be "canceled," and many are thinking it's a reach.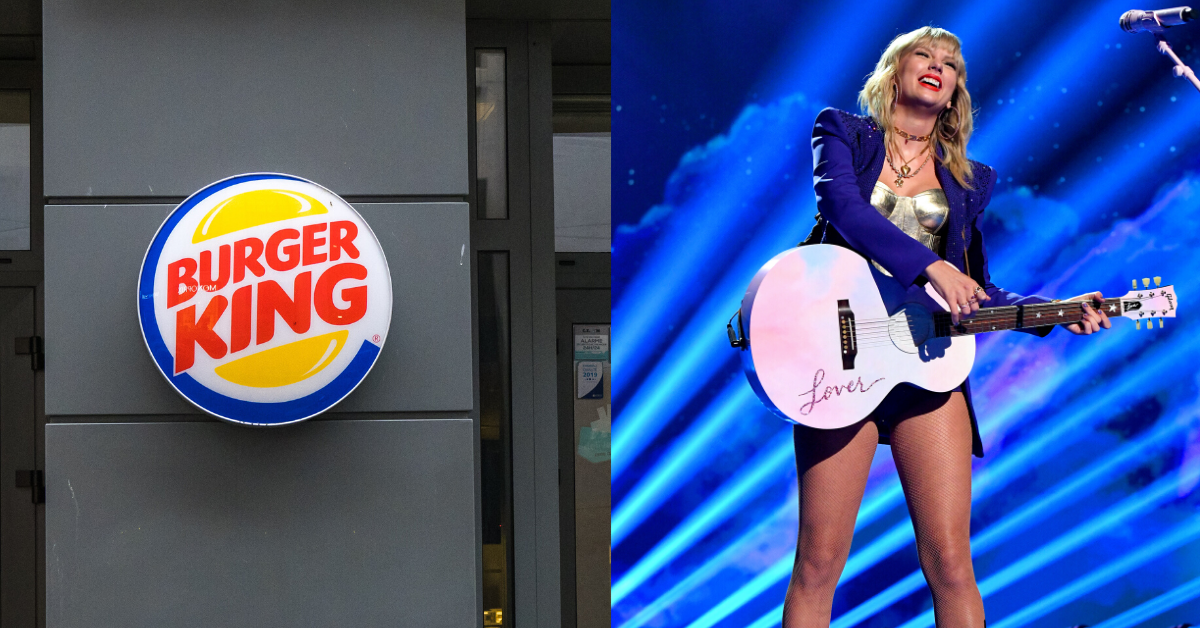 Fast-food chains are known for being pretty quippy and funny on Twitter. Brands like Arby's, Wendy's, and Taco Bell all respond to people's tweets with funny responses that truly feel like you're going back and forth with an actual person versus some bot.
Article continues below advertisement
While this is typically great content, one fast-food chain, Burger King, really stepped in it recently when they went after the pop singer, Taylor Swift. If they had known anything about her super fans, or "Swifties" as they call themselves, they would never have tried to make a joke. After Burger King's Twitter account called out the pop-singer, #BurgerKingisOverParty quickly began trending on Twitter, and fans called for the fast-food chain to be "canceled."
It all started with an innocent question to the Burger King Twitter account.
Someone on Twitter asked the Burger King account what its favorite song from Taylor Swift is. The fast-food chain Twitter account replied, "The one about her ex."
Article continues below advertisement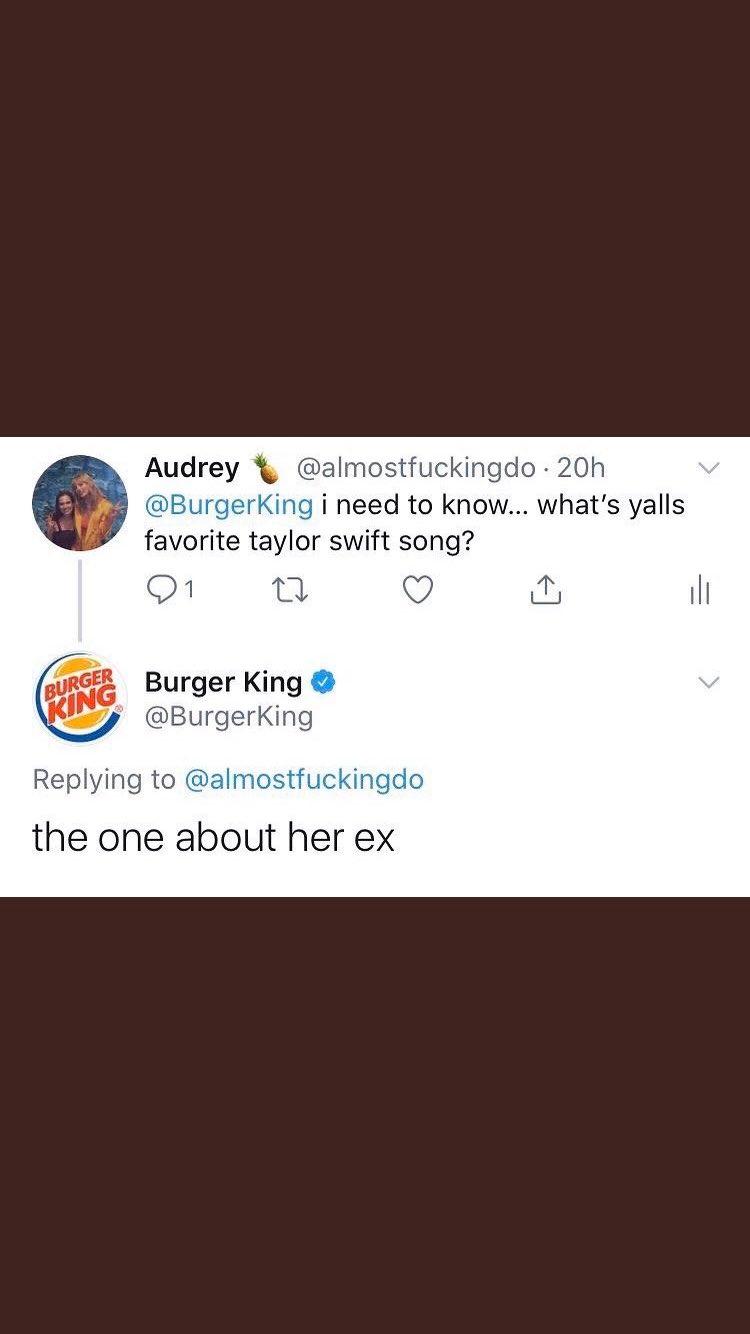 That's when all hell broke loose. Though the original tweets have now been deleted, Taylor Swift's fans reacted quickly to the comment and went after Burger King with a vengeance.
Article continues below advertisement
Twitter exploded with criticism for Burger King.
One user wrote that Burger King's remark was "sexist," while a different fan added, "After all this Burger King controversy...now I want McDonald's."
Article continues below advertisement
Another Taylor Swift fan tweeted, "BURGER KING NEEDS TO STREAM YNTCD FOR THEIR SEXIST REMARK." Her mention of "YNTCD," of course, refers to Taylor's song, "You Need To Calm Down" in which she addresses "haters" and Internet trolls particularly those that target the LGBTQ community.
Taylor Swift has been a target of sexism for years.
Swift has previously slammed "very sexist" opinions about her work, saying many male artists write and release songs about exes but don't face the same criticism as female artists.
Article continues below advertisement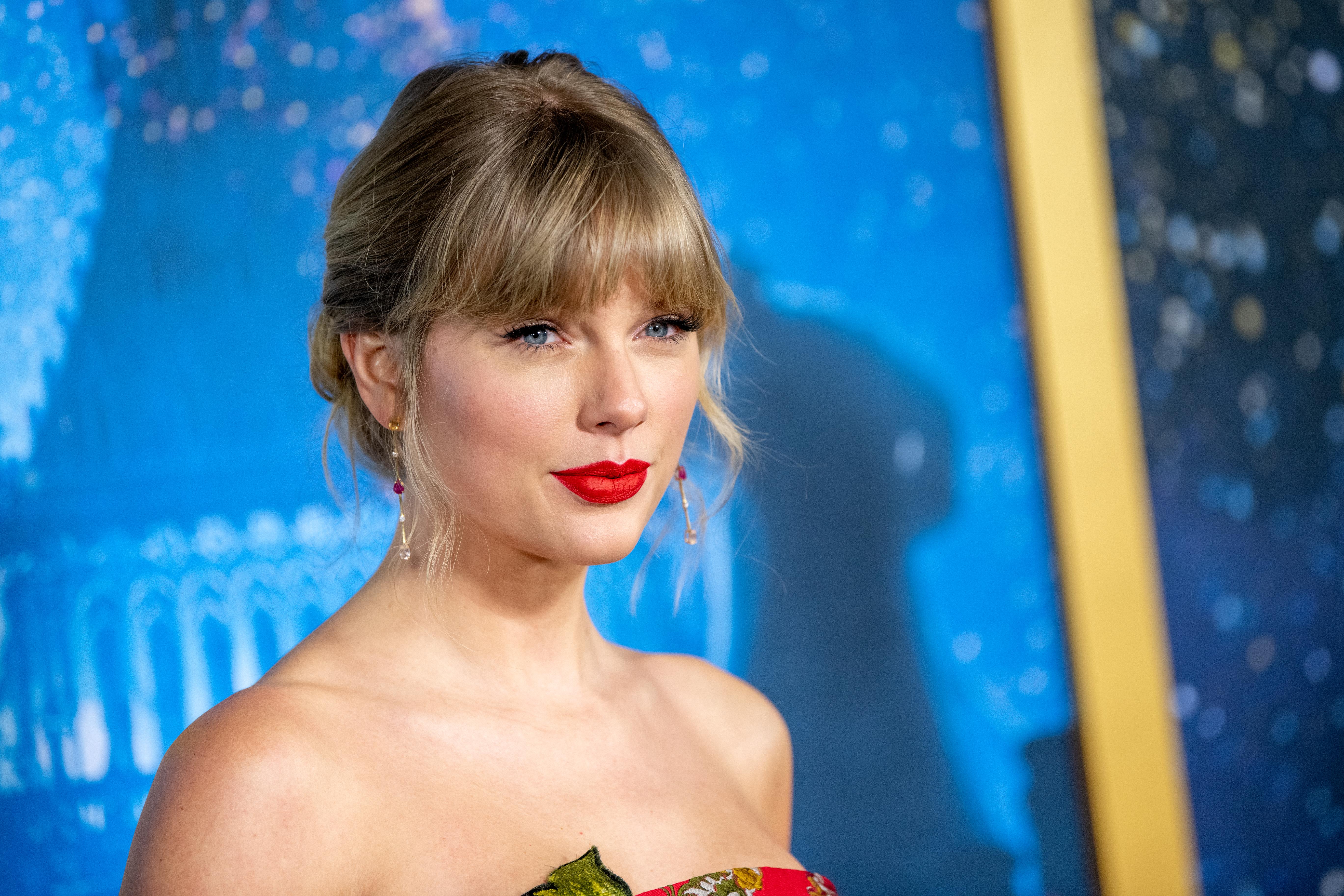 "You're going to have people who are gonna say, 'Oh you know, like she just writes songs about her ex-boyfriends,' and I think, frankly, that's just a very sexist angle to take," she told the Australian radio show, Jules, Merrick & Sophie.
Article continues below advertisement
She continued, "No one says that about Ed Sheeran. No one says it about Bruno Mars. They're all writing about their exes, their current girlfriends, their love life, and no one raises a red flag there."
Article continues below advertisement
Some criticized "Swifties" for making nothing into something.
With so many other more important and urgent news in the world right now, many Twitter users expressed their annoyance and disappointment in Taylor Swift fans for making such a big deal out of a sarcastic tweet.
Article continues below advertisement
One user wrote, "bruh how is Burger King saying something about Taylor Swift more popular than Black Lives Matter." While another tweeted, "There's black people that are dying because of white racist police officers and instead of rising awareness and talk about it, y'all are trying to cancel Burger King... unbelievable #BurgerKingIsOverParty."
Burger King ultimately embraced the trending topic.
Though #BurgerKingisOverParty was trending on Twitter for quite a bit, the fast-food chain took it all in stride and actually used it to promote their food.
Article continues below advertisement
In a very tongue-in-cheek message that included a nod to Taylor's hit, "Shake It Off," Burger King tweeted about a currency promo they're running. They tweeted, "let's shake it off. celebrate #BurgerKingIsOverParty with the $3 shake + fries deal in the app."