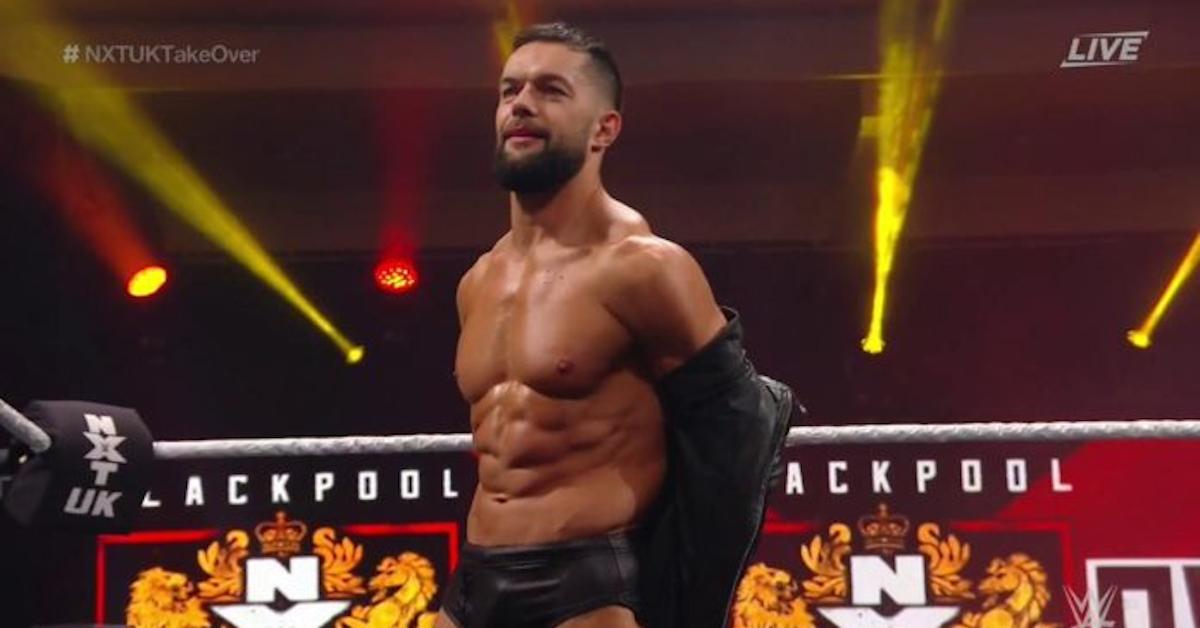 'NXT' Is the WWE's "Building" League, So What's Finn Balor Doing Back There?
It's a pretty great time to be a pro-wrestling fan. There are some awesome "alternative" organizations that are managing to draw top talent and put on incredible shows, like AEW. But even if you're someone who just sticks to the WWE, then you've got a plethora of programs to watch in addition to Monday Night RAW and SmackDown! which now airs Friday nights on FOX. There's also its "builder's" league, NXT, which just got Finn Balor back.
Article continues below advertisement
If you're unfamiliar with NXT, it airs on USA on Wednesdays at 8 p.m. ET, and features the next crop of WWE stars and hopefuls that want to make a splash with fans. It's a "proving grounds" for pro-wrestlers who can work their personas while simultaneously familiarizing themselves with audiences — the better they do in NXT, then the greater the chance they have at making it to one of the "big shows" like RAW or SmackDown!
Article continues below advertisement
When Finn first arrived on NXT, it was pretty apparent that the guy was set for the big leagues. With great mic skills, a pretty face, and a ridiculously ripped physique that helped him engage in some impressive match-ups, Finn easily became a star. It wasn't long before he made his RAW debut. But, like anyone who's worked for the WWE will tell you, pro-wrestling at a high level is not a forgiving game.
Injuries are par the course, and Finn is no stranger to bangs and bruises himself. Having one's physical endurance tested is only one half of the challenge of performing for the WWE though. Life on the road, with multiple house shows, appearances, and rehearsals, is taxing and traveling from hotel to hotel across the country doesn't help either. These factors challenge the mental fortitude of WWE Superstars on a day-to-day basis, and not everyone's got the stomach for it.
Article continues below advertisement
So why is Finn Balor back on NXT?
The "Demon King" first returned to NXT as part of a move to help improve the show's ratings, but after luxuriating himself into the less-demanding schedule, it looks like the migration is a permanent one for the Irishman.
Rumor has it that Finn preferred the workload at NXT, even if it means less money and opportunities to make cash, because RAW and SmackDown! stars just have more income-earning potential.
Article continues below advertisement
While Finn's salary is reportedly staying the same, wrestlers earn money for each house show, PPV, and overseas event they partake in. So Finn's base pay hasn't changed, but he's going to be giving up a lot of chances to earn some extra green by sticking with NXT over the other brands.
Although many may consider the brand "C-league" compared to the WWE's bread and butter shows, Finn says that it still presents a unique challenge and he isn't overlooking the competition in the league.
Now the WWE may be a "fixed outcome" affair, that doesn't mean that there isn't a genuine competitive streak among the talent — everyone's trying to one-up each other as performers and feats of athleticism in the ring, which is something Finn touched on in an interview with Newsweek.
"I have to be honest, it's a little nerve-wracking. The game has changed a lot in NXT since I was here. Seeing the match Cole and Matt Riddle put on tonight, they are two of the absolute best in-ring competitors in the world. So it's a little nerve-wracking to get into the deep end with those guys," Finn said.
Article continues below advertisement
The superstar continued, "It's gotta be a challenge for myself in and out of the ring, and personally, to see if I can still go. It's been a while since I've been here, and the NXT style has evolved incredibly. When I was here it was me and [Samoa] Joe, and back then, I don't want to say it was a slower pace, but it was definitely more rugged here and there. They are going fast, and it's going to be a test for me and I'm looking forward to it."
Article continues below advertisement
I'd have to say, if I was an up-and-coming NXT performer who was facing off against Finn, I'd definitely do whatever I could to try and overshadow the man, as it'd be a feather in my cap and an opportunity to win over some of his supporters. Finn has got to know that, which is why even though he's "downgraded" from RAW, he needs to stay on the ball.
What do you think about Finn's move back to NXT? Are you upset he won't be competing with some of the WWE's higher profile talent? Or do you think that he's a big enough of a draw to help take the brand out of its "builder's league" status and put it into serious competition with SmackDown! and RAW?