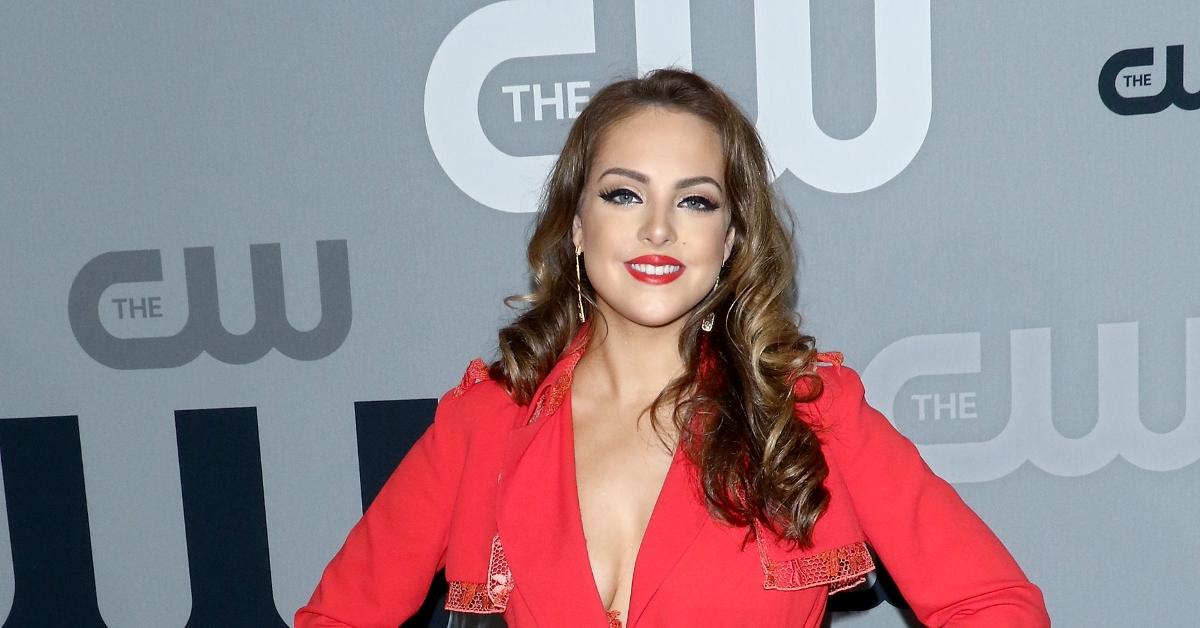 Why Was Jade so Mean? Some 'Victorious' Fans Are Still Baffled by the Phenomenon
It's only been a few weeks since Elizabeth Gillies, the actress who shot to fame with Jade West's role on Victorious, announced that she and her long-term partner, Michael Corcoran, tied the knot via a series of heartwarming snaps posted on Instagram. The beautiful photos led nostalgic fans to revisit the cult-classic teen sitcom, with many wondering: Why was her character, Jade, so delightfully mean?
Article continues below advertisement
Why was Jade so mean to Tori on 'Victorious'?
In real life, Liz Gillies is known to be a more mild-mannered person who's not afraid to spice up interviews with expertly-timed jokes. As her previous appearances on radio shows like the Zach Sang Show prove, she is an expert-level storyteller.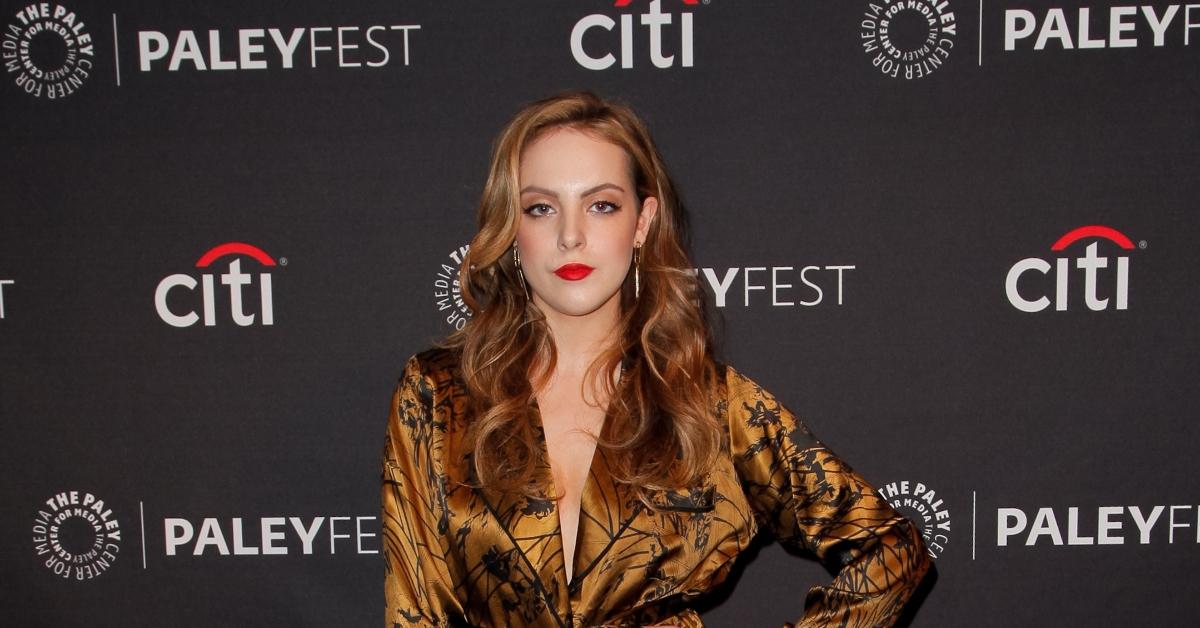 Article continues below advertisement
The 2010 Victorious brought the actress international fame, cementing her as a crucial figure in the pop-cultural arena for years to come. In the show, she delivered an exceptional portrayal of Jade, the resident mean girl of the Hollywood Arts High School.
Not one to miss out on an opportunity to put down her frenemy, Tori Vega (Victoria Justice), Jade raised eyebrows with her smart comebacks and off-the-cuff comments that would stop anyone in their tracks.
Some of the die-hard fans bingeing their way through the four seasons of the show found Jade's meanness amusing. Others, however, are still having a hard time wrapping their heads around the underlying motifs propelling her to act so horribly at times.
Article continues below advertisement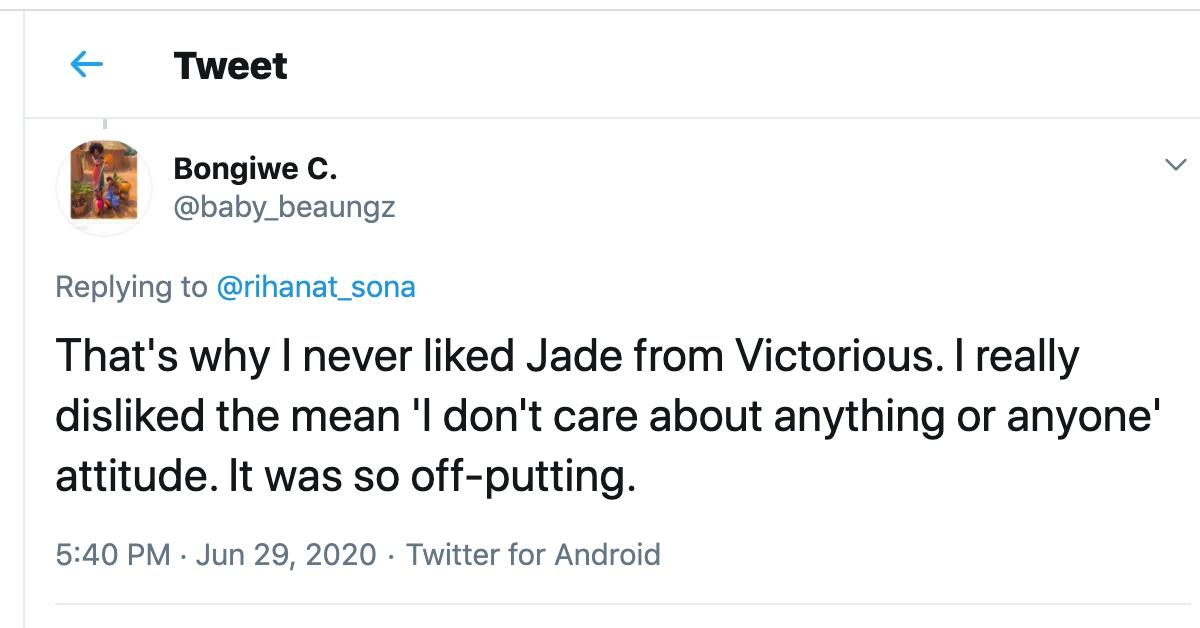 Some claim that her behavior could be chalked up to one, easy-to-understand factor: her childhood.
"Why do so many people think Jade is mean? It's cause she had a bad childhood," opined a fan online.
Article continues below advertisement
Others believe that the meanness is the direct result of Tori's occasional outbursts of silliness.
"The more I watch Victorious, the more I understand why Jade is so mean to Tori," argued someone else.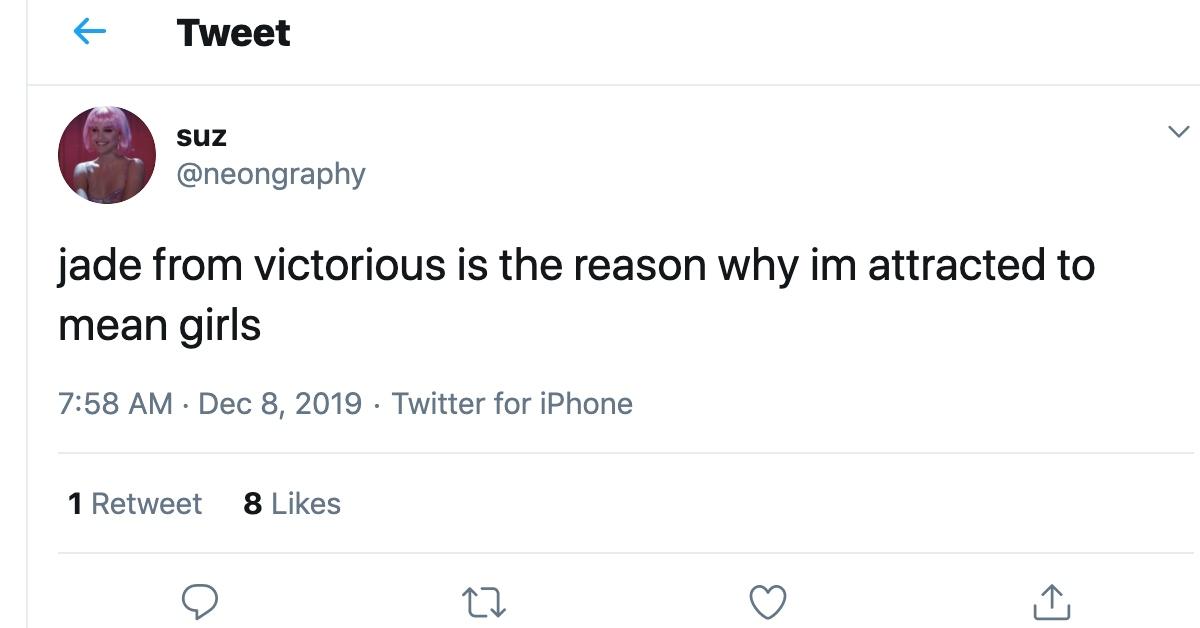 Article continues below advertisement
Jade's near-perpetual rivalry with Tori could be perhaps described as less-than-ideal. However, her looks, unmatched sartorial prowess, and unfailing integrity resonated with viewers just the same. Despite her not-so-peaceful dynamic with Tori and beyond, her drivenness and desire to do better garnered a lot of fans.
Over the years, several hard-core Jade fans ventured so far as to create YouTube videos celebrating her most rambunctious moments. From impassioned comebacks to deadly barbs, Jade penned some of the most inspirational insults to be captured on the show — which could perhaps explain why she is admired.
Article continues below advertisement
"Sinjin sat on my new scissors. [...] I'm not gonna calm down. They're [baked]. They lost their sizz," she proclaims in an unforgettable scene, before throwing the scissors right at the wall with the mastery of a professional knife thrower.
"Ice cream reminds me of my childhood. [...] My favorite toy was a hammer. You finish the puzzle," she remarks in another.
Maybe she was born with it. Maybe it's the result of years-long cultivation. Either way, Jade was the meanest character on Victorious, and we love her all the more for it.