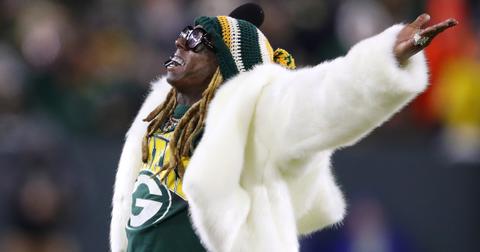 New Orleans Born Rapper Lil Wayne Is a Diehard Cheesehead
By Gabrielle Bernardini

Updated
In case you didn't know, Rapper Lil Wayne is a diehard Cheesehead. And, he's not afraid to show love to his team.
During the Jan. 12 NFL Divisional Round playoff game between the Green Bay Packers and the Seattle Seahawks, the 37-year-old was sent out onto Lambeau Field at the conclusion of the third quarter to lead the Packers and their fans in the team's anthem, "Roll Out the Barrel."
While we have to give credit to quarterback Aaron Rodgers' arm, we'd also like to think that Lil Wayne helped motivate Green Bay to keep the lead and ultimately win over the Hawks, 28-23. Hoping to make their way to Super Bowl LIV, the Packers will face-off against the San Francisco 49ers on Sunday, Jan. 19 for the NFC Conference title.
And, we're sure Lil Wayne will not be missing the big game!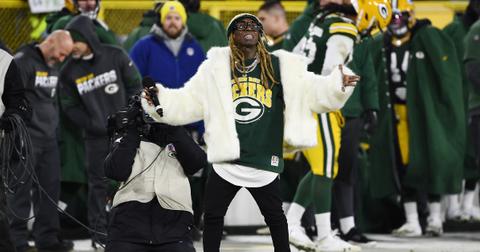 So, why is Lil Wayne a Packers fan?
"Had one of the dopest times of my life yesterday!! Thanks to the @packers and the @nfl for the opportunity! ... NFC Championship bound!!!! Go Pack Go!!" Lil Wayne posted on his Instagram alongside a series of pics from the game.
The "A Milli" singer bleeds green and yellow, so much so that he even remixed Wiz Khalifa's "Black and Yellow," creating the song "Green and Yellow." While Weezy is never shy about throwing support to his team, some fans of the rapper may be confused as to why he doesn't root for the New Orleans Saints. You know, his native city...
While some fans believe you should always root for your home team, others feel a different way. In 2015, Lil Tunechi opened up on ESPN's First Take, explaining the origins of how he became a lifelong Packers fan.
In 1997, the rapper's father attended Super Bowl XXXI in New Orleans and watched the Green Bay Packers defeat the New England Patriots.
Afterwards, Wayne, who was 14 years old at the time, explained that his dad bought Packers souvenirs, including cups, towels, and etc. Coming from a low income family in Louisiana, the rapper said that they regularly used the purchased items.
"They get put with the real towels. You bathe and use those towels every day and those cups are used every day," he revealed. "I had to use a Green Bay Packers cup, a Green Bay Packers towel every day."
Wayne also told sports commentator Stephen A. Smith on First Take (via The Huffington Post) that the following year he regularly played the widely popular NFL video game Madden (1998), and couldn't help but choose Packers quarterback and current NFL Hall of Famer, Brett Favre.
Basically, the Saints never stood a chance with Lil Wayne.
"I'm a Green Bay fan forever ... There is no comparison [between the Packers and the Saints]," he firmly stated.
Well, the Packers and Lil Wayne are now "Lambeau Leap"-ing their way to the NFC Conference.