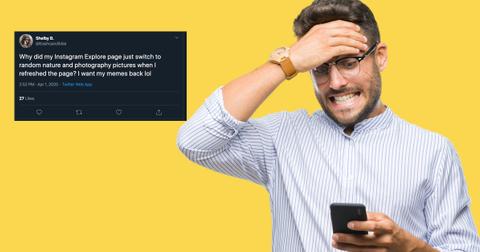 Here's Why the Memes on Your Instagram Explore Page Were Replaced With Nature Photos
By Lizzy Rosenberg

Updated
During undeniably trying times, one of the things that is truly helping us stay sane is our Instagram Explore page — the glorious feature enables users to find interesting content they might like, from drool-worthy food porn, to interesting content creators, and obviously all the greatest memes.
If you're wondering why your memes were replaced with photography on your Explore page, however, stay tuned for an explanation on why this may have happened, and how to get your beloved memes back.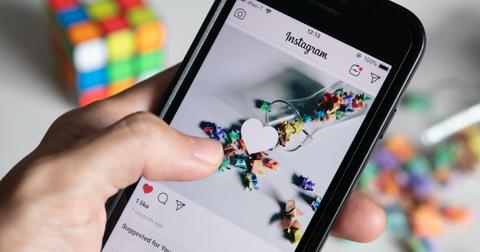 What happened to my curated Instagram Explore page content?
While you're most likely devastated that your beloved memes have been ransacked from your Explore page, I have good news: there's a reason this may have happened, and it isn't permanent. According to Digital Information World, this has happened several times in the past. While undergoing some much-needed maintenance, Instagram encounters a bug, the server glitches, and some (not all) users are affected in this exact manner.
Nobody knows why this glitch affects certain users' Instagram Explore pages by stealing all the memes away, and as you can see from the comments below, fans are absolutely devastated about the havoc it's wreaking. Despite the fact that it's undeniably inconvenient for daily scrolling, you'll be happy to know that it isn't permanent. There is a way to fix your Explore page, and ultimately get those memes back.
Anyone else's explore page on insta suddenly fill up with weirdly aesthetic photos? What happened to my specialized targeted memes? I can no longer mindlessly scroll. What is this.

— Varro (blond dude from spartacus) (@4deRevolution) April 1, 2020
Why oh why is my instagram explore page showing me aesthetic pictures of decor and landscape that are popular in my country? Where have all the cats and memes gone?

— Noona. (@nooraks) April 1, 2020
The algorithm for my explore page has completely changed and idk why but its properly stressing me out. I want my memes and inspirational quotes and puppy pics back 😭😭 not pics of buildings 😭😭

— Sophie JB (@Sophie__Joanne) April 1, 2020
Why did my Instagram Explore page just switch to random nature and photography pictures when I refreshed the page? I want my memes back lol

— Shelby B. (@trashcanclikkie) April 1, 2020
Here's how to fix your Instagram Explore page:
A handful of Instagram users affected by the glitch might get lucky, because some have been able to successfully retrieve their lost Explore content by simply refreshing the page a few times over, according to Refinery29. If you have the time, maybe consider logging out and back in again, too. It could ultimately save your memes.
Unfortunately, not all users' pages will fare this way — the glitch might not be fixable (RIP your memes). On the bright side, however, this gives users the opportunity to completely re-customize their Explore content, ultimately giving you the excuse to spend a little extra time scrolling today... which isn't such a terrible punishment.
If you have to re-customize your Explore content, you can avoid content you don't care about.
There's a chance you lost your entire Explore Page's meme collection, and if that's the case, we're sorry for your loss. While re-customizing your content, however, you can avoid content you dislike by simply opening your Instagram app, logging in, going to the Explore Feed, and tapping some type of photo you would rather not see. From there, tap the menu, and hit "See Fewer Posts Like This." From then on, you won't see that kind of content in Explore.
Losing your entire meme collection is certainly a devastating experience, and if retrieving it isn't quite possible, we're excited to introduce you to a brand new quarantine: to re-customize your Explore Page. At the end of the day, though, spending a little extra time scrolling won't be too grueling.