"Stairway to Heaven" Is Still a Forbidden Song to Play Thanks to 'Wayne's World'
Why is the "forbidden" riff forbidden from being played in guitar stores? We break down why the riff from "Stairway to Heaven" is still verboden.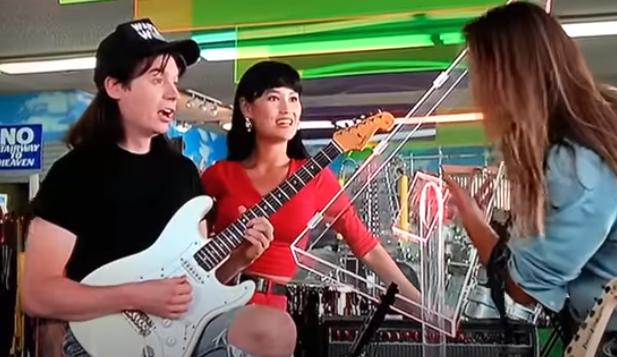 It must be infuriating for people who work in music stores to see people sit down on a drum set, play a keyboard, or grab a guitar without knowing what they're doing. The constant cacophony of discordant rhythms must drive them to the brink of insanity.
But even worse is when people who only know two riffs sit down on a six-string and play the same thing over and over again. There's even one riff that is absolutely forbidden. Why is it forbidden you ask?
Article continues below advertisement
Seriously, why is the forbidden riff forbidden?
If you love the guitar then you probably love Jimmy Page. The Led Zeppelin guitarist was a god to rock devotees. From using violin bows to play his custom axes to the dual-neck guitar with different tunings, to wearing wizard/dragon outfits with his huge mop of black hair, Jimmy Page is the very definition of a guitar god.
He also championed one of the greatest hard rock ballads ever and a song that many people argue is the greatest song of all time. But that kind of heavy praise comes with a heavy price: Everyone and their mother wants to play that great rock song. And many people think that the music store is just the right place to do that.
Article continues below advertisement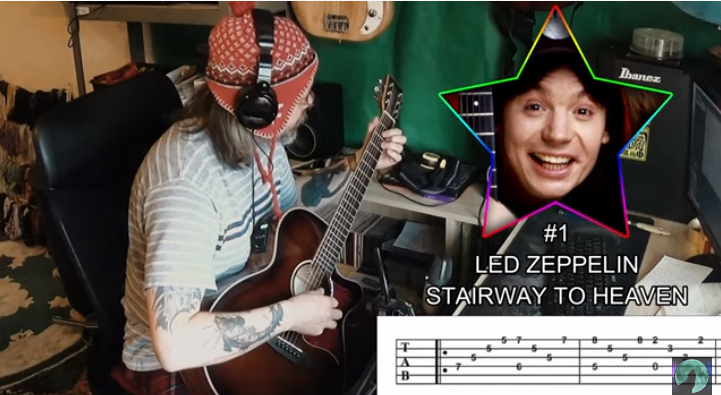 The song in question, of course, is "Stairway to Heaven." While many (and by many I mean me) would argue that it's Dolly Parton's song now, the opening riff of "Stairway" is one of the most iconic rock licks of all time. It's a soulful, beautiful, moving, transcendent piece of music that is responsible for a lot of irresponsible dreams and gratuitous crying when you're nine beers deep.
Article continues below advertisement
It's also played out to the point that you want to immediately press a "skip" button on the person who's playing it. It's maybe not as bad as the dude on your college campus with an acoustic guitar who's constantly jamming out to "Wonderwall" and "Santeria" in the quad, but it's still pretty bad.
Article continues below advertisement
So what makes the "Stairway to Heaven" riff the forbidden riff?
You can thank a brilliant '90s comedy for that: Wayne's World. One gag in the movie sees Wayne visit his local music store where he eyes the crown jewel guitar of the establishment. He hunkers down with the beautiful guitar and is about to play the opening riff of "Stairway to Heaven" when the employee points to a sign in the store that stops Wayne in his tracks.
Article continues below advertisement
It was an inside joke that anyone who's spent time in a music store would immediately understand, but the reason why the riff is "forbidden" is largely due to this gag in the film. It's just annoying to hear the same song over and over and over (and over) again, no matter how good the song actually is.
There are some other honorable mentions that YouTuber and badass guitarist Moonrunner Music claims are just as egregious if played in a music store. They include:
"Smells Like Teen Spirit"
"Smoke on the Water"
"Enter Sandman"
"More Than Words"
"Paranoid"
"Crazy Train"
"House of the Rising Sun"
"Wipeout"
"Sweet Child o' Mine"
You can check out his video of playing riffs below and there are tablatures, you know, in case you've always dreamed of being kicked out of a music store.
Article continues below advertisement
Or, you know, you could play them in the comfort of your judgment-freee home because you want to enjoy yourself. Either works.