PSA: The Hudson River Is Extremely Gross, So Do Not Jump In It, Please
Donna Peysepar has gone viral for jumping into the Hudson River. Now people are questioning what makes it so gross. Here's why we wouldn't recommend taking a dip in the Hudson River.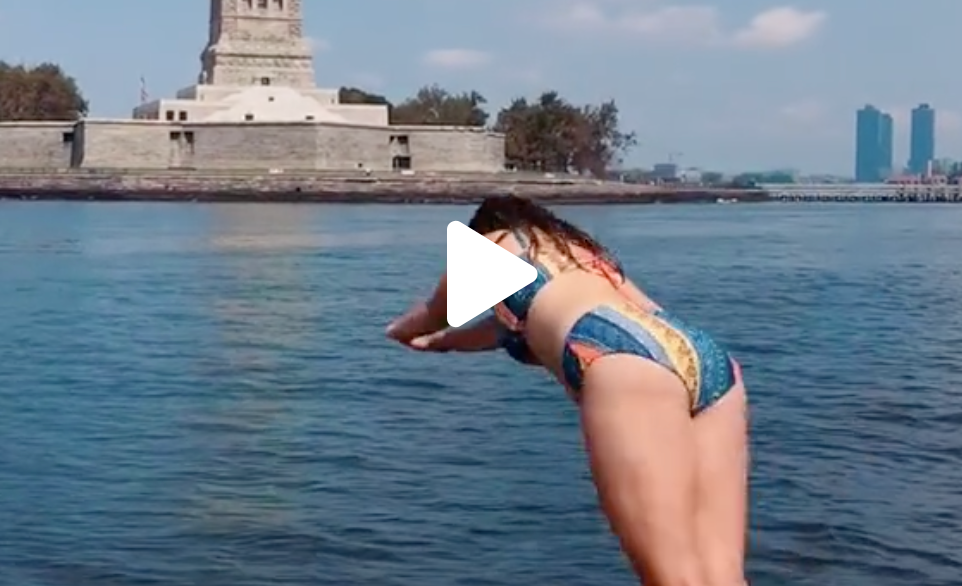 Today in Bad Ideas, TikToker chef_dp (Donna Peysepar) is getting some attention because she decided to dive into the Hudson River and record herself to the tune of "Concrete Jungle" by Alicia Keys. Even though her caption reads, "this feels like a dream," for most of us, swimming in the Hudson River is more like a nightmare.
Article continues below advertisement
Just in case you missed it the first time (on August 12), Donna posted another Hudson River diving video a day later. This time, her caption says, "Swimming with lady liberty." Honestly, Lady Liberty wouldn't be caught dead in the Hudson River. If you watch the water after Donna jumps into it, you can see a polluted, murky cloud of death form.
Article continues below advertisement
Every single New Yorker and person who's visited New York has collectively shuddered after watching these TikToks. Meanwhile, Donna's first video has 1.8 million views, while her second has 4.7 million. Everyone has to see it to believe it, apparently.
Article continues below advertisement
Why is the Hudson River so gross?
It's honestly just common sense to not take a dip in the Hudson River. It's polluted with PCBs (polychlorinated biphenyls — which are man-made chemicals), cadmium, sewage, urban runoff, heavy metals, pesticides, and lots and lots of bacteria. At one point in time (although, it's not the case anymore), factories near the Hudson River would pour all their garbage into the river instead of a landfill. That included the General Electric factories, which would toss between 500,000 and 1,500,000 pounds of PCBs directly into the water. Also, dead bodies have been found in the river (this is a recent example).
A spokesperson for the New York State Department of Environmental Conservation said that while conditions have "improved" since the Clean Water Act was passed in 1972, they still wouldn't advise swimming in the Hudson River. "This is still not considered a swimmable portion of the river," adding that if you do choose to submerge yourself in the river, definitely don't swallow water and keep your head above it. "This reduces the chances of getting sick from bacteria, parasites or other microorganisms that can enter your body through your mouth, eyes, ears and nose," the spokesperson clarified, per nj.com.
Article continues below advertisement
So...why exactly did Donna do it? It seems like she just wanted to experience what it was like diving into a toxic waste pool. She also wanted to be "famous" and cited "YOLO" as another reason. She admitted in another TikTok video that "the water was really gross though. It tasted really bad, I got some of it in my mouth." Okay!
Article continues below advertisement
Here are the best memes and reactions to the Hudson River girl.
Article continues below advertisement
Article continues below advertisement
Article continues below advertisement
Donna, who's allegedly 20, normally dedicates her TikToks to viral dances and food reviews, like this one, in which she shares her Greek takeout.
Donna insists that she feels great, but we do hope that she makes an appointment with her GP...just in case.