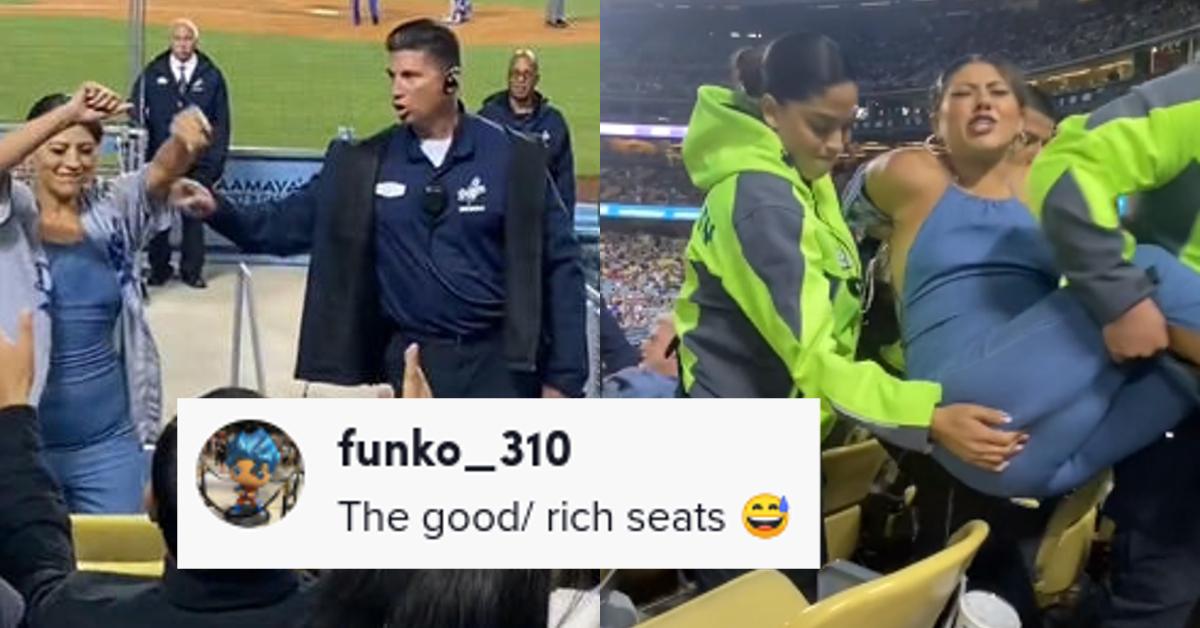 Dancing Woman Thrown Out of Baseball Game Highlights "Double Standard" According to TikTok
It's only natural to want to get gassed up when you're at a sporting event rooting for the home team. Even though you're not the one on the court or the field, you sure act like your shouts, screams, cheers, and energy, have some kind of effect on the players in front of you.
And in fact, it does. Studies have indicated that the support of a crowd can increase the strength of athletes by as much as 8%.
Article continues below advertisement
This could translate into that little bit of an extra push in the 4th quarter when the game is tied to make it to the rim for that layup and foul draw. Or that added bit of "oomph" the batter needs to send a deep right field ball sailing into the stands.
Crowds must know this, or maybe they want to believe it so much that it creates a thought-form-manifestation phenomenon with real-world implications.
And different folks get themselves going in different ways. Some people want to facilitate a party atmosphere, so they'll blast music, they'll shoot at the top of their lungs, and they'll chant fight songs for their team.
And then some folks do all of that, with just copious amounts of alcohol that gets them dancing like no one is watching. But there are lots of people watching, people who may not appreciate those gyrations.
Article continues below advertisement
This is exactly what happened to this woman at an L.A. Dodgers game in a viral TikTok clip posted by user Mirza Lisbeth Pineda, who posts under the handle @mirzalps.
Article continues below advertisement

In a series of clips, the woman can be seen standing in front of spectators at the Dodgers game and dancing while standing up, the field directly behind her. Mirza writes in a now-deleted clip (probably due to nudity) "She was obviously drunk" and then adds that the Dodgers fan had several "wardrobe malfunctions" that led to her breast falling out of her dress.
Article continues below advertisement

Mirza says that despite her obvious drunkenness and nip-slips and dancing "she wasn't bothering anybody."
Commenters seemed divided at the stadium staff's decision to remove the woman from the game. Some thought that there was no reason for officials to extricate her in the manner in which they did.
Article continues below advertisement

One user remarked, "It's a baseball game not a funeral" while others highlighted what appears to be a double standard between dancing/fighting. "When you get in trouble for celebrating at a baseball game but it is appropriate to start fights over scoring?"
Article continues below advertisement
This comment appears to be a reference to a scuffle that occurred between fans at a Dodgers game in May of 2022, which you can see snippets of below.
Article continues below advertisement
There were some commenters who stated that they appreciated the fact the woman was removed from the game. The seats she was dancing near appeared to have a great, close view of the field, and some said that they wouldn't want someone obstructing their view, especially if they dropped big bucks to watch the game.

Article continues below advertisement
Others mentioned that her drunk behavior and multiple, accidental exposures of her breast could've understandably been disturbing to some guests, especially people who may've been there in "the good/rich seats" as one commenter mentioned.

What do you think? Was security's response too "harsh?" Or were they just doing their job and the woman was being a nuisance?