Woman Discovers Notes Dad Kept About Her Bad Behavior, Sparks Parenting Debate
A TikToker shared a now viral video of a discovery she made on her father's iPad: notes that he used to take about her behavioral issues.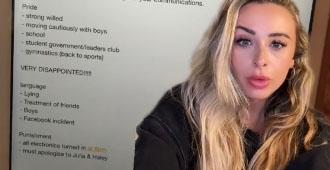 Raising kids isn't easy. Heck, it's hard enough for individuals to work on their own personalities and reactions to all of the crazy stuff thrown at them, let alone showing another individual, from birth, what the best way to go about living their lives is. But the kind of personal gratification you get from seeing your children grow up to be happy and creating things of their own that fulfill them is second to none.
Article continues below advertisement
But that requires a ton of love, work, patience, and consistency to do what's best for the situation time in, time out. Over and over again. Because they love you so much, they'll drive you absolutely mad in the best/worst way and sometimes, you need to pep talk yourself to not fly off the handle when they're constantly making moves that seem b------ insane to you.
And while there are a variety of ways that parents can accomplish this, one TikToker believes they found the way their father was able to put up with/rear them when things got tough.
@Ally.munch was using her dad's iPad when she noticed something in the notes section of his tablet: a list of different talking points and bad behavior she exhibited as a teen and what are the best ways he could go about addressing them.
Article continues below advertisement
He got pretty granular about it too, referencing a few specific instances that he clearly wanted to highlight and resolve with his daughter. In the notes, he alludes to the fact that he went through the teen's "communications" saying that both he and Ally's mother felt like they didn't know the person their daughter has become. You know, typical raising teenagers stuff.
Article continues below advertisement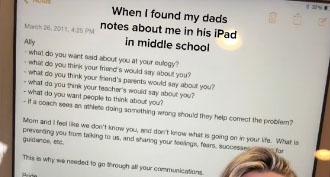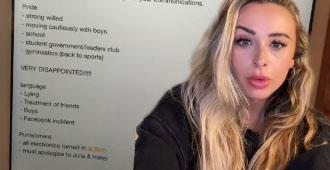 Article continues below advertisement
People had some opinions.

Article continues below advertisement
The caption for the video reads: "I literally used to get in so much trouble." Many TikTokers were intrigued by some of the stories Ally's father referred to in his notes, specifically what went down between Julia and Hailey along with a "Facebook incident."

Article continues below advertisement
People were enamored with the prospect of hearing tea from a social media stranger, so Ally obliged them in follow-up videos explaining just what went down.
Article continues below advertisement
However, the discussion soon shifted to the ethics of what Ally's father was doing. Some folks felt like his pre-planning to have an honest conversation with his daughter felt a little rehearsed, which made his concern come off as insincere.

Article continues below advertisement
Others, however, were impressed with the fact that Ally's father clearly cared about his daughter enough to logically plot out all of the behavioral issues that had him worried. A point further evinced by the fact he had several metaphors and examples leading into the problems that they had with her behavior, all of which appear to come from a place of love and careful reasoning.
Article continues below advertisement
While Ally says that she was a "delinquent" and remarked that her father "is quite literally the best dad in the entire world," which is what prompted the notes-inspired talk, many TikTokers took issue with the fact that he felt the need to go through her "communications." Others called Ally's folks "helicopter parents."
What do you think? How would you feel if you went through one of your parent's devices only to find a bunch of notes about the best way to raise you? Would you be weirded out? Or would you think it was a sign that they actually cared about you?