Woman Calls Man's Job After She Discovered He Stole Books From Her, Gets Him Fired
A man who stole books from someone at a birthday party is now demanding money from herAfter he got fired from his job for the act.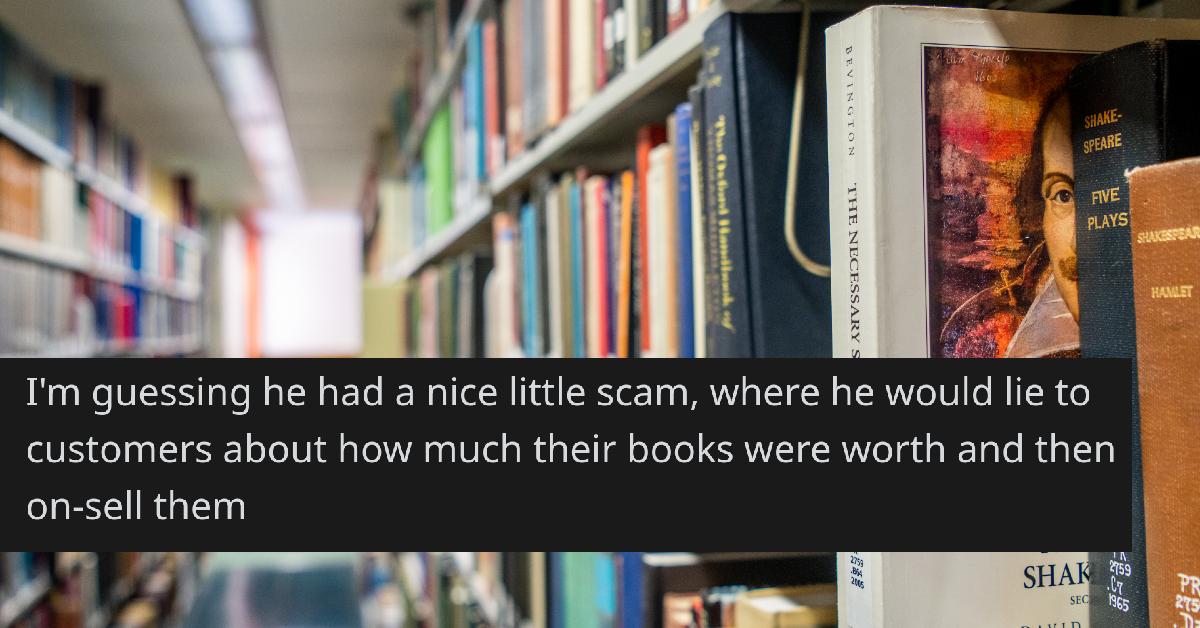 Gall: bold and impudent behavior; also see: the audacity.
Sometimes, it's shocking to see people who think they can get away with not only treating people in a poor, in some instances, criminal manner, But that the victims of their behavior are somehow indebted to them for it.
Article continues below advertisement
That's what this woman is saying happened to her after discovering a birthday party guest stole some of her items and refused to give them back. What's more is that when she pursued legal action in order to reclaim her items, the thief then demanded compensation as a result of losing his job for the theft.
Redditor @TasteSpiritual5392 writes in a post that they uploaded to the site's AITA sub about an incident that occurred during a birthday party they were holding at their house. It seemed like an innocuous enough celebration, However, after the party was done She noticed that a few items from her home were missing.
Article continues below advertisement
Those items happen to be some books that she had which were signed by some pretty famous authors. As it turned out, one of the guests at her party worked at a bookstore and it seemed that he took a liking to some of these books.
Article continues below advertisement
After asking around and speaking with members of her friend group she discovered that the bookstore employee, who, for the sake of the story she calls Jay ended up taking some of her books.
What's more is that Jay told her mutual friend that he had permission, which was a blatant lie, to take the books home and that the OP let him borrow them.
Article continues below advertisement

Livid, OP Decided to call Jay and chew them out for taking the books without her permission and he had an excuse ready: he said that he was simply taking the books to the store where he worked in order to get them appraised as part of a surprise, presumably for her birthday, so she could find out how much money she was sitting on.
Article continues below advertisement
If this was indeed the case, then he probably wouldn't have had any problem returning the books to her if she asks for them back, right? Well, OP says that's not what happened.
She goes on to state that although she asked Jay to return the books, he outright "refused."
Because of this, she immediately called the police and filed a report stating that a house guest of hers not only stole her books but admitted to taking them to the bookstore that he works at.
Article continues below advertisement

She also called the store Jay works at the following morning in order to let them know what had happened and that an officer would be coming by to reclaim the books that he stole.
Article continues below advertisement
OP Said that store management didn't hesitate to cooperate with her and she was eventually able to get her stone books back in a prompt fashion. Furthermore, Jay ended up losing his job as a result of the theft.
One Would figure that Jay would have been so embarrassed by the situation that he probably would have stopped talking to OP all together, but this wasn't the case.
Article continues below advertisement

The Redditor went on to say that Jay basically blamed her for getting him fired because she ended up causing too much of a stir "over a few books."
Article continues below advertisement
He went on to demand from a woman that she gives him money in the meantime until he can find a new job, and she wants to know if she's in the wrong for calling the police on him for stealing her books.
Commenters Assured her that she did nothing wrong and notifying the authorities that her books were stolen, and there were many others who thought that Jay was clearly trying to scam her and that he's pulled schemes like this in the past.
Article continues below advertisement

One user on the platform wrote: "NTA. He wasn't trying to "get them appraised" for you, he was trying to steal and sell them if they were worth real money. Glad you got them back."
Article continues below advertisement
Another remarked, "Yeah, Jay absolutely isn't OP's friend. And not only did Jay clearly steal those books to sell himself, but OP was being far too generous by even allowing him the opportunity to return the books when confronted over his theft. And he REFUSED to?! This surely isn't Jay's first rodeo. And the audacity of this man trying to demand money for getting fired over his blatant theft! I sure hope OP tells everyone in the friend group what happened before he has the chance to spread his fabricated version of events. Preferably before his sticky fingers start getting grabby with anything else anyone in the group happens to own of any value."
What do you think? Was OP justified and immediately calling the police? Was Jay the type of person trying to rely on the fact that he and the Redditor had a friendship that he could get away with trying to steal some of her items and sell them to make money off of them?