This Homemade Elevator for an Elderly Dog May Just Restore Some Faith in Humanity
A TikToker shares a heartwarming video of a homemade elevator made exclusively for her family's elderly dog. Check out the adorable results.
For many pet owners, their relationship with their critters amounts to far more than simply having an animal filling out the house. People can develop unique bonds with their pets, making them out to be true companions or even additional members of their families. With bonds as tight as that, you'd want to make sure that your pet is as loved and as comfortable as possible throughout their entire lives. This family takes their love for their elderly dog to the next level.
Article continues below advertisement
In early June 2023, Kerry Marie McGrath aka @kerrymariegabriele on TikTok shared a heartwarming video featuring her 17-year-old dog, Sadie. According to Kerry's previous videos, Sadie is a cancer survivor who has reached a ripe old age as of this writing. With that kind of seniority, her status as a beloved member of Kerry's family should come as no surprise. In fact, they love Sadie so much that they built an elevator for her to use after she couldn't use the stairs. Let's check out the details.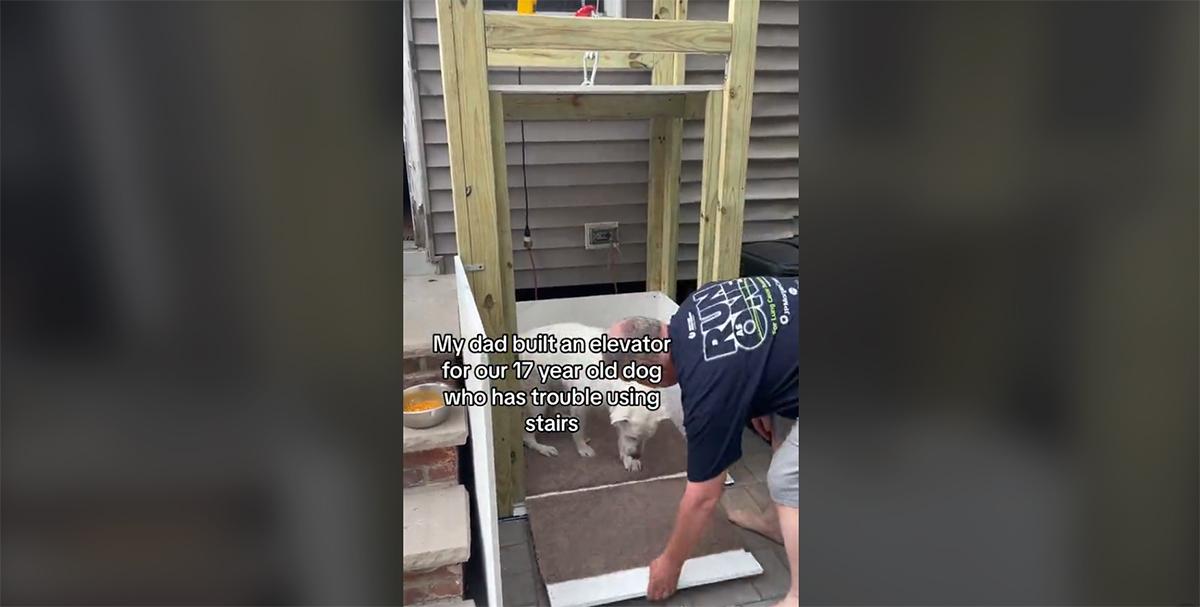 Article continues below advertisement
This elderly dog elevator has captured the hearts of millions on TikTok.
Kerry shared footage of this adorable elderly dog elevator on TikTok. According to the video, Sadie has trouble using stairs in her old age and can even be seen limping along the ground in the video. This prompted her father, a purported handyman, to take matters into his own hands to make the house a little more old dog-friendly.
To this end, he handmade a motorized elevator that leads from top of a set of outdoor stairs down to their home patio.
The setup features plenty of woodwork for the elevator structure and even has a Sadie-sized box in which the canine companion can travel up and down. It even comes equipped with a dedicated switch that allows the elevator to move. While the elevator only travels a couple of feet up and down, it looks to help Sadie out immensely.
As of this writing, the video has over 7 million views and nearly 1 million likes, with several people in the comments section ecstatic over Sadie's new elevator.
Article continues below advertisement
"This is so sweet," one person commented. "Protect your dad and the dog at all costs."
Other people even believed that the elevator would travel up to the second floor of the house before watching the whole video.
Nevertheless, most people are thrilled at the prospect that this pet-loving family went above and beyond to make sure that their elderly dog can still move around without having to worry about stairs.
It's safe to say that all pet owners love their pets, but making a doggie elevator is a great way for someone to show that love.