Guy With Anonymous Truck Profile Pic Challenges Woman to Find Him Online — She Did
A TikToker demonstrated her impressive internet sleuthing skills after she was challenged by an "anonymous" user to find his identity.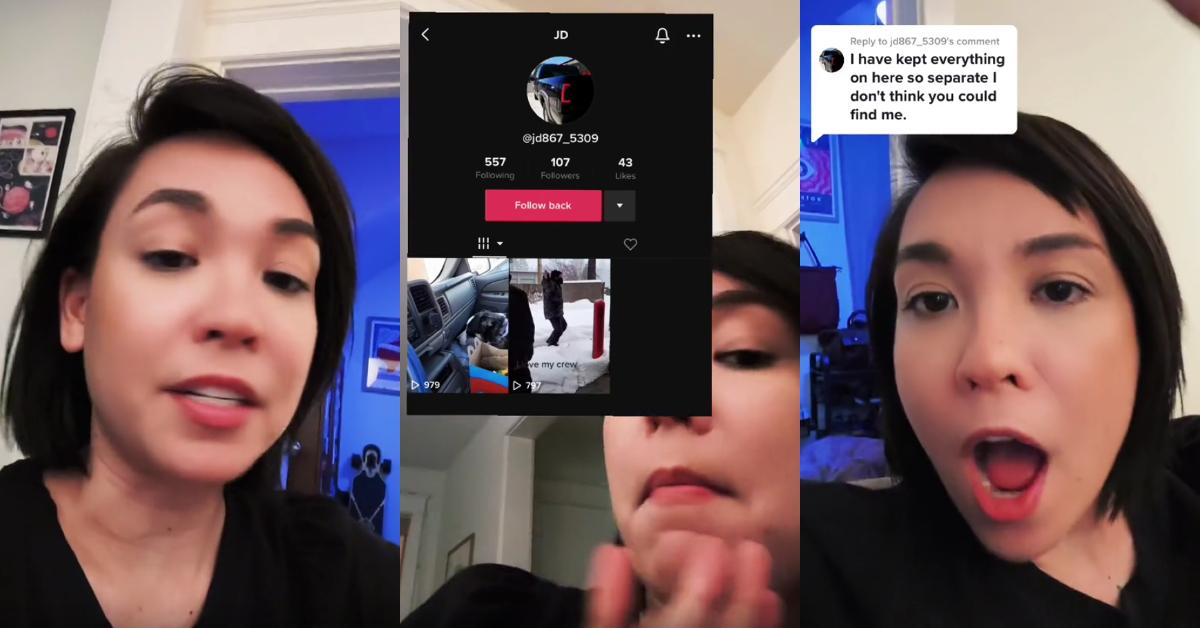 We all have that one friend who can seemingly find anyone on the internet with the most basic, vague, and smallest of details about an individual.
Article continues below advertisement
Did you spot the hairstyle on the back of someone's head in your boyfriend's Instagram story, and they were dancing a little too close to him for comfort? This is the friend you call.
And a TikToker who goes by Kahn (@notkahnjunior), in this writer's opinion, is definitely that friend, which she gave plenty of evidence for in a recent clip she posted to her account in response to another user on the platform's challenge that she wouldn't be able to find out who he was.
Article continues below advertisement
It was a tall order: the man doesn't have his name listed on his account and his username doesn't really give much of an inkling as to who he could be: @jd867_5309.
Article continues below advertisement
Kahn says in her video: "Oh JD you think because your profile picture is a truck that I won't find you. Well, guess what? My nickname is the bus driver. Why? Because I'm about to take your a-- to school! There was basically no information about you on your TikTok though."
Kahn continued, "Nothing about what you look like, nothing about where you live, and if I Google your username: zero results! At the top it does say JD so I was like maybe your first name starts with J and your middle or last name starts with D. But that was it! You have two TikToks posted here's your dog who is sad because you forgot to buy him a cheeseburger in which case you deserve Federal Prison!"
Article continues below advertisement
The TikToker went on in her clip, explaining her methodology: "only thing I could do was look at your followers. I always go to the bottom of your follower list first because when you join TikTok it asks you to sync your contacts and your first couple of followers are most likely people you know in real life."

Article continues below advertisement
"And since I didn't know anything about you except maybe your name starts with J, I was looking for TikToks that your followers posted that maybe you commented on. Eventually, I did find someone but they were towards the top of your follower list. I was surprised. I will call her A and you commented a few times."
She rattled off a couple of comments he left on this follower's video that didn't really give much insight into who he could be. However, she did come across a remark he made on one of her videos that piqued her interest and it was the way that he wrote it that got her gears spinning.
Article continues below advertisement
"But one comment you made is the reason that I found out who you were and it wasn't what you said it was how you said it. January of this year, A made a TikTok about how she went on a family vacation and bonded with her younger cousin the entire time. On that TikTok you said: 'such a good time.'

Article continues below advertisement
It's the phrasing of how JD wrote that comment that led her down a rabbit hole of searching A's social media accounts: "You didn't say that looked like such a good time. You didn't say I hope you two had such a good time. You said 'such a good time.' Which says to me that you were there!"
I said let me try to find A's Instagram and see if she posted any family pictures around January for that trip. She has her full name on TikTok so I found her Instagram right away. And on January 3rd of this year, she posted a picture of a bunch of people wearing the same glasses."
Article continues below advertisement
"This is her in the middle, and on the left is the cousin from the TikTok." Not satisfied with leaving it there, Kahn needed further confirmation that this cousin in the photo was the same person that A posted online: "Well I said let me look at the comments and the likes on this Instagram post to see if there any people who look like the others around her."

Article continues below advertisement
"And one person who liked it has this Instagram profile picture. And they look a lot like this person on the right in A's Instagram post. That person has their full name on their private Instagram account so I typed that full name into Facebook."
Kahn then begins to rattle off a series of photos she found on Facebook when she searched for the person she suspected was JD, giving her further validation that she found the person behind the truck profile picture TikTok.
And she said while there may be some who would argue that the guy she found wasn't JD, she got even further evidence that it was him: his fifth profile picture on his Facebook account was the same truck that he used for his TikTok account, along with a picture of the same dog in his burger-less video.
Article continues below advertisement
She takes it even further, even demonstrating how she was able to find out the guy's birthday, by scrolling through his Facebook feed and discovering that he wished Happy Birthday to his cousin, who he thanked with a card, which had her assume that he was only a few days prior.

Sure enough, it was. She ends the video by wishing the man a Happy Birthday.
JD wrote in the comments section that he was impressed and that he stood corrected, and there was a slew of other TikTokers who were stunned at the skills she displayed in the clip.