Woman Mocks Men Who Earn Less Than $400k, Despite Only Making $18 an Hour Herself
A woman who posted a clip lampooning men who earn less than $400,000 a year got torched online.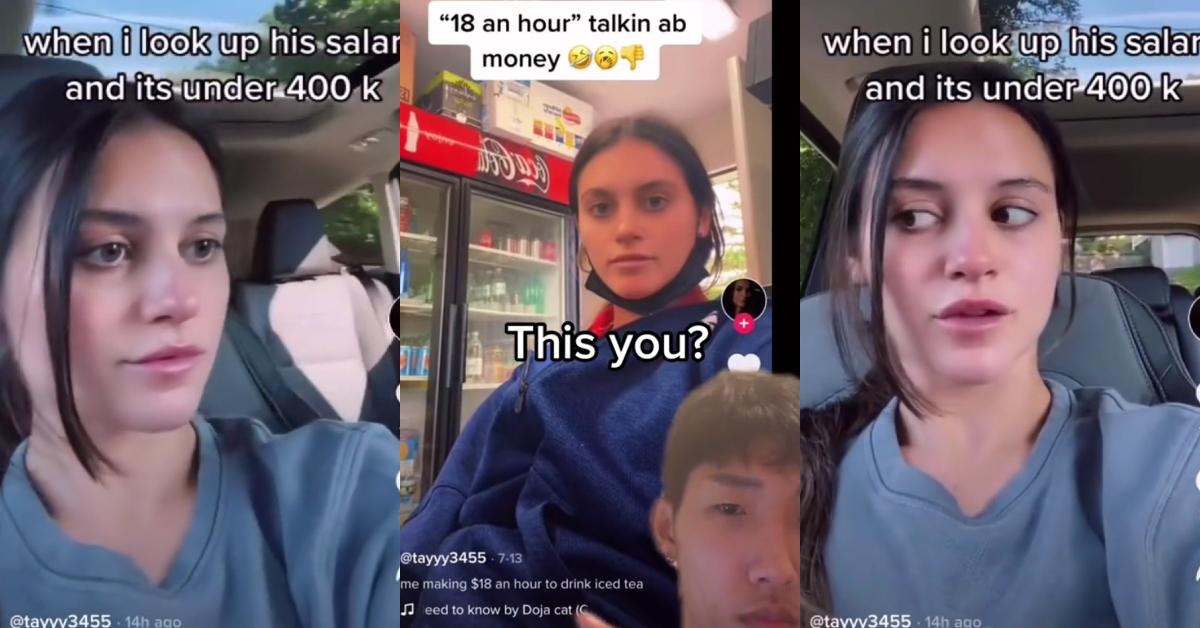 A woman was outed for having a hypocritically high salary standard from men when it appears that she works a food service industry gig that doesn't pay nearly the amount of money that she expects guys to rake in annually.
Article continues below advertisement
An account posted by a user who goes by @tayyy3455 on the popular social media platform shows a woman sitting in what appears to be a luxury car with a text overlay that reads: "when i look up his salary and it's under 400 k"
She pans the camera around to reveal her face, where she bites her lip and mouths, "what the f--- is that?"
Many users who saw the video took her clip as the young woman being judgmental of the amount of cash that 99% of all Americans earn annually (less than $400k per year).
Article continues below advertisement
There was a response to the aforementioned TikToker's video, however, from another user on the platform, @thisyou.official2, who uploaded a clip of their own.
Article continues below advertisement
The majority of their video is a repost of @tayyy3455's, however, there is one key difference: @thisyou.official2 appears to have found a screenshot of one of the woman's TikTok videos where she is at her job.
Judging from the screenshot of the clip, it looks like the woman works at a restaurant, cafe, or bodega of some sort. A caption in the video reads: "me making $18 an hour to drink iced tea"
Article continues below advertisement
Assuming that she works 40 hours a week at this job, that comes out to $720 a week before taxes are factored in, and that, multiplied by 52 weeks in a year, means that she earns $37,440 annually.
Article continues below advertisement
If she works 10 hours a week over time, which would put her at the time and a half pay ($27/hr), then she would earn $51,480 a year, and if she managed to work 80 hours a week consecutively for a year for 52 weeks, she would earn $93,600, or still less than 1/4 of the $400,000 she referenced in the first video at her current hourly wage.
A number of TikTokers immediately threw shade in the women's direction, with one person writing: "400k to come home and dinners not ready"
Article continues below advertisement

Another penned, "A dude making half a mil and up is not looking at your direction"
Others were a bit more straightforward in their responses: "400k a year and I'd settle for her?"
And then there were those who found the video she posted humorous: "The jokes will always write themselves"
Article continues below advertisement
There was one TikToker who pointed out the annual salary of the President of the United States of America is $400,000.
Another user thought it was apparent that the woman was looking to enter into a relationship with someone who would just foot the bill for their cost of living: "she's looking for a life saver"
Article continues below advertisement

There are even a number of memes highlighting this disparity for comedic effect, like the one below posted by a TikToker named David (@iam.davidc) who joked that while women are looking for men to fit a specific height and salary requirement, that he will literally fall in love with a Starbucks barista.
Article continues below advertisement
What do you think? Is this a reductionist look at the "battle of the sexes" and contains swooping generalizations about people of specific genders and sexual orientations value? Or is it, generally speaking, pretty much on the nose?