Woman Plans to Paint Leather Couch, Tests Products on a Chair First
A woman has left the internet divided after sharing an interior hack that she plans to use on her leather couch. Read on for the whole story.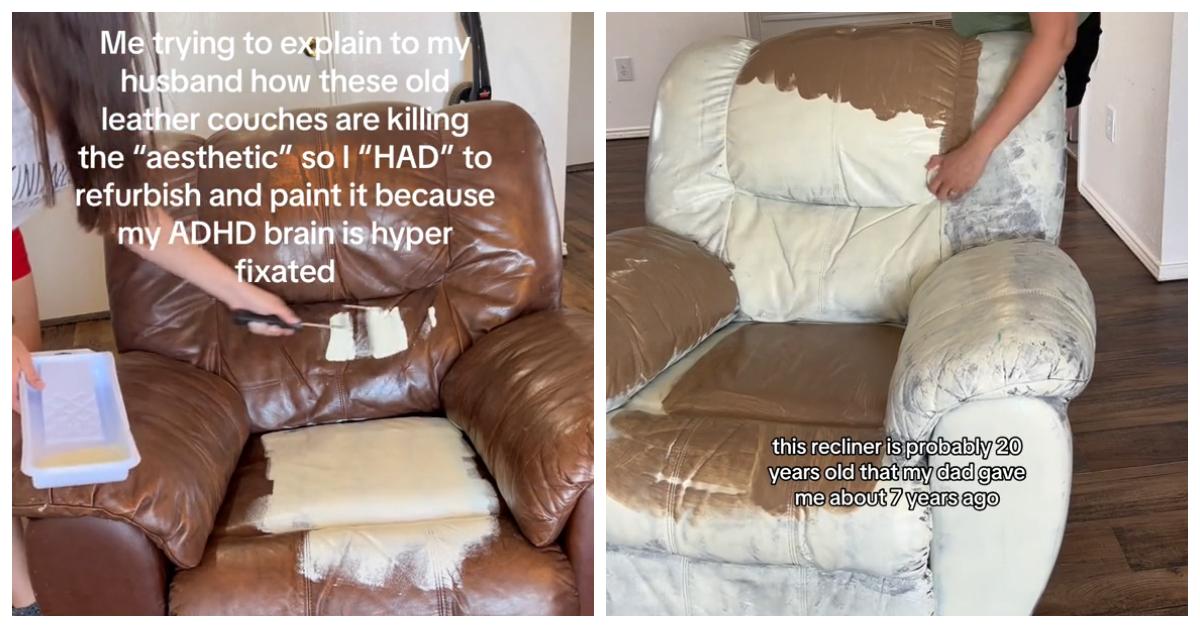 Every now and then, a TikTok life hack will come into your life and change everything — for better or worse. In July 2023, a woman, who goes by @yeli.heidecker, went viral for painting over a leather chair. She decided to test the hack on the chair before painting her leather couch.
Article continues below advertisement
On that note, keep reading to learn more about the interior hack. Plus, stick around to hear what the internet had to say (she received a very mixed reaction).
Article continues below advertisement
This woman painted her leather chair, and the reaction is mixed.
On July 6, 2023, the creator (Yeli) shared a short video that showed her rolling cream-colored paint onto her brown leather chair. In a text overlay, she said she tried to explain to her husband that their "old" furniture was killing her "aesthetic," so she had to "refurbish and paint it."
In a follow-up video, she responded to a fellow TikToker who asked if it was possible to paint leather — it is! Yeli said she initially planned to throw the chair away but decided to keep it after testing out the paint hack. However, after painting it white, Yeli decided to repaint it a tan color via acrylic leather paint.
Article continues below advertisement
In another update, Yeli showed a closer look at the painting process while also responding to several hate comments she received. She said her dad gave the recliner to her, so technically, it's her chair — not her husband's.
"The chair was very old and needed some TLC," Yeli explained, adding that the previous color (which is pretty similar to the new color) no longer resonated with her aesthetic anymore.
Article continues below advertisement
On July 9, the TikToker shared the latest look at her leather chair that she supposedly "ruined" with leather paint. With her husband's help, Yeli added the third and final coat of tan paint. She also addressed the criticism again, stating that she'll never understand how people can be so cruel and offended "over the littlest of things."
Article continues below advertisement
The final video received hundreds of comments, and the reaction was very mixed. Some continued to complain about Yeli's paint job, while many others appreciated how it all came together in the end.
"It looks so good?? Like, what are these people talking [about]," one person wrote alongside two crying emojis.
Another user commented, "I never thought you could paint leather like this, people are harsh over an old chair, but this is so cool! Great way to bring life to old furniture."
Article continues below advertisement

"I'm sorry that people don't know how to be kind. It looks great!" said a third TikToker.
A fourth person revealed they were "so confused about the hate," adding, "I love the new color and think it really gave the chair a new life lol."
Article continues below advertisement
Unfortunately, others weren't as kind.
One person asked if Yeli had "just come back from the asylum," while another TikToker said, "Imagine putting way too much effort into a chair to 'fit your aesthetic.' Sounds like an issue."

"It looks like if you taped the whole sofa with duck tape," someone else commented.
Another person replied, "That color looks putrid."
Would you ever paint over a leather chair, couch, or jacket to change its color? Let us know!