Woman Says iPhone's Grayscale Feature Broke Her App-Scrolling Addiction
Staying away from our phones is nearly impossible these days. One woman made putting her iPhone down with a crafty hack a little easier.
As much as iPhones and other smartphones have allowed us to do anything from connecting with people worldwide to starting a business or earning multiple bags as an influencer, numerous studies have shown the long-term side effects of too much screen time. Excessive phone use and scrolling have been proven to cause significant damage to one's mental, emotional, and physical health.
Article continues below advertisement
One woman realized how her iPhone stopped her from appreciating the things around her and decided to do something about it. She shared the hack on TikTok and received rave reviews from others desperate to escape their scrolling cycle.
Let's see what went down.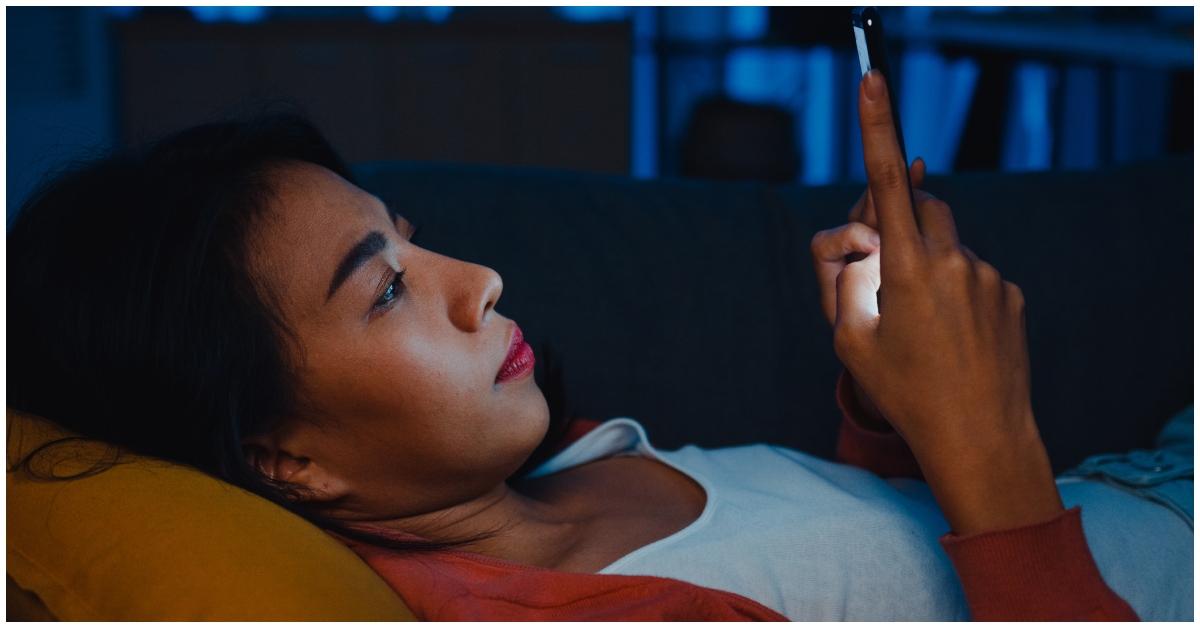 Article continues below advertisement
Woman credits the grayscale feature on her iPhone as a game-changing life hack.
If you're having trouble staying off of your phone, TikTok might seem like the last place you would go for advice. Ironically, one TikToker, Ryann (@ryannpdatsme), shared a hack that saved her from being glued to her device all day and night.
In the July 2023 clip, Ryann discusses her "real quick tip" that changed how she viewed her phone and its many apps that take up her time. She explains the grayscale mode on her iPhone allows her to avoid distractions and "also helped me see the world more beautifully."
The grayscale feature turns iPhone screens black and white and has been known to help those with color blindness. The feature also voids users from the bright colors shown on social media apps like TikTok and Instagram, which Ryann said she uses to help her stop scrolling as much after hearing about it on Reddit.
Article continues below advertisement
Ryann claimed she saw the difference in her phone habit within the first "48 hours" of using grayscale. She said it helped reduce the dopamine hit many of us get from scrolling on our phones or apps. The dopamine lack can help others "interrupt the habit cycle" of endlessly looking at their phones for "hours and hours and hours."
Article continues below advertisement
The TikToker also noted grayscale is especially effective on Instagram Reels. She said she often got sucked into spending more time on the app than she wanted because of the reels' "bright-colored" triggers. Since grayscale blocks out bright colors, Ryann said she now looks at the reel she came to the app for rather than going down the reel rabbit hole.
"As for me personally, it's made my phone so much more boring looking than the actual real world that I'm in," Ryann stated. "It's also helped me exit out of apps faster."
Article continues below advertisement
Changing an iPhone's setting to grayscale is pretty simple.
Ryann shared that she didn't know if grayscale is available on Androids but was "pretty sure" it was and knew it was an option on her iPhone. Based on our research, we can confirm grayscale is an option for Androids too. After her disclaimer, Ryann showed her followers how to change their phone to grayscale.
Article continues below advertisement
Using a green screen, Ryann posted a screenshot of her phone's settings and instructed users to "scroll down to accessibility." Once you're at accessibility, Ryan advises you to find the "display and text" feature and scroll down to "color filters," which allows users to turn their color filter off and switch it to grayscale.
Article continues below advertisement
Underneath Ryann's TikTok video about her life hack, several users said they changed their phones to grayscale shortly after watching the video. Many admitted they already felt a huge difference in how they look at their phones.
"Stopped this mid-video to change mine, thank you," one commenter shared.
"Why did the greyscale IMMEDIATELY take me back to flip phones 🤣 I'm old," a second one joked.
Article continues below advertisement
Ryann also received comments from users who planned to change their settings after watching her TikTok and hoped it would help them with their scrolling struggles. Others claimed they tried the feature but didn't share Ryann's change in perspective after using it.
"Me tempted to do this knowing very well grey is my favorite color and nothing will change 😩," another predicted.
While the grayscale feature will likely take some time for others to adjust, anything that keeps us a little more present with our real lives is worth a shot!