"Did I Get a Defective Bottle?" — Woman's One/Size Setting Spray Turns Her Into "Jack Frost"
A woman bought Patrick Starr's One/Size setting spray. Its defective look sparked concern from fellow fans and supporters of the makeup guru's brand.
Makeup guru and influencer Patrick Starr is by far one of the OGs of social media stardom. Since launching his YouTube channel in 2013, Patrick has continued his success in front of and behind the camera.
Article continues below advertisement
In 2020, he created a brand from a 2016 tweet that turned into his beauty brand, One/Size. Patrick said he made the makeup line to "elevate the voices of the unheard." So imagine our surprise when one woman used her elevated voice to complain about an error with one of its products.
The woman shared on TikTok that her particular bottle of the One/Size setting spray didn't meet her expectations. Keep reading to see what happened!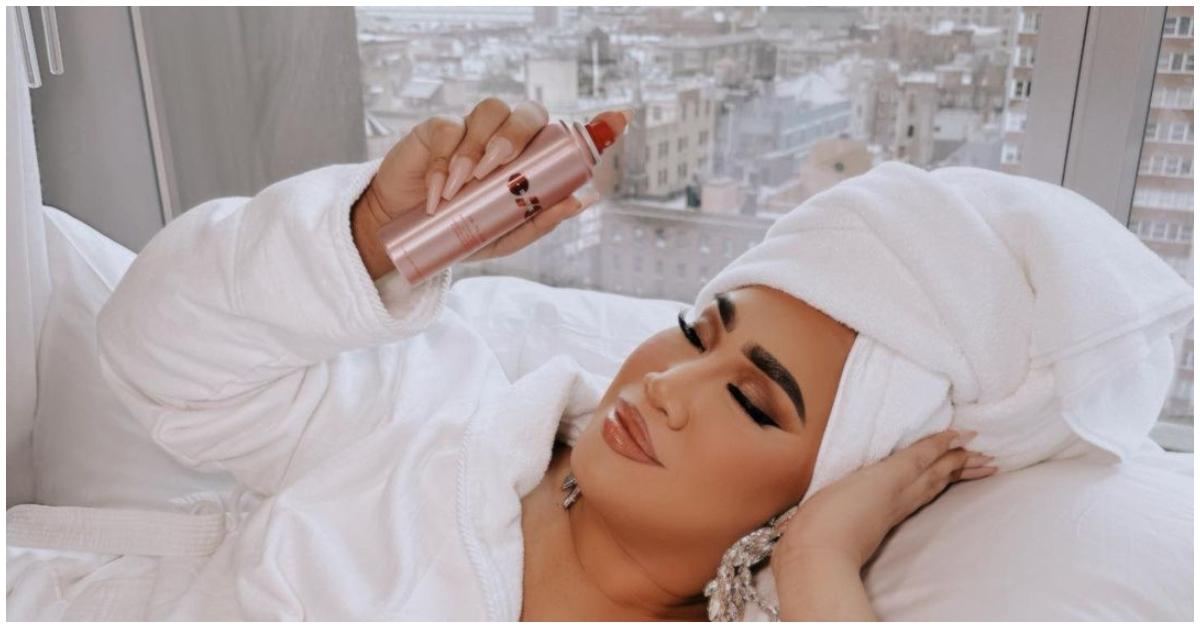 Article continues below advertisement
After using a "defective" One/Size setting spray, a woman shares how her face looked.
Throughout One/Size's inception, many other makeup influencers have tried the brand to support Patrick Starr. One of those makeup lovers was TikToker Anyssa Kuba (@makeupby_anyssa).
In June 2023, Anyssa, a makeup artist and licensed esthetician, took to her TikTok to post herself wearing One/Size's setting spray. For those reading this and thinking, "Girl, what is a setting spray???" it is one of the first steps of creating your makeup look.
Anyssa opened the video by wearing the spray on her face shortly after she "literally just sprayed it on my face." The spray made her face look pale and, I'll say it — ghost-like. As she's covered in the setting spray, Anyssa talks to her followers and says, "OK, One/Size, we gotta talk."
Article continues below advertisement
Anyssa explains she bought the setting spray at Sephora and believed it was "defective" due to the powdery texture. She continues showing off the look as she asks, "What is happening?" and stresses to her audience, "This is not OK."
Article continues below advertisement
The TikToker ends the video with a snatched makeup look before speaking to her followers again. A far less pale Anyssa then says she still plans on supporting One/Size, even though she had to "redo my makeup" after using the brand's setting spray.
"Don't get me wrong, I'm still gonna buy that setting spray," the makeup artist confirmed. "But I just want to know what happened."
In the comments section, Anyssa jokingly referred to herself as "Jack Frost" with cry-laughing emojis.
Article continues below advertisement
Several other TikTokers claim One/Size sold other defective setting sprays to customers.
While Anyssa vowed to continue buying One/Size's setting spray despite the "defective" can that made her entire face pale white, those viewing her brand review informed her she wasn't alone.
Article continues below advertisement
Multiple TikTokers rushed to her comments section and said they also either experienced or knew someone who experienced the defective setting spray bottles.
Article continues below advertisement
"I just saw another girl's videos where this happened to her!!" one user wrote.
"@Patrick Starrr, we need answers," another one demanded.
"😂😂 Nah b/c you reminded me of the scene when 'Marv' in 'Home Alone Lost in New York' got hit in the face with the bag of white powder," a third commenter mentioned.
One Sephora employee in the comments even said Anyssa's makeup nightmare wasn't the first time she heard someone complain about the brand. The employee told Anyssa a customer in a physical location exchanged the setting spray and complained of a similar issue. They then advised Anyssa to have her setting spray exchanged as well.
Article continues below advertisement
"Sephora employee here 🙋🏼‍♀️- I can say this isn't the first time I've seen this issue. Someone exchanged one the other day for this reason," they wrote. "Go exchange it, babe. The only thing I can think of is something is wrong with the pressurized air in the can. That's what I explained to the girl the other day."
"It is a great setting spray, though — when it works," the user added. "Make sure it works before you leave the store!"
Amid the support from many users, some other commenters attempted to debunk Anyssa's experience. Several users stated they used the same One/Size setting spray and looked nothing like Frosty the Snowman after using it. One/Size does have an exchanges and returns policy which allows free exchanges within 30 days of product receipt, or a full refund within 30 days of product receipt if the merchandise is unopened or gently used.