Woman Says Building's "Creepy" Maintenance Man Keeps Inviting Her to His Apartment Next Door
A woman is left terrified after her building's maintenance man invited her to his place. Now, management has put her in an uncomfortable spot.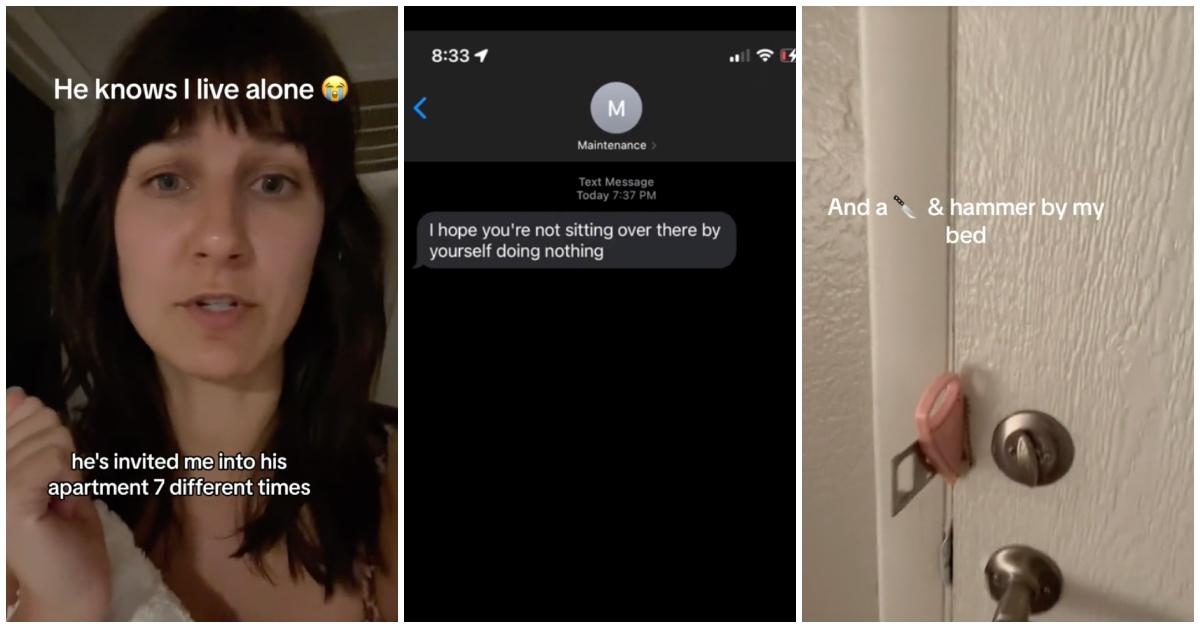 What's worse than an annoying Karen-like neighbor? A creepy one who also doubles as your maintenance man.
That's the reality for one woman who is just trying to feel safe in her apartment where she lives alone, but it seems like this handyman doesn't want to let her. She takes to TikTok to share her story and what happened after she told her apartment management.
Article continues below advertisement
A woman says her apartment building's maintenance man sent her an inappropriate text.
TikTok user @juicy.jane2020 took to the platform to share a text that she had received from her maintenance man, who just happened to be her neighbor. "I hope you're not sitting over there doing nothing by yourself," read the text, sent at 7:37 p.m.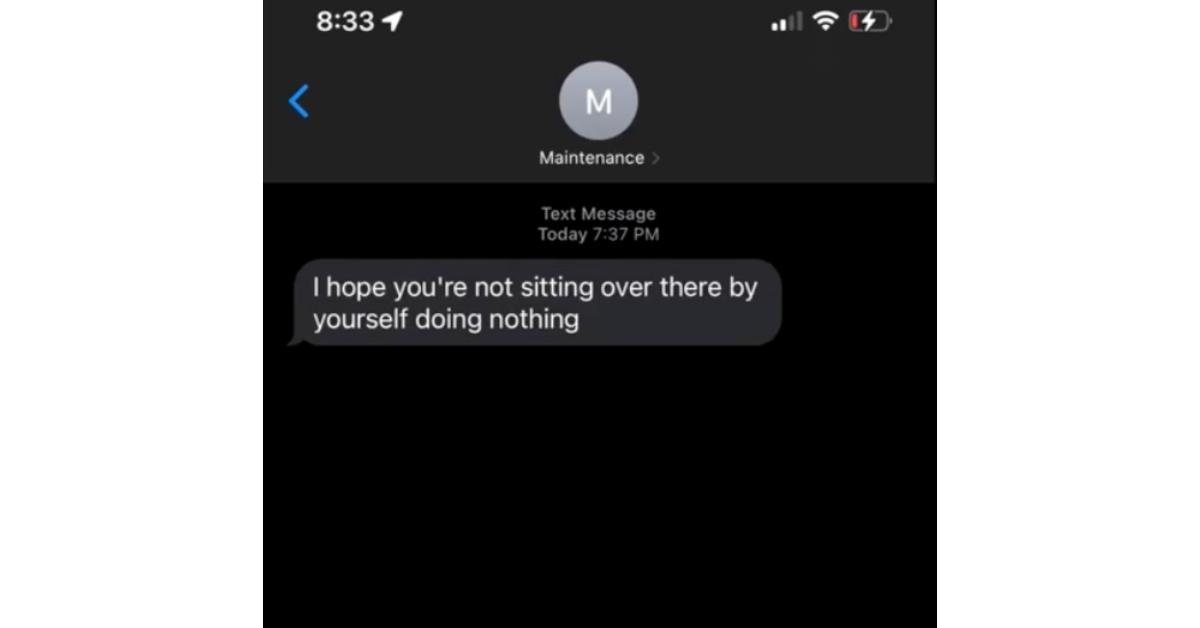 Article continues below advertisement
@juicy.jane2020 explains that this man, who she claims is in his 70s, had invited her over seven different times, and three of these times, it was when he was on duty fixing an outlet in her apartment.
"I said no every single time," she said, adding, "this man shouldn't have my phone number to be texting me on a personal level."
Article continues below advertisement
Scared about what could transpire, @juicy.jane2020 then showed viewers the security measures she had put into place in her apartment, which included an extra lock on her front door and a knife and hammer by her bed.
In the comment section, users seemed very cognizant of the fact that he had been inside her apartment to specifically fix outlets. "He fixed your outlet, he can hide a camera in your outlet," one person warned her.
Others told @juicy.jane2020 that she should go to the police.
Article continues below advertisement
In a follow-up video, @juicy.jane2020 said that she had informed a woman who worked in her building's office about the situation and was told management would get back to her. Unfortunately, it wasn't soon enough as she had another encounter with him.
Article continues below advertisement
According to @juicy.jane2020, he saw her parking her car in the lot and proceeded to wait outside his apartment so he could talk to her. When she passed him, he asked her if she was mad at him, but she didn't respond.
"I don't know him well enough to be mad at him," she said in the video.
Article continues below advertisement
@juicy.jane2020 continued to keep users in the loop on TikTok, explaining to them in a clip that she would be moving out in two weeks. For part of this time, she would be staying at a friend's place to dogsit to limit contact with him.
@juicy.jane2020 said that she wasn't even sure if he even had been informed about her complaint.
Article continues below advertisement
In @juicy.jane2020's latest update, she said management had finally reached out to her about the situation and told her that they would keep information involving her move-out private so he could not try to track her. Although, as she pointed out, he did still have her name and cellphone number.
Management also wanted her to sign a document claiming that she would not sue them. Understandably, @juicy.jane2020 had reservations about that.
Several people in the comment section warned her not to sign that document. As of this writing, @juicy.jane2020 hasn't shared what she plans to do about that yet.