Woman Sleeps Through Weird Apartment Break-In: "He Had a Stuffed Monkey and Banana"
One woman woke up to find out that her apartment had been broken into during the middle of the night. However, this was not your average break-in.
There are definitely pros and cons to being a sound sleeper. While you may be getting more quality sleep, you could be missing out on extremely important events.
Remember when this mom woke up to police officers in her bedroom after her toddler tried to run away during the middle of the night? She didn't hear the baby monitor, her son opening the front door, or the police knocking on her door to come in. That's pretty scary.
Article continues below advertisement
Well, now we have another story involving someone who slept through a pretty major event — her apartment being broken into. Yup, one woman woke up after a good night's sleep to find her apartment totally in ruins. And she didn't even hear a peep. Below, we share her story.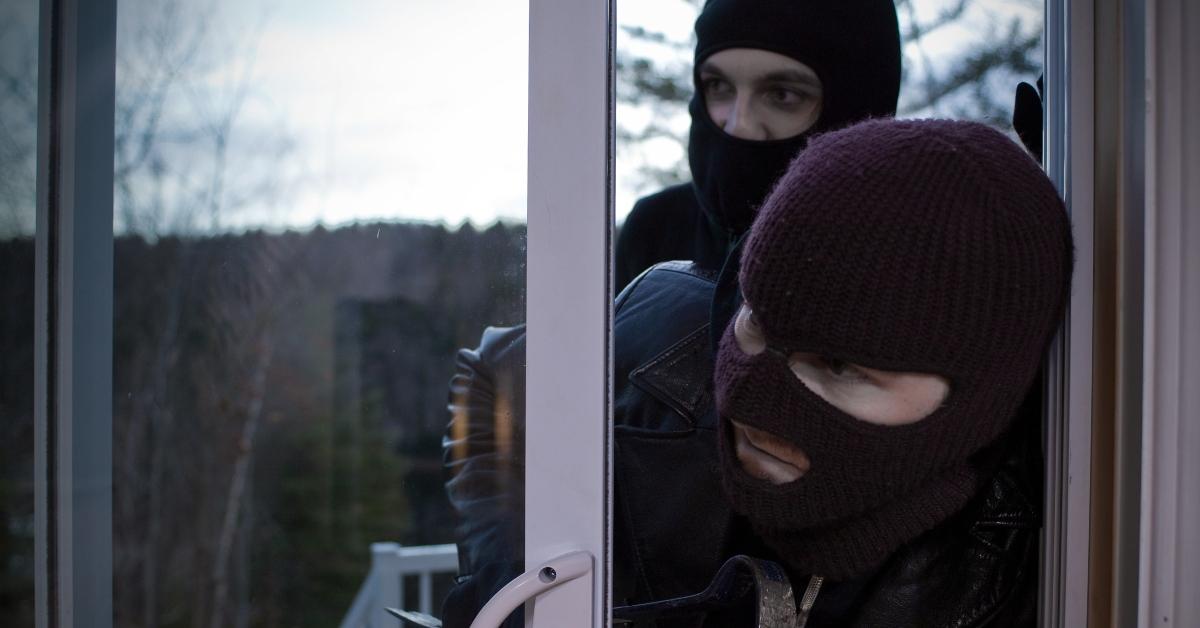 Article continues below advertisement
A Los Angeles woman slept through a bizarre apartment break-in.
Imagine waking up and your apartment has been ripped to shreds. That was the reality for TikTok user Gracie Mac (@gracie.macura), who starts her video by saying, "Somebody broke into my apartment in Los Angeles last night," adding, "I slept through the entire thing. The entire thing."
She begins to show us around her place, explaining that the intruder broke through the doors on her balcony, which lead right into her kitchen. Then they proceeded to go through all her cabinets, ravaging for food.
Banana and orange peels had been strewn all about. A jar of honey had been opened and smeared in various places. "I found a banana stuck to my sink because it was covered in honey," she said. But that was only the kitchen.
Article continues below advertisement
The main room of Gracie's apartment, which she had made a joint living room and bedroom, had also been visited. The intruder had sat on her couch, which has a direct view of her bed, and smoked a cigarette. Then, in lieu of an ashtray, they put the cigarette out on her couch.
Article continues below advertisement
But the strangest thing about the break-in was that "they didn't steal a thing," Gracie said. "They didn't want a thing but my snacks."
In fact, instead of taking things, they left a collection of strange objects in the apartment, including a dog leash, a hoodie, a pair of shorts, stuffed animals, and underwear.
Weirdly enough, a neighbor had told Gracie that morning that the apartment above her was abandoned above and had graffiti all over it. It was unclear if that was connected to Gracie's incident, though.
In the comment section, users took guesses at who could have done this to her place.
Article continues below advertisement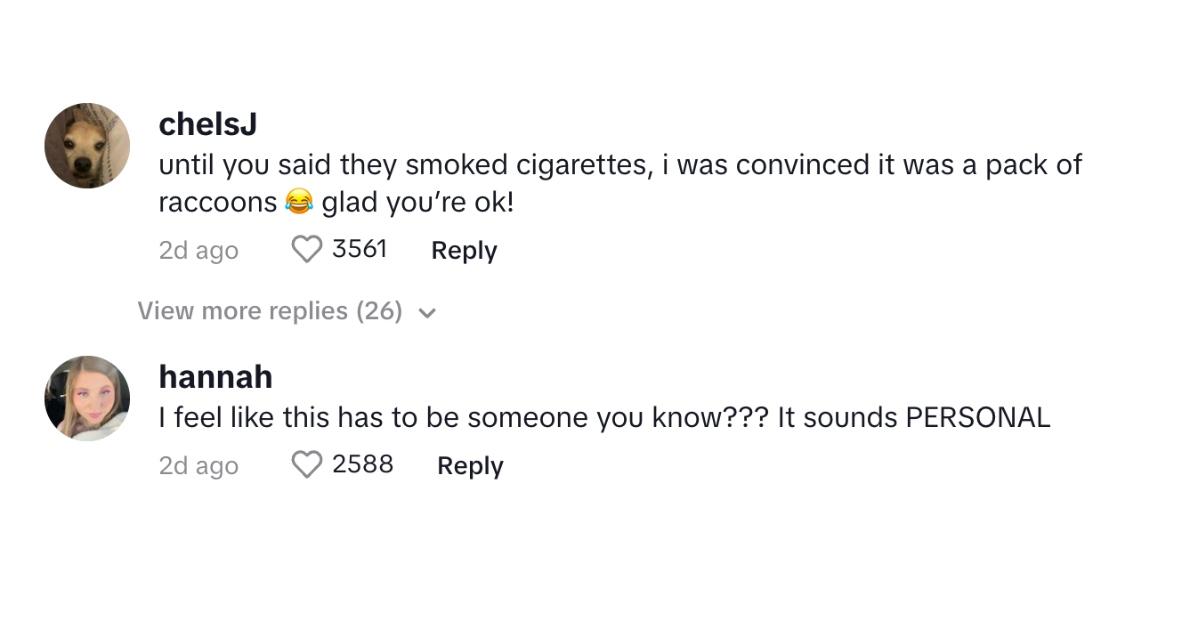 "I feel like this has to be someone you know ??? It sounds personal," said one user. Others predicted that it might have been a person experiencing homelessness looking for food, which could be possible given the county's notoriously high rate of homelessness.
Article continues below advertisement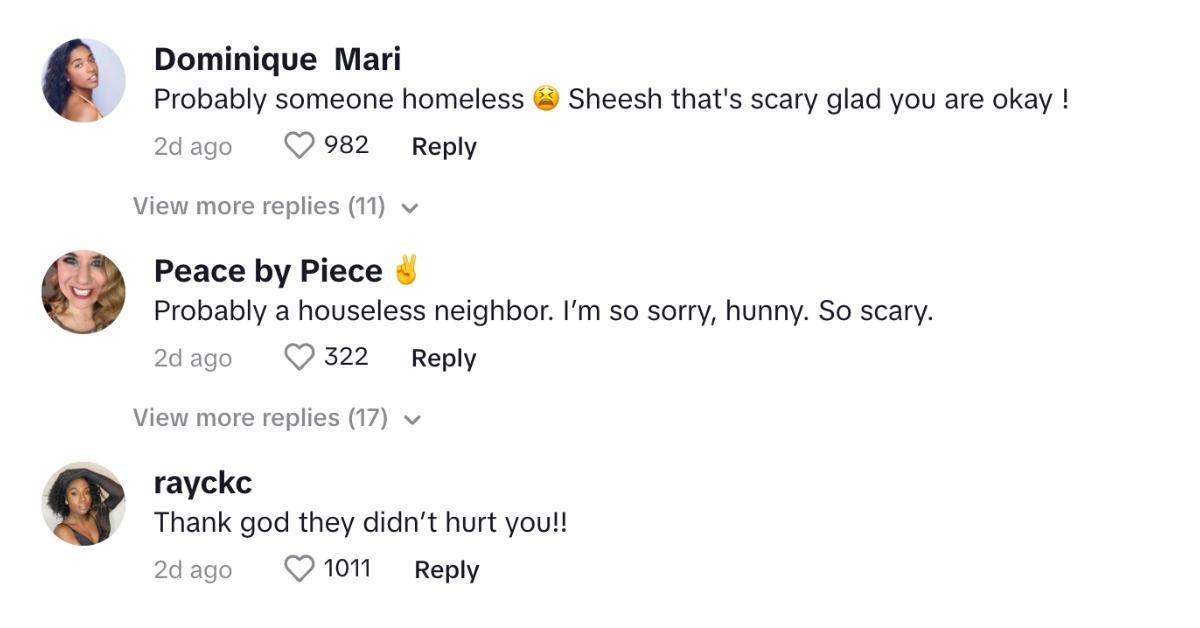 Others wrote that they thought the culprit was either a bear or raccoon until Gracie mentioned that the intruder had smoked cigarettes.
Meanwhile, other people were more interested in how Gracie was such a sound sleeper. "OK but do you have any tips on achieving such a deep sleep?" read one comment.
Article continues below advertisement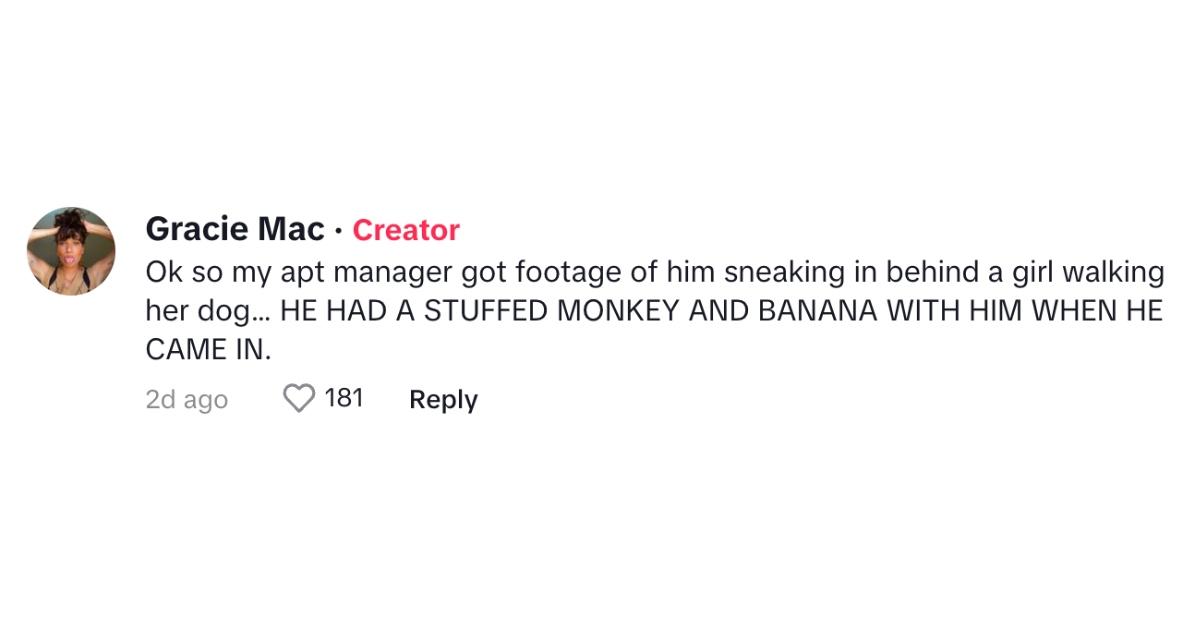 Since sharing her story, Gracie has not made a follow-up video with any updates concerning who was behind this. But she did find out some interesting information about the intruder, which she relayed in the comments.
She wrote: "OK so my apt manager got footage of him sneaking in behind a girl walking her dog … he had a stuffed monkey and a banana with him when he came in."
Well, that's definitely a unique feat.