Woman Jokes About "Downsides" of Dating a Nice Guy After He Helps Stranger With Tent in Storm
A woman's hilariously posted about the drawbacks of dating a "nice guy," stating that they'll go out of their way to help others in any situation.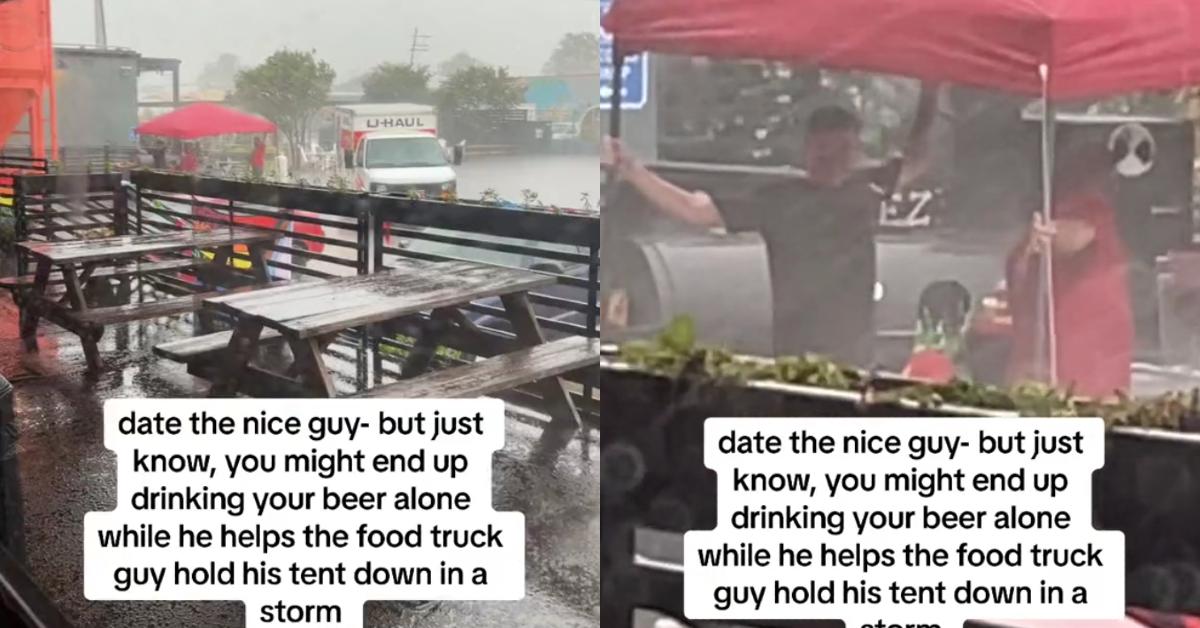 If you're hanging out with someone who's always trying to help others in need, it could very well become a drag after a while. Sure, it's great to see that they're so selfless and are constantly going out of their way to assist others, but what about any quality time between you and your friend/significant other?
Article continues below advertisement
A TikToker named Sarah (@sarahestone) jokingly posted a clip explaining that this is the predicament she found herself in after deciding to date the "nice guy," recording him in a viral clip she uploaded to the popular social media platform that's accrued nearly 800,000 likes as of this writing.
Sarah writes in a text overlay for the video: "Date the nice guy- but just know, you might end up drinking your beer alone while he helps the food truck guy hold his tent down in a storm"
Article continues below advertisement
The camera then zooms in on a man in a black t-shirt, presumably the "nice guy" that Sarah is dating, gripping a tent while braving the elements with the owner of said food truck.
Article continues below advertisement
It seemed like there were a number of commenters who were pro-tent-holding-nice guy: "The tent may be red but that man is a green flag," one person wrote.
Someone else thought that Savannah definitely found himself a "keeper" because they thought that the energy he possessed was akin to a golden retriever: "The way he's looking over at you with all that golden retriever energy, he's a keeper"
Article continues below advertisement

Another user said that there is a clear differentiation between a "nice guy" and a "good man" as they wrote: "You're not dating a nice guy… you're dating a good man."
Article continues below advertisement
Being labeled a "nice guy" comes with a lot of negative connotations and more often than not is either a backhanded compliment or a flat-out insult depending on the context in which it's being used.
Men's Group published an article delineating how the "nice guy" moniker are often affixed to men who are inoffensive and generally considered to be good people with no hidden agenda, however, because they are ultimately boring and lack any sort of edge, they are generally overlooked.
Article continues below advertisement

Overlooked as really close friends, overlooked at their jobs in attaining higher positions that carry greater responsibilities, and overlooked as potential romantic partners as they don't pose a "threat" in a good way.
Article continues below advertisement
And then there's the other definition for the term "Nice Guy," which is actually a sarcastic remark used to describe a subset of men who pretend they're selfless, caring, and respectful towards women and potential romantic partners as a means of attempting to guilt someone into being with them in a relationship.

Article continues below advertisement
However, these same "nice guys" who don't get their way throw temper tantrums and end up exhibiting the the same lack of emotional intelligence as other boorish alpha male types they usually go out of their way to lambast and/or say they have nothing in common with.
There were many folks who responded to Sarah's video who quipped that they didn't think that the man she was recording in the clip holding the tent fell into that "nice guy" category, but rather he was just a darn decent human being who was helping a stranger in need out.
Article continues below advertisement

"coming to the aid of people in need is becoming extremely rare. It's very admirable," someone said.
How would you feel if you were out on a date and your significant other went out of their way to help other people at the drop of a hat? Would it become annoying after a while? Or would you find it hard to be miffed that you had some of your alone time set aside