"Now I'm Even More Lost" — Woman Goes to NFL Game, Realizes the Yellow Line Is Only on TV
In a now-viral video, a woman attended an NFL football game — and she quickly realized that the beloved first-down yellow line is only on TV.
Since the '90s, football broadcasts have been displaying a first-down yellow line, which makes it easier for fans to follow the play on the field. It's a staple, and at this point, we can't imagine watching football without it.
Article continues below advertisement
However, if you attend a game in person, like TikTok user Shi (@shi_and_toni), you won't find the yellow line on the football field — why is that? Well, as it turns out, the line is computer-generated. So, if you're like Shi and heavily rely on the yellow line to understand the game, this revelation completely changes the experience.
Read on for more details. Plus, stick around to hear what the internet has to say.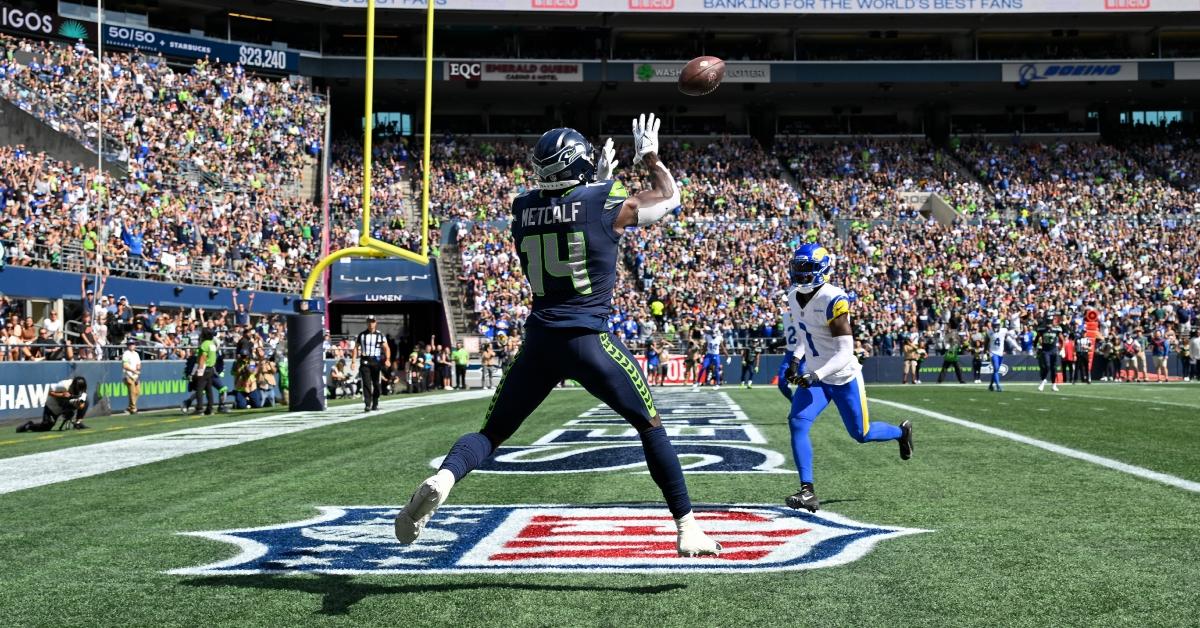 Article continues below advertisement
This woman realized the first-down yellow line is only on TV.
In a text overlay of the nine-second video, Shi wrote, "When you actually go to a game and realize the yellow line is only on TV..." We realized this the hard way too, and we're not kidding when we say it changes everything.
The rest of the clip — which is set to a snippet of No Doubt's "Just a Girl" — sees an obviously confused Shi looking around the crowd and trying her best to focus on the field. Despite the confusion, we hope she still had a good time because the atmosphere surrounding a football game is unbelievable.
Article continues below advertisement
OK, now that you know the yellow line is only for TV, some might be wondering, "How is a first down determined in person?" Well, the chain crew manages three signal poles on the sidelines:
The "rear rod" — marks the beginning of the current set of downs.
The "forward rod" — marks the line to gain, or the first down line.
The "box" — marks the line of scrimmage.
Article continues below advertisement
The two rods are attached by a chain exactly 10 yards long, and the offense aims to move those 10 yards down the field to gain a first down and advance toward the opponent's end zone.
TikTok poked fun at Shi's discovery and shared similar experiences.
The now-viral video has more than 12.8 million views and over 5,600 comments from fellow TikTokers sharing similar sentiments and poking fun at the situation.
"Without that line, I'm lost," one person said, while a second TikToker revealed, "I don't even know what you're talking about when you say 'yellow line.'" Well, they'll learn soon enough!
Article continues below advertisement

Another user wrote, "OMG YES, I say this every game I go to. I love football, but I need my lines!"
Many agreed, with a fourth TikToker writing, "I ain't even gonna lie when I was 7, I had this same experience."
Article continues below advertisement
"This was me at the first game I went to in person," a fifth person shared.
"You're telling me they don't repaint it every 1st down?" joked another TikTok user.

Article continues below advertisement
Someone else added that they're "lost because I can never see the ball till it's too late," and another TikToker agreed, writing, "I have no clue what's going on unless there's a touchdown. I'm just happy to be there."
"Girl, imagine going to a game with your bf, and the teams are the same colors; I was cheering for the wrong team half the time," one TikToker hilariously recounted. Well, at least the effort was there!