Woman Thought She Was Getting Drug Test for New Job, Says She Was Slipped a Pregnancy One
A woman alleges that a potential new employer gave her a pregnancy test without her consent in a viral Twitter thread.
Although fewer and fewer employers are asking potential new hires to take drug tests, many businesses still utilize them as part of the onboarding process. This trend has been in the making for years, and large-scale social changes have contributed to drug testing becoming less and less prominent.
Article continues below advertisement
Recreational marijuana usage has been cropping up in various states across America, and there have been bills passed to federally decriminalize cannabis as well. That, coupled with the "tight labor market" in 2022 means that companies are not being as selective as they were previously in order to fill open positions, which means that they've been ditching drug testing in order to secure themselves larger pools of applicants.
And for employers that still drug test candidates, there are certain protocols they must abide by when it comes to deciding whether or not they hire someone based on their test results. For instance, if there are prescription painkillers or medications that come up in their blood work, the on-boarding team cannot discriminate against someone because of a medical issue.
The same goes for pregnancy, which is why so many Twitter users are incensed over this woman's claim.
Article continues below advertisement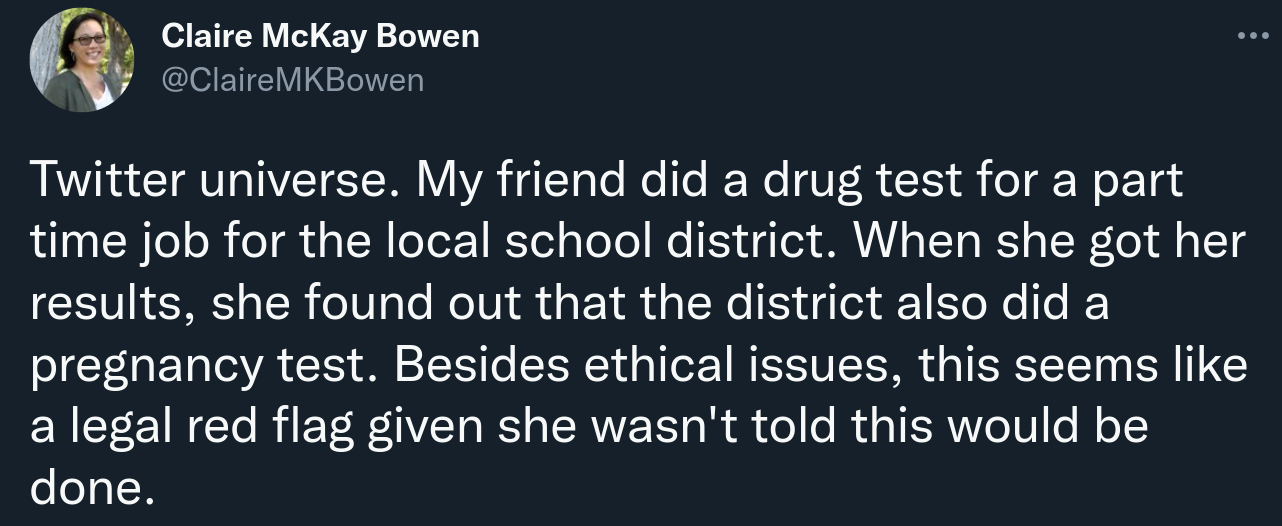 Claire McKay Bowen tweeted that a friend of hers was applying for a part-time job at a school district. She had to take a drug test prior to accepting the position, but said after reviewing her results, that a pregnancy test was included in the list of evaluations she was subjected to.
Article continues below advertisement
Article continues below advertisement
In short, that just means employers can't say they won't be giving you a job because you're pregnant, even if it comes to hiring someone: "An employer cannot refuse to hire a pregnant woman because of her pregnancy, because of a pregnancy-related condition, or because of the prejudices of co-workers, clients, or customers."
Article continues below advertisement
Claire wrote in her tweet: "Twitter universe. My friend did a drug test for a part time job for the local school district. When she got her results, she found out that the district also did a pregnancy test. Besides ethical issues, this seems like a legal red flag given she wasn't told this would be done."
Article continues below advertisement
She added that while the part-time job is at a local school, it's been staffed through the "county's sheriff department."
Claire also said that she looked through the drug test agreement with her friend and they couldn't find any written consent pertaining to a pregnancy test and added that her friend's husband took the same drug test as well, and a pregnancy test wasn't listed on his.
Article continues below advertisement
Article continues below advertisement
But because Claire's friend and her significant other both took the test, it's doubtful that the pregnancy test was being utilized to assess whether or not the woman was at risk for cancer.
Many people were shocked at the admission, and some mentioned other "no-no" questions, like whether or not someone has a car in their interviews.
Article continues below advertisement
Others mentioned that while asking a candidate if they're pregnant or not isn't exactly illegal — the act of discriminating against them is, they wondered why an employee would ask if they didn't intend to do something with that information?
What do you think? Is it a huge red flag for an employer to slide in a pregnancy test without someone's knowledge before they hire them?