This Man's Car Cup Holder "Hack" Is a Drive-Thru Game Changer — "Mind Blown"
A viral TikTok showing a cup holder tray hack has folks freaking out, however, it doesn't look like it'll work on all vehicles.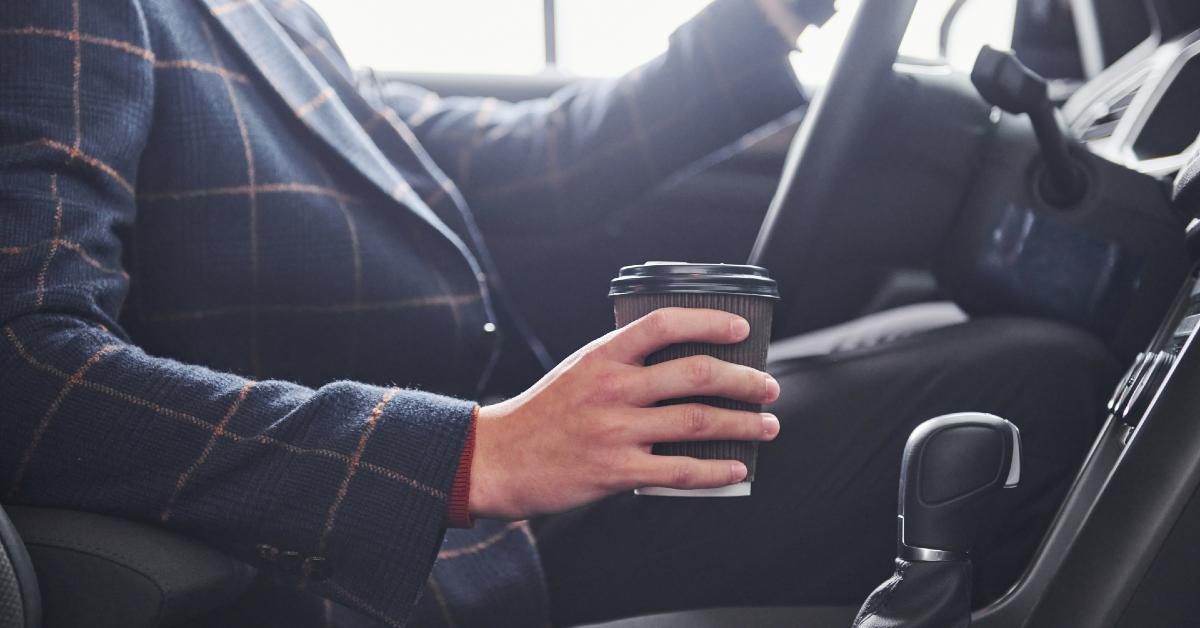 The drive-thru food business is absolutely massive in America. QRE Advisors stated that a whopping 60-70% of all fast food sales in the United States are directly attributed to drive-up service windows, which fulfill a massive 6 billion orders annually. Unsurprisingly, businesses have come up with some pretty inventive ways to help facilitate the movement of these sales for maximum efficiency.
Article continues below advertisement
Better communications systems that allow franchise employees to take and keep track of customer orders, along with cameras are implemented in a lot of drive-thrus at major chains. And there have been some simple, but effective mass-production solutions for ensuring that folks' food remains undisturbed throughout a drive.
For years, many chains have been working to create more sustainable systems of waste management when it comes to designing food containers. The designs are simple, stackable, and effective, and there are micro-systems in place when it comes to bagging said items.
However, there's one common item that's a bit difficult for customers to transport without anxiety: fountain drinks. But one TikToker believes there's been a solution to this problem for years, and it's been hiding right under our noses.
Article continues below advertisement
@bogielopez89 is seated in a Nissan vehicle in the six-second TikTok. He has a fountain drink tray filled with three different beverages, and some sauce containers placed in the fourth drink slot.
Article continues below advertisement

He then takes the tray and slides two of the drinks into the cars cup holder. The negative space in the middle of the tray perfectly aligns with the edge of his car's cup holder console, which allows the other beverages to hang, in place.
Article continues below advertisement

This design appears to be functionally secure, allowing him to drive without worry of the drinks toppling over and spilling. Traditionally if you went to go and pick up a bunch of food from a drive-thru with drinks in a tray, you'd probably just make sure all of the cup-holds in your car were free and would place them inside.
Article continues below advertisement

Or maybe you'd put them on the floor of the passenger's seat and create a barrier of items around it to make sure that the drinks don't topple over. Of course, if you've got someone else riding in the car with you then their designated job would be to protect the beverages at all costs.
Article continues below advertisement

However with his "hack" that stress is a thing of the past...that is if you've got a cup holder that's structured in a way where this would actually work. In my vehicle, for instance, there's no way that this would fly, as I've got two cup-holders that are side-by-side horizontally, and there's a slight curvature of the console in front of it that would send my drinks all over the place.
Article continues below advertisement

Other TikTokers said that they tried the hack in their own respective vehicles and they ended up with a very messy whip. Some were shocked by the hack and said it worked perfectly.
Article continues below advertisement
Others think that this is just a feature of the TikToker's specific car and he happened to get lucky. As one TikToker pointed out: "Yup they designed that cup holder decades ago, to fit perfectly in the design of your 2020 Nissan."
More users chimed in, too.
"no, they just happen to work"
"LIES BECAUSE WHEN I TURNED AT THE LIGHT THEY FELL OVER !"
"With my luck, that thing will break apart and spill all over"
Article continues below advertisement

Have you ever tried this hack before? Is it something that you think would work on multiple vehicles? Will you be giving it a whirl the next time you order fountain drinks at the drive-thru?