This Woman Fears Being a "Karen" After Suspecting Her Bank Teller Stole Her Money
One woman misplaced $600 during a trip to her local bank. After suspecting her bank teller stole it, she wonders if she entered "Karen" territory.
There are few things worse than that sinking feeling you misplaced something important. Losing items like keys, jewelry, or even a bill or two sucks, but nothing hurts worse than losing a large amount of money.
The latter happened to one woman while running to the bank with her two small children. However, the woman admitted on TikTok that she doesn't know if she lost it or if her bank teller stole it.
Article continues below advertisement
In her quest to figure out what happened to her money, the TikToker feared she was behaving like one of the internet's most well-known villains — a Karen. Here's what led to the woman's fears.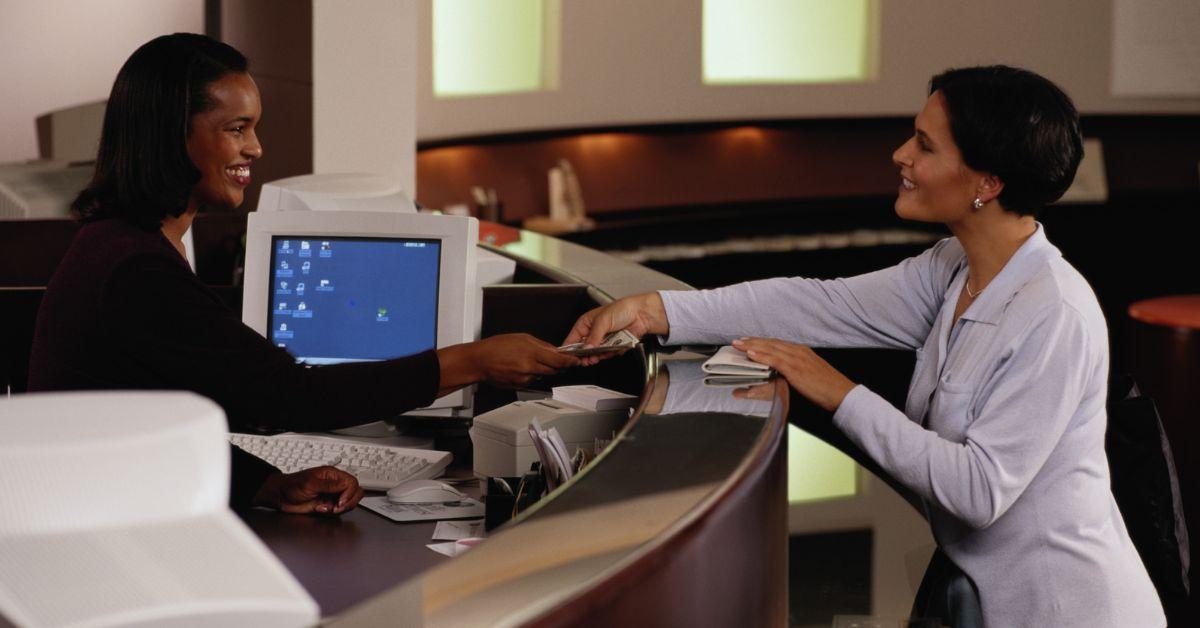 Article continues below advertisement
A woman admitted she doesn't know if she lost her money or if her bank teller stole it.
A TikToker named Brielle Cherie (@briellecherie) worried about becoming a "Karen" after going to the bank with her two kids. She didn't have time to count the money ahead of time, so after placing the money in front of the teller, Brielle counted two stacks of $1,000, an extra pile of $200, and some $1 bills.
The TikToker informed the teller she believed she had around $2,220 in total. However, she soon became distracted by her sons, who ran around the bank while the employee counted her money.
After returning to the counter, Brielle said the teller informed her she had $1,574 — over $600 LESS than initially thought. To make matters worse, the bank teller put the money back in the bank so that Brielle couldn't count it herself.
Article continues below advertisement
Brielle was understandably shooketh by the teller's response. She said she didn't think she was much of an "idiot" to miscount the money, but she also didn't understand why the bank teller didn't tell her before putting the money away.
"Girl. That's $600 missing," Brielle told viewers. "Like, I'm an idiot, but not [when it comes to] $600. And if I was, and I miscounted, why would you not correct me?"
Article continues below advertisement
When Brielle came home from the bank, she called the branch's manager, who said they would look into it. Several weeks flew by, but Brielle neglected to follow up out of fear of being labeled either a Karen or an "idiot," though she was still convinced the teller took her money.
"I'm still sketched out that this girl didn't correct me," Brielle ended the video.
Article continues below advertisement
The TikToker eventually confronted the bank about her funds.
After Brielle posted about her bank trip, she received plenty of advice from her TikTok community. Many commenters, including some bank tellers themselves, believed she wasn't a Karen and said her teller should've counted the money in front of Brielle and then confirmed it was the exact amount she predicted.
Other commenters demanded she make them "check those tapes" to ensure the teller didn't pocket the money.
One week after the initial video, Brielle shared another TikTok updating her followers about the situation. She said it had been "almost a month" since she spoke to anyone and decided enough was enough.
Article continues below advertisement
During the three-minute TikTok, Brielle recorded herself speaking to the branch manager on the phone to discuss the teller's "discrepancy" of putting the money in her till without confirming the amount.
The manager, whose real voice was dubbed on camera, admitted the teller just "took" Brielle's cash and deposited it without verifying it. However, they stated the teller didn't inform her about the difference because the bank doesn't create "deposit slips" for their customers.
Article continues below advertisement
A confused Brielle then asked the manager how the teller knew she had $1,574 if they couldn't access deposit slips. The manager failed to answer her clearly and blamed the drama on the bank teller being a newer employee. After feeling like she was being too "sassy" with the manager, she asked them if they could look back at their tapes to confirm the teller had put all her money away.
Unfortunately, Brielle's decision to finally be a Karen about the situation left her with more questions than answers. Despite her update being more of a "non-update," her rehearsed confrontational call is worth watching.