"Cheaper to Just Pay the Ticket" — Woman Finds Parking Boot on Car and Tries to "Drive Away"
A woman tried driving the boot off of her car while it was still attached to her car and it's painful to watch.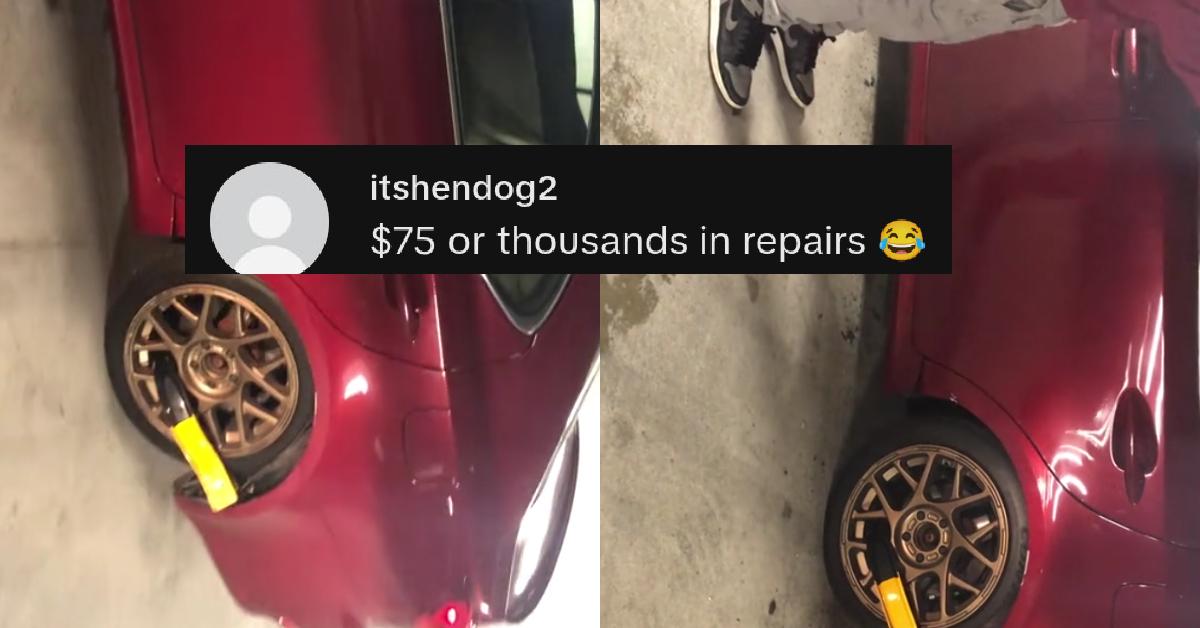 Parking tickets are infuriating. Sure, anytime you're hit with a fine just for operating your vehicle, it's frustrating, but at least there's an argument to be made about the necessity of ticketing folks for moving violations.
Article continues below advertisement
We've all encountered those losers who treat major highways packed with commuters like it's a race track as one nugget who regrets having children and is now "forced" into fatherhood to speed their minivan against a dude whose parents just bought him a Camaro.
But parking tickets are generally innocuous and seem like an obvious cash grab from whatever ordinance is levying the charges. Even more infuriating is when a company decides to slap a boot on your car, putting you in a hostage situation to remove the device: fork over the cash and they will remove the boot.
Article continues below advertisement
There are some folks who think it's a good idea to try and drive their whips anyway, regardless of the fact that there's a mechanism attached to their tire that's specifically designed to prevent the safe operation of the vehicle.
But that didn't stop this woman in a viral TikTok clip from attempting to hit the road with the boot on her car, however.
Article continues below advertisement
Uploaded by TikToker @alpha_bipolar, a woman can be seen driving a red sedan with a boot affixed to the vehicle's left rear tire. She attempts to reverse the car, rotating the boot up into the wheel well and causing damage to the car's frame and heaven knows what else.
"Good?" the woman can be heard saying outside the window of her car to someone off-camera.
"Some more," the same voice says back to her. She reverses the car again as it crunches against the fiberglass body of the car, resulting in a sound that no car owner would ever want to hear.
Article continues below advertisement
In spite of the damage being done to her vehicle, she still persisted in driving away with the boot on. The tire doesn't move as the car reverses before the video ultimately cuts out.

Article continues below advertisement
It appears that the viral TikTok is from a popular YouTube video, which shows a group of folks trying to help the woman remove the boot from her car. At one point in the clip, someone stands on top of the locking mechanism trying to knock it loose.

Article continues below advertisement
After doing some damage to the car, it looks like they finally get the idea to just change the tire and pop on a spare, which is probably what they should've done from the get-go upon first seeing that there was a boot placed on her car.
It's a suggestion that a few TikTokers had themselves, like one user who wrote: "You could have unbolted the wheel and put the spare"
Article continues below advertisement

Others highlighted how idiotic of an idea it was to try and drive with the boot on her car as the repair costs for the damage she did to her car was probably way higher than whatever violation fine she was slapped with after the boot was placed on the whip.
Article continues below advertisement

"Well that repair is gonna cost much more than the boot removal fee," one person wrote.
Another said: "Went from a $50-$100 ticket, to possibly hundreds of more dollars of bumpers, tires, wheel, etc"
"Do y'all know hm it cost to repair suspension vs. a boot ticket"
Article continues below advertisement

Maybe she had a great warranty or insurance plan that pays for potential repair damage to her car. Or maybe she was planning on submitting a fraudulent claim that someone stole her tire and that it was missing when she came out to the parking lot?