Single Mom's House Cleaning Timelapse Shows Shocking Amount of Work She Does After 10-Hr Shift
A single mom's timelapse of her cleaning her home shows the shocking amount of cleaning she's expected to do with her family...and her ex.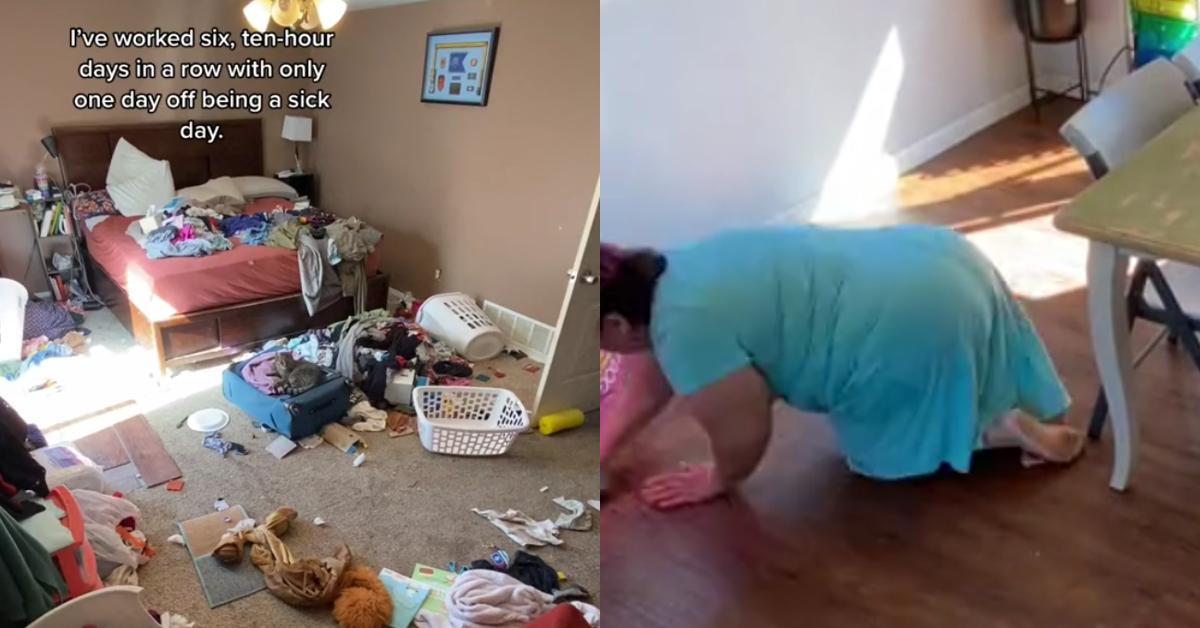 Article continues below advertisement
One mom, TikToker Lynalice Bandy (@5kids5catssomedogstoo) posted a viral clip of what it looks like to be a "single mom" who is married and sharing a home with someone who doesn't contribute to the upkeep of their home or looking after their children, which she shows off in a series of time-lapse clips depicting her cleaning.
Article continues below advertisement
Lynalice writes in a text overlay of her video that begins in a messy room covered in toys, dropped crayons, and other items strewn about the place.
"I've worked six, ten-hour days in a row with only one day off being a sick day."
The video then transitions to other parts of her home, a young girl dressed up in what appears to be a Halloween costume stands in the kitchen, and another child is sitting on a couch in a disheveled living room. Another overlay in the clip reads: "I'd like to pretend I'm not the only person who cleans here but as you can see..." she writes, acknowledging the mess.
Article continues below advertisement
Next is a timelapse of her tidying up a room, fixing a bed and methodically picking up items off the floor and arranging them in a more organized, cleaner way, i.e. not thrown about looking like the aftermath of a tornado.
"These rooms don't get much attention when I'm not here," Lynalice continues to write.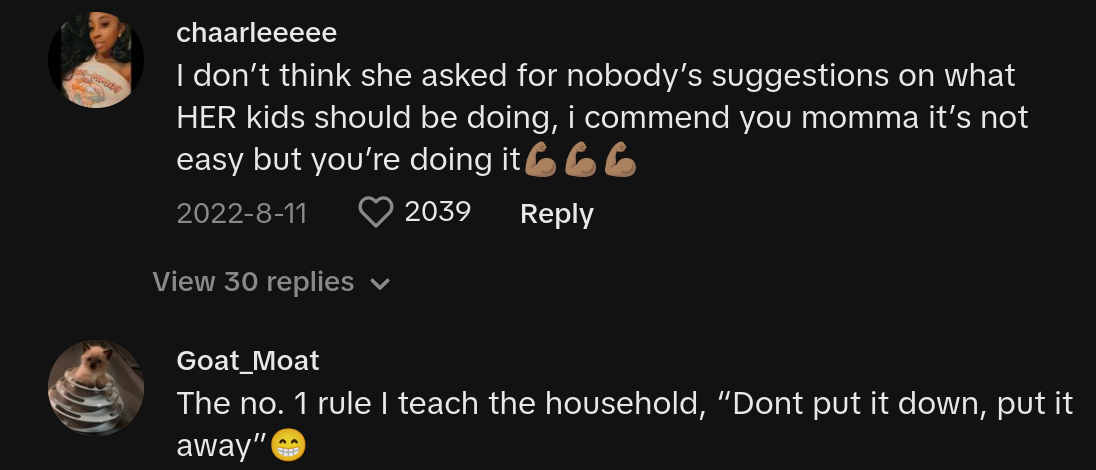 Article continues below advertisement
In one portion of the video, where she works in the messy bedroom, her children appear to come and briefly help her. Another caption in the video continues to share her story: "While summer session was happening my soon-to-be-ex husband claimed he couldn't watch the kids while he was focusing on homework"
She continues, highlighting just how much work she puts into cleaning their home via more timelapse footage of her sweeping, cleaning, and tidying up other parts of their house "Now that school is out for break, he doesn't have that excuse anymore. Despite that, every single day after I've gotten home from work..."
Article continues below advertisement
She says that that reason why their shared home is such a mess is because her husband is guilty of "inattentive parenting" and refuses to look after their children to make sure they aren't causing a mess or at the very least are cleaning up after themselves while she's out of the house.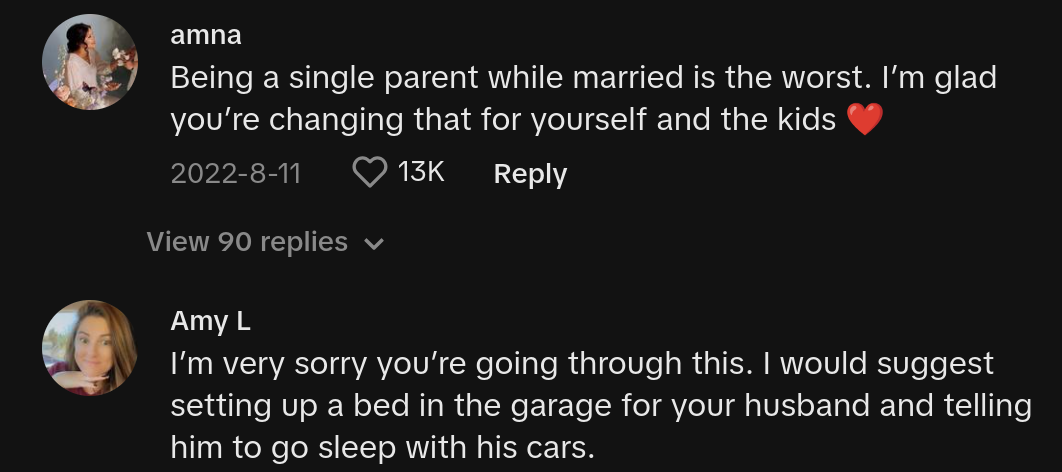 Article continues below advertisement
She lists the extent of the messes that their children make, which extend beyond things being left in disarray: "Shampoo on the carpets in the girls' room nail polish all over nugget covers, hair, and carpet...scissors used to cut hair, the down comforter, the mattress cover, and TWO nugget covers"
That wasn't all: she continued to rattle off the damage caused by their children in the home: "Medications that have been gotten into and destroyed my ex lost his temper and smashed my dogs' food bin"
Article continues below advertisement
She adds that he seems more concerned with focusing his efforts in working on the four separate cars they have in their driveway rather than helping raise their kids and keep the house clean: "ALL of his attention has been focused on the FOUR vehicles in our driveway that he wants to work on continuously"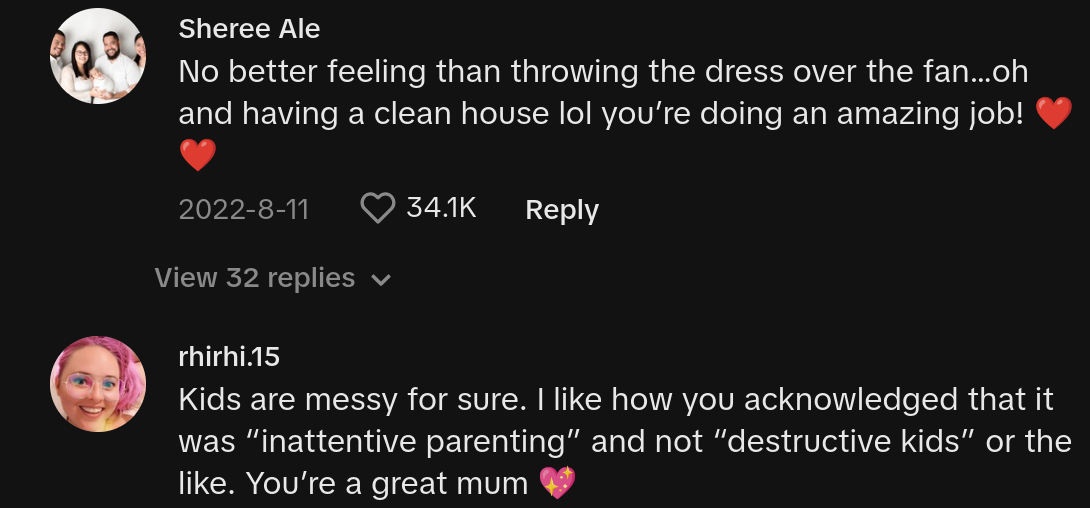 Article continues below advertisement
She writes that he's become obsessed with fixing these automobiles, which has occupied his time, money, and even space in their home: "His obsession has hit an all time high and he's even brought car parts into the dining room and left oil everywhere."
Article continues below advertisement
"I wish so much that the housing economy wasn't what it was here and I could afford to move out, my soul aches without a place to feel safe and happy." she pens.
At the end of the clip, she shows off the aftermath of her cleaning, depicting a clean and bright home. "Hang in there lovelies," she writes, followed by a heart emoji.

Article continues below advertisement
Several commenters remarked that they also feel the woman's pain, with one person writing: "there is nothing more soul draining than a "partner" whom is actually an extra child."
Someone else applauded her for not putting the onus of the mess on her children: "Kids are messy for sure. I like how you acknowledged that it was "inattentive parenting" and not "destructive kids" or the like. You're a great mum"
"Being a single parent while married is the worst. I'm glad you're changing that for yourself and the kids," another wrote.