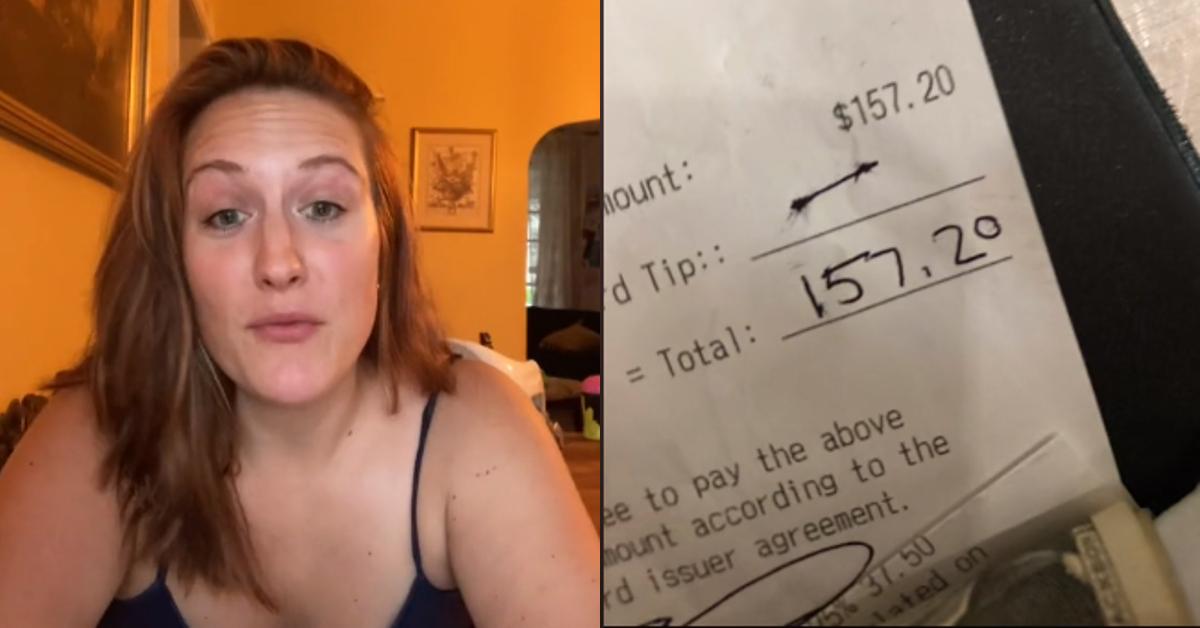 "Worst Table Ever" Stiffs Waitress on Tip After She Wouldn't Serve Booze to Their Underage Daughter
"Ok so this is a story about," the camera then cuts to a picture of a receipt which shows a bill of $157.20, with the "tip" section crossed out, which means no gratuity for @participationawardwife. Following a 20% gratuity rule, she should've received $31.44 for her work serving the table.
Article continues below advertisement
She continues in the viral TikTok: "This, and, how it's not about being stiffed. How it's about being a not c***y human. OK, so last night I was seated with a four-top, it was 2 parents and their adult daughters. The adult daughters were young looked maybe 18, 19 to their early twenties. So they go ahead and order drinks. Seemed, OK at first, they started giving me like question after question as soon as I greeted the table."
"Like before I even got a drink order they were like what's this, what's this, what's this. And because we're menu tested I felt very confident in all the answers that I gave them. I described to them what halibut is. I told them where this was from I told them where that was from I told them the accouterments for another dish."
Article continues below advertisement
She goes on to say, "And then they get to ordering drinks. The dad orders a drink and he says, 'I'm a little hesitant to order a drink because last time I was here it was just water.'"
The TikToker looks into the camera simply and says, "No it wasn't. And I was like, 'That's crazy sir I said all of our drinks here are measured pours. We have to pass a pour test, we have the jig...' whatever. And then he was like, 'No, I'm telling you the last time I was here it was water."
Article continues below advertisement
She continued, "Well, I was like, it wasn't but, 'OK you know that's fine I can guarantee you that tonight it won't be.' There are two daughters. The older one and the younger one. The younger one said that she wants to order a cocktail I'm like yeah that's fine can I just see your ID and she's like, 'I don't have it with me.' And I said, 'I'm really sorry, it's Pennsylvania state law that I cannot serve you without an ID."

Article continues below advertisement
"And her mom and her dad are like, 'we're her parents we could vouch for her.' I'm like yeah that's like really not how that works, again I'm being really nice, 'I know it's so frustrating I remember when I was 21 I used to get carded it's like so frustrating.' You know I'm trying to be nice. And she's like I think I have a picture of my passport and I said I cannot per my ramp certification use a picture of an ID I need to have a physical ID I said."
The TikToker does make a concession to the customers saying, "but I could put that to the discretion of the manager let me have her come over. Immediately my manager's like no let me talk to them. So she talks to her, the girl's, furious, acting like the biggest brat in the world, was she 21, I don't know. It doesn't matter you don't have your physical ID."
Article continues below advertisement

"You want to be responsible enough to drink you need to be responsible enough to bring your ID. So, after the manager comes over I come over to drop appetizers, they had ordered everything all at once which sucked because I had like other tables, whatever. And so I drop appetizers and mom goes, 'I will have another one of these," and then slides her drink to her daughter."
Article continues below advertisement
"Look, did I underage drink? For sure. Did I do it in a restaurant? No, because I'm not going to make it someone else's problem that I wasn't responsible enough to bring my ID. So immediately I'm like...I go get the manager I'm like look, she's giving her daughter this I know what she's doing and he's like...tell her we don't back drinks."

Article continues below advertisement
In a follow-up TikTok of the story, she goes on to say that her manager (a new one on the floor because the first one left) told them that they don't want to lose their liquor license and they can't be doing that.
The older daughter, according to the TikToker was uncomfortable with the entire situation and was put on the spot to order one, while the younger daughter starts complaining, calling the rules "ridiculous" and accusing the restaurant of making them. The TikToker is standing there that entire time.
She does her best to commiserate with them saying that she understands it's frustrating but the rules are the rules. The older sister goes on to order what the younger sister wanted originally, she gets ID'd. From that point forward, the waitress says that the family "decided everything was going to be wrong."
Article continues below advertisement
They complain about their edamame being cold but they ultimately eat "the whole thing." And when the younger daughter's dinner order arrives, the father at the table snaps the waitress over and complains about the noodles not being "al dente" or hot enough. She said that when she brought it back into the kitchen to make him a new meal, she tested the noodles by sticking her fingers in them and said that the meal was so hot it was hurting her fingers.
Article continues below advertisement
The family goes on to complain about another dish and then the father accuses the waitress of watering down another drink because she suspected them of giving the drink to their children. She explained that the drinks aren't watered down and that the Sangria is made in large batches, and reminded him it's illegal to water down alcohol and doubled down saying that their restaurant doesn't do that.

Article continues below advertisement
She then asks if they're interested in any coffee or dessert, and the younger daughter retorts: "I don't think we'll be having any more food from here," with the father adding that they're never returning to the restaurant ever again.
In a third and final video about the experience, the TikToker goes off on customers who swear they're never coming back to a restaurant ever again and says that even if you have a bad experience, there's a way to address your server in a respectful way to express that you're not happy with your experience.
She also said that because their behavior was so crumby, if they just went about things differently, her manager "probably would've comped stuff."
"You don't get to complain after you finish something," the TikToker said.
After all was said and done, she said that she not only knew she was going to "get stiffed" but she ultimately didn't care because "they were such a cloud over my night" and the only thought on her mind was getting them out of the restaurant.
Article continues below advertisement
One TikToker had their own theory as to why they were behaving the way they were: "Getting the bill comped was their goal from the beginning. Older daughter is embarrassed by her family. They probably do it all the time."
What do you think the end goal was? Have you worked as a server and seen this kind of behavior from finagling customers before?