Woman Slams Restaurant That Blamed "Lazy Workers" For 50% Price Hike
A New Jersey diner's job posting went viral on TikTok for blaming its price hikes on "lazy" employees, and was skewered by commenters.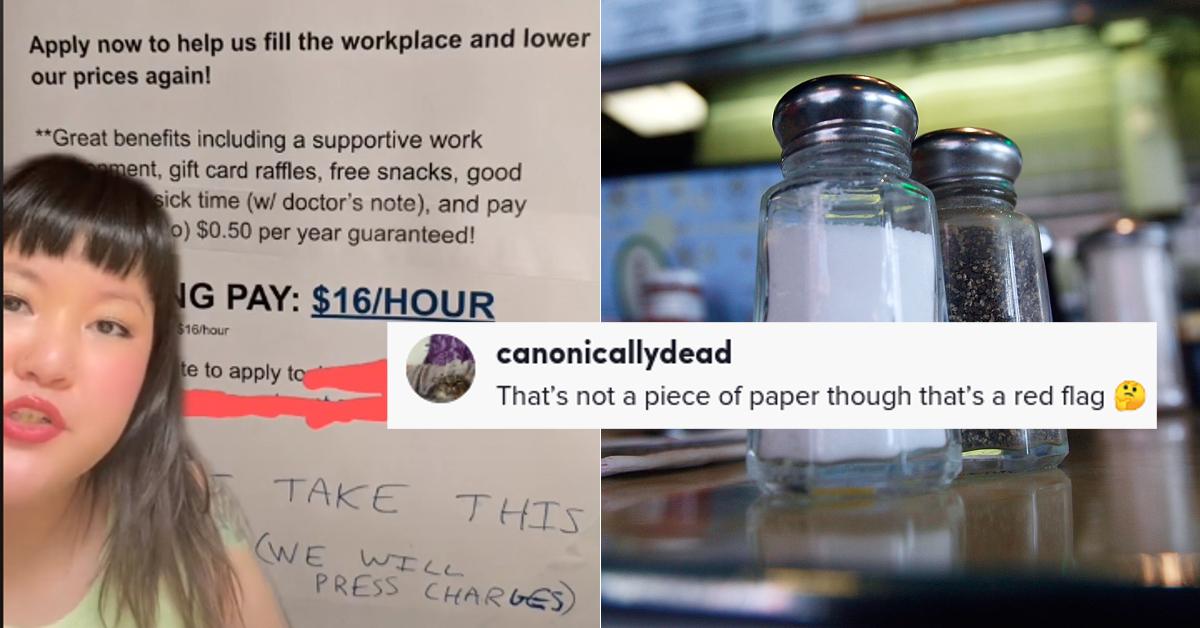 A New Jersey-based diner was put on blast for its hiring notice that went viral on TikTok which attributed its rising food item costs to "Lazy Workers" and "crazy inflation."
The post was uploaded by the social media account @roc_united, which describes itself as "a national restaurant worker advocacy organization."
Article continues below advertisement
The notice reads: "Due to lazy workers quitting with no notice and crazy inflation (thanks Biden) we have increased all our prices by 50 percent beginning June 4. Apply now to help us fill the workplace and lower our prices again!"
The diner, which had its name crossed out in the notice, which is probably a means of ensuring they don't get review-bombed, delineated the list of benefits for restaurant workers who decide to apply.
"**Great benefits including a supportive work environment, gift card raffles, free snacks, good salary, paid sick time (w/ doctor's note) and pay increase (up to) $0.50 a year guaranteed!"
Article continues below advertisement
The starting pay for the job is billed at "$16/HOUR" however there's an asterisk beneath the wage that reads: "**$13/hour + benefits = $16/hour."
The note concludes with: "Visit our website today to apply to [crossed out] Diner now!" The website is also x-ed out. "Do not take this paper!! (we will press charges)."
Article continues below advertisement

TikTokers who saw the post were shocked not only by the wording of the post but also confused at the pay structure of the "benefits" awarded to employees. $3 an hour was factored in for snacks, but only $13 for base pay.
Article continues below advertisement

By comparison, Starbucks has committed to paying its baristas $15 an hour for a starting rate and the national average is said to go up to $17 per hour.
Other TikTokers took issue with the fact that the hiring notice attributed its price hike to "lazy workers" but then right below it, talks about how the work atmosphere is a "supportive" one.
Article continues below advertisement

Another "benefit" that people questioned was paid sick time...with a doctor's note.
"That's a toxic work environment if I've seen one."
"what's worse, being the employee or the customer??"
"doctors note required but one of the 'great benefits' isn't healthcare insurance??????"
"starting pay 16 **not really tho"
"So it's $13 an hour and $3 in chicken tender benefits."
Article continues below advertisement

One commenter pointed out how little $13/hr is for living in New Jersey. According to Smart Asset, "New Jersey is a notoriously expensive state to live in. It's home to two of America's wealthiest counties, Hunterdon County and Somerset County, and they're not the only New Jersey locales with high home prices. According to NeighborhoodScout, the median home value in New Jersey is $418,500 in March 2022."
Article continues below advertisement

Other TikTokers shared their own workplace horror stories of grinding in the restaurant business: "I was managing Three Pizza Huts for $10.25 an hour during the pandemic. Asked for a salary. She laughed and I laughed. Walked out."
"Complains about inflation. Advertises a (maximum of) 50 cent annual raise. there's something inconsistent here..."
Article continues below advertisement