Instacart Driver Regrets Accidentally Taking Massive No-Tip Order, Sparks TikTok Debate
An Instacart worker told customers who don't tip on the app to not order delivery sparked a viral debate on TikTok.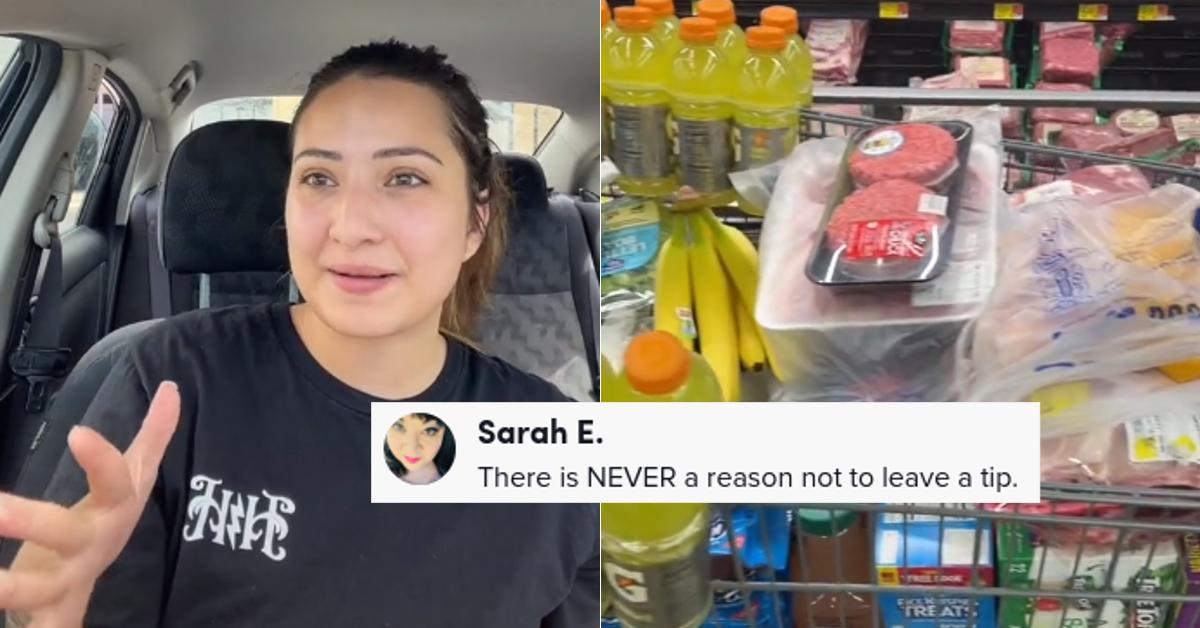 Angelica, who posts on TikTok under the username @angelica__ca works as an Instacart driver and shared her gripes over customers who don't tip on the popular grocery delivery application.
In a video titled, "I accepted a no tip order," she asks in the caption of the now-viral clip: "How do you feel about this..." and sparked a viral debate in the comments section of the video.
Article continues below advertisement
She says in the TikTok: "I'm so mad at myself. OK, so I've been sitting in the car for 2 hours waiting for an order. I started about 12:45 and right now it's 2:46. Nothing has come through. I just saw an order that came through for $20 at Walmart it's like 2 hours away. So I look and it's a 70-item order which I think is kind of a lot for $20, but the thing is there was no tip and I didn't see it until after I accepted."
She continues, "And my cancellation rate is a little high so I don't want to cancel this one and then just you know be even closer to deactivation. I have either one of two options. I can either cancel it and just be screwed or I can just take it and use it as a video opportunity. I looked at the items and it's not an apartment, it's a home, which is good."
Article continues below advertisement
She goes on to discuss the order further, "but there's a lot of drinks." Beverages are typically heavier than other items in the order, which means that for $20 in a 70-item order, she's going to be lugging around a lot of weight. "What do I do? What do I do?" she asks in the video. "$20, no tip. Let's do it, she decides."
Article continues below advertisement
She then delineates the "items on the list" in the order and says that "maybe" a tip will be added after the drop-off, "who knows," she says. The clip then cuts to a shot of a packed shopping cart at Walmart full of the items listed in the order. She said that it took a full hour to get to the Walmart, shop the store and load up her items before driving it to the Instacart customer's home.

Article continues below advertisement
"Let's hope for a tip," she says, before adding, "I hate to sound like that, I hate to sound like I'm expecting something. Let's just say I'm more curious." She provides an update after dropping off the food stating that she didn't receive a gratuity. She went on to say that the customer was in "communication" the entire time as 11 items on her list weren't available at the store so they worked together to get substitutes.
Angelica added that she sent a thank you follow-up text but still didn't receive a tip, but clarified that the area she lives and works in does provide significant "batch pays" which provides drivers bonuses for satisfying certain order parameters.
Article continues below advertisement

The TikToker's post sparked a litany of different reactions from other users on the platform. Some expressed that customers shouldn't be using services like Instacart if they can't afford to tip. 2022 has seen some of the worst inflation the US has ever experienced, and gasoline prices have hit an all-time high. So if you're delivering groceries in a gas-powered car, then your profit margins are definitely taking a hit as opposed to previous years when fuel was less expensive.
Article continues below advertisement
"they shouldn't allow a zero tip."
"People saying money is tight and everything so expensive not to tip but if I can't afford to tip then I don't place an order, I'd go to the store."
"Hell yes a tip is necessary!!!!!! All that for 20 dollars ?????"
Angelica expressed that she agreed with the aforementioned comment in the comments section.

Article continues below advertisement
Others couldn't believe that she completed a 70-item order for just $20.
"I wanna know how all of that is only $20"
"no tip no trip.. any app.. same goes for those insult $1 or $1.50"
"That should have been like a $40 batch."
Some Instacart customers in the comments section said that they don't ever tip beforehand:
"I only tip after delivery. I've had my stuff stolen and smoked all over before and I'm not risking my money like that lol"

Article continues below advertisement
Others, however, were confused by Angelica's TikTok video and expressed that they didn't think every order is necessarily deserving of a tip.
"I'm so confused, did the definition of tip change?"
"Is this why it takes so long bc y'all making TikToks after accepting."
"Its not nessary to leave a tip tbh."
"it costs like $15 in fees each order. I'm not justifying not tipping but delivery platforms make millions while you live off purely tips."
"So disabled EBT users shouldn't order if tips can't be given? Like, where does it say that they have to tip with money they don't have?"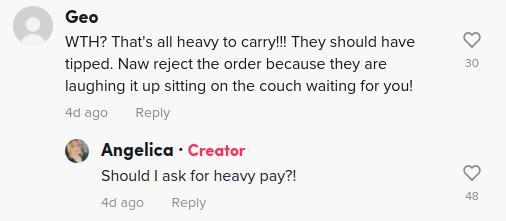 What do you think? Do you always tip on delivery applications regardless of the situation? Or do you think that only specific scenarios justify gratuity?