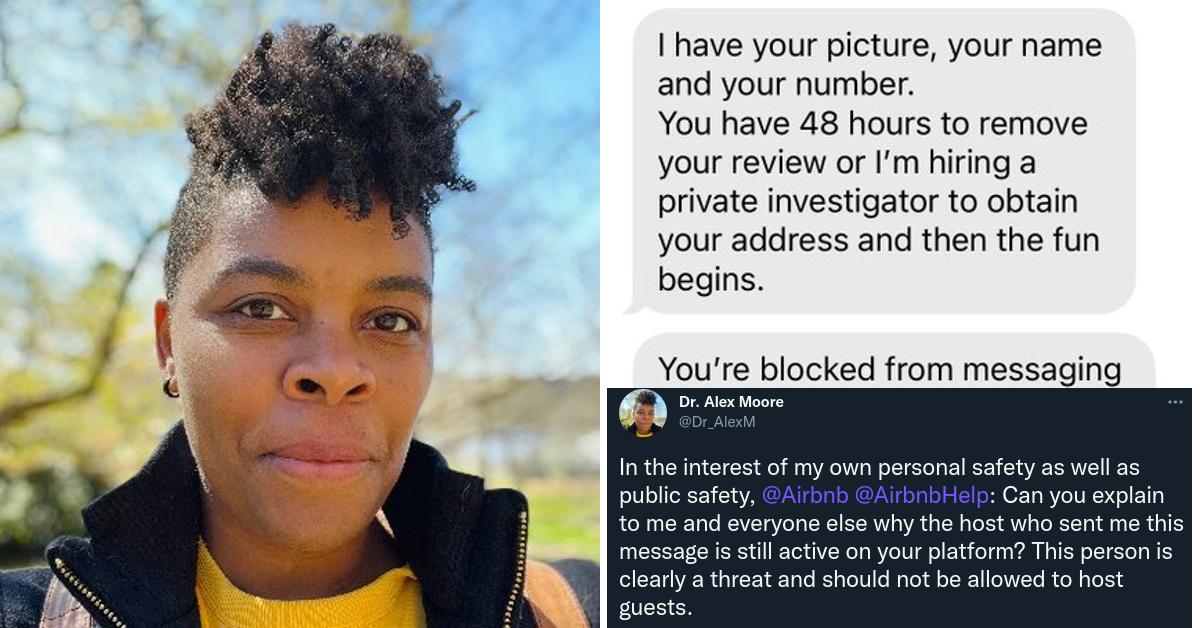 Woman Claims Airbnb Host Threatened to Find Out Where She Lives After She Gave 4-Stars
University of British Columbia Assistant Professor Dr. Alex Moore, who posts under the Twitter handle @Dr_AlexM alleges that an Airbnb host threatened to hire a private investigator to find her home address after she left them a 4-star review upon booking their property through the popular application.
Article continues below advertisement
Moore uploaded a screenshot of a text she says she received from the Airbnb host that reads: "I have your picture, your name, and your number. You have 48 hours to remove your review or I'm hiring a private investigator to obtain your address and then the fun begins. You're blocked from messaging me at this number," the message says.
Moore provided further context in a follow-up tweet that reads: "I left a 4/5 review with a positive message, and the host has contacted me at my personal number with increasingly threatening text because my review brought their average rating down from a 5 to a 4.95."
Her review, which is indeed positive reads: "Really enjoyed my time here and would certainly stay again if I found myself in Vancouver for a few short days."
Article continues below advertisement
She followed up with screenshots of the posting, which is being offered by a host named Brad. It's listed as an "entire home" that is suitable for 2 guests with one bedroom and one bathroom.
"I have already contacted local authorities, but beyond protecting myself, @Airbnb @AirbnbHelp has an obligation to the public to act. Their listing is still active as of this posting and should be taken down immediately," she added in another tweet.
Article continues below advertisement
Frightened by the experience and the threat from the person who messaged her, Moore wrote that she notified authorities of the message, "Quick update: The listing is still posted, but I just spoke with Vancouver PD and they will be sending someone over to tell the host to leave me alone "or else". They may also revoke his license to participate in house-share programs. Fingers crossed."
Article continues below advertisement
Moore also provided screenshots of her discussion with Airbnb's safety team, who responded to her: "I'm sorry for this experience. I'm sending you to the correct team right now to make sure you receive prompt assistance. If this is an emergency or you feel that your personal safety is threatened in any way, please contact the local police or emergency services immediately."
Article continues below advertisement
She followed up with the Safety team to inform them that the posting was still up and shortly after confirmed that it was taken down...only to see it pop back up on the application yet again.
Moore was persistent however and tagged Airbnb in several other tweets highlighting her concern for the safety of other guests being booked by this host.
Article continues below advertisement
It appears that her perseverance ultimately paid off in her favor, as the application messaged her and stated that the host has been indefinitely removed from the platform. The message from Airbnb also referenced her report with the Vancouver police department.
Article continues below advertisement
While there were many Twitter users who sympathized with Moore and commented on how terrifying they thought the experience was, there were some who believed there was "more" to the story and that there may have been a disagreement between host and guest that led to the threats.
Article continues below advertisement
Then a discussion on the nature of online scores cropped up with many disputing that anything below a 5-star review was considered "unacceptable" in the eyes of applications. Some stated that there are "many industries that penalize you for receiving less than [a] perfect score."
Article continues below advertisement