McDonald's Applicant Shows up to Interview, Gets Told the Hiring Manager Won't Arrive for 2 Hours
A job applicant for McDonald's waited two hours for a scheduled job interview and encountered unlikely obstacles throughout the interview process.
It can be difficult to get on the job hunt grind. Whether you're just getting started in the workforce and are looking for that valuable experience or are even someone whose been long employed and is seeking another opportunity, it's hard for any of us to get a foothold in the American job market. We can only hope to hear back from any application and there's an undeniable pressure that comes with having to prepare for job interviews whenever they do come around.
Article continues below advertisement
But while most prospective job applicants do everything they can to make sure that a job interview goes well, recruiters can sometimes fail to reciprocate. Tristyn Young on TikTok (@tristyn0795) experienced this the hard way when preparing for his own job interview. This applicant was prepared to sit down with a representative from McDonald's for a job interview but was made to wait two hours after the appointed time when he was already raring to go. Tristyn has receipts on the fiasco.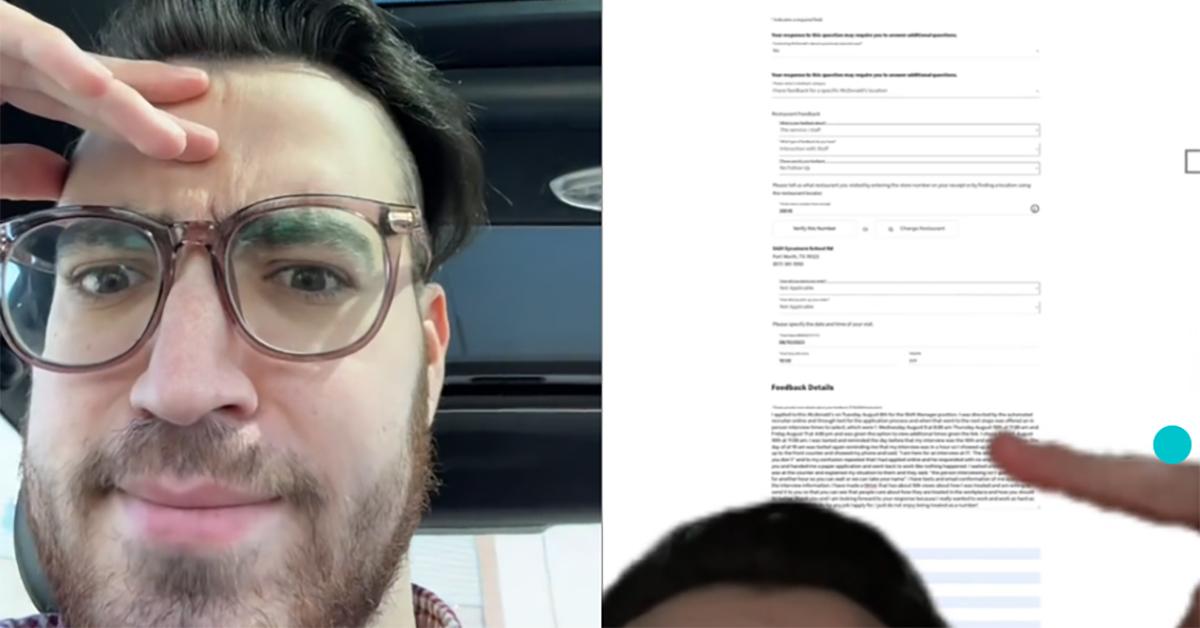 Article continues below advertisement
A McDonald's job applicant waited two hours for their job interview after it was already set.
"So here's some tea to spill," Tristyn began in his initial TikTok, which was posted in mid-August 2023. According to him, he had applied to work at the McDonald's in his hometown. At the time of the TikTok, Tristyn was even in the car waiting to be interviewed.
He had arrived well before the scheduled time, which is what most of us would do for a job interview. Unfortunately, the recruiter he was supposed to meet with apparently couldn't offer the same courtesy. Tristyn was told that the person he was meeting with wouldn't be arriving for another two hours.
Article continues below advertisement
Tristyn explained the whole debacle, with receipts to boot. He had been in correspondence with the recruiter and received multiple texts reminding him of the date of his interview, which was meant to take place on Aug. 10. They even discussed location and Tristyn even got texts in the morning leading up to his 11 a.m. appointment.
Article continues below advertisement
He arrived 10 minutes early and informed someone at the front desk that he had an appointment. As Tristyn remembered, the person flat-out told him "no, you don't."
Tristyn was then told to fill out a paper application, despite having done so online. Even when showing off his texts, he was told that the recruiter wouldn't be arriving for another two hours at that point.
Needless to say, Tristyn was frustrated at this turn of events, especially considering all the job searching he's been doing.
"I've been looking for a job for a year and a half and this is what I faced when I've gone into multiple jobs," Tristyn admitted in his TikTok. "McDonald's is another one that's like 'you're a number. Who cares?'"
Article continues below advertisement
Folks in the comments shared similar horror stories about job interviews. One person wrote: "Kroger did this to me. I took off my full-time job to go to the interview and the third party didn't tell them I was coming."
Article continues below advertisement
Another person advised: "Research the franchise owner/operator and let them know what happened."
Many are calling out McDonald's, telling them to "do better" when it comes to recruitment.
Article continues below advertisement
A few days after the initial TikTok, Tristyn posted an update stating that he reported the incident to McDonald's. He is prepared to share all sorts of documentation, including his text exchanges and email correspondence with this branch.
We wish anyone searching for a job, including Tristyn, the best of luck that if nothing else, they don't go through anything like what he went through at the popular fast food chain.